"Here lyeth interred the body of the Reverend Mr. John Sparhawk minister of this place 23 years last past and dyed the 29th of April, 1718 in the 46th year of his age."
This is the epitaph of Reverend John Sparhawk, buried at the Congregational Cemetery in Bristol, Bristol County, Rhode Island.
According to his biography in Biographical Sketches of Graduates of Harvard University: In Cambridge, Massachusetts, Volume 3, John Sparhawk was born in "1673?" (most sources believe his birth year was either 1672 or 1673) in Cambridge, Massachusetts.
John's parents were Nathaniel and Patience Sparhawk. Patience was the daughter of Reverend Samuel Newman of Rehoboth, who was also the author of the Newman Concordance. Because the following information is an important part of John Sparhawk's heritage, I want to elaborate a bit on his grandfather's life and accomplishments before continuing with John's story.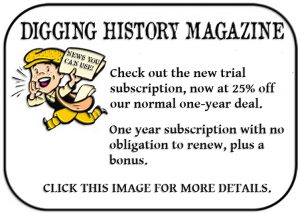 Samuel Newman was born in May of 1602 in Banbury, Oxfordshire, England. One note of interest – Samuel's parents were Richard Newman and Susan Sparhawk Newman. At age 16 he entered Oxford and graduated with honors from Trinity College in 1620. He was then ordained to serve in the Church of England, but was later prosecuted for non-conformity. In 1636, Samuel and his wife Sibbell (Featly) immigrated to Massachusetts with their children, arriving in Dorcester and later settling in Bristol.
In 1644, Newman traveled with several of his parishioners to found the town of Rehoboth, Massachusetts. Newman was said to be a remarkable man. Reverend Richard Mather said of Newman, "He loved his church as if it had been his family, and taught his family as if it had been his church." According to Mather, Newman's Concordance was prepared in the wilderness and "properly called a Herculean labor". The first edition was published in London in 1643 and after moving to Rehoboth Newman worked to improve it before the revised edition was printed in 1650.
John's father, Nathaniel Sparhawk, was a man of wealth and a deacon in the Cambridge church, as well as a town Selectman. After all his debts were settled, Nathaniel left an estate of £700, careful to provide for his wife and son John. He provided the following in case Patience remarried after his death (The Genealogical Magazine: 1907 – New England):
It appears that John was well thought of by his father and thus well provided for. John graduated from Harvard in 1689, receiving a Master of Arts degree. According to The Genealogical Magazine, "[H]is part at graduation was the negation of the proposition 'An Bona Intentio sufficiat ad Bonitatem Actionis'." His fellow classmates went on to become merchants, ministers, a military commander and a judge.
John was invited to preach at Bristol, Rhode Island, a town of prominent and wealthy families, on October 6, 1693. The first offering he received on October 8 was £1 2s (one pound, two shillings). On September 19, 1694 records show that the congregation:
Voted, that for the love & honor we bear to the Rev. John Sparhawk, & in hopes of his speedy settlement among us, we do hereby promise to pay him by weekly contribution or otherwise the sum of £70 per annum whilst he remains a single man, & £80 per annum when he comes to keep a family. (Biographical Sketches…, p. 421)
By the laying on of hands of the presbytery (pastors of neighboring churches), John Sparhawk was ordained the pastor on June 12, 1695 and remained there until his death in 1718. Several sources indicate that during John's life he did not enjoy robust health (and perhaps that's why his father made special mention of provision for him in his will). Another minister noted in 1717 that "Mr. Sparhawk preaches now but seldom." On July 16, 1717 a committee had been chosen to provide assistance to carry on public worship for the period of three months.
His obituary was full of praise for a steadfast and faithful man: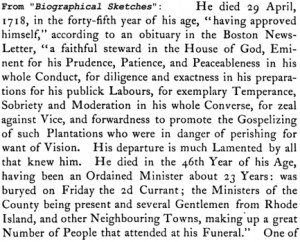 John Sparhawk had been married two or three times and his wife at the time of his death, Priscilla, survived him by several years. John had at least two sons: John and Nathaniel Sparhawk. According to Abstracts of Bristol County, Massachusetts probate records (Genealogical Publishing Company, 1987), p. 4:
Will of John Sparhawk, Minister of the Gospell in Bristol, "being Sick & very Weak", dated 28 Apr 1718, probated 15 Mar 1726/27, mentions wife Priscilla [executrix] and 2 sons John & Nathaniel Sparhawk [both under 21].
Priscilla remarried (Jonathan Waldo) and lived until 1755. She died near the home of her son, Nathaniel, in Kittery, Maine.
It is apparent that John Sparhawk had a rich spiritual heritage (and an interesting surname). This Saturday I will begin a new series of articles called "Surname Saturday" (I should note the name is not original as I've recently found other genealogy and history blogs who write under the same title on Saturdays). So, this Saturday's article will be a continuation of the story of the Sparhawk family — and maybe some more on Samuel Newman since his mother was also a Sparhawk.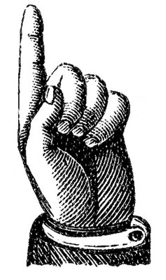 Did you enjoy this article?  Yes? Check out Digging History Magazine.  Since January 2018 new articles are published in a digital magazine (PDF) available by individual issue purchase or subscription (with three options).  Most issues run between 70-85 pages, filled with articles of interest to history-lovers and genealogists — it's all history, right? 🙂  No ads — just carefully-researched, well-written stories, complete with footnotes and sources.
Want to know more or try out a free issue? You can download either (or both) of the January-February 2019 and March-April 2019 issues here:  https://digging-history.com/free-samples/
Thanks for stopping by!