I've recently been performing a lot of historical and ancestral research by combing through digitized newspapers.  Inevitably, in the newspapers of the mid-1800's until the early 1930's, I am reading advertisements extolling the benefits of so-called miracle cures, also known as patent medicines.  These "medicines" claimed to cure everything from A to Z.  So, I thought it would be fun and interesting to do a series on the history of patent medicine, or "nostrums" as they were called, and some of the quack cures that literally flooded the market in that era.  Here and there I'll do some articles on home remedies as well.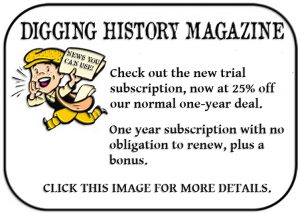 Today's subject, "Hall's Catarrh Cure," caught my eye in an ad above a story I was researching this week, so I decided to do a little extra research on the history of this patent medicine – was it really a miracle cure?
Background
First of all, what the heck is "catarrh"? According to Merriam-Webster's Dictionary, "catarrh" is an "inflammation of the mucus membrane, chronically affecting the human nose and air passages." Hey, I've had catarrh for years and didn't know it!
In or around 1870, Frank J. Cheney purchased the rights to Dr. Henry S. Hall's "cure" – a drug that Dr. Hall had formulated and prescribed to his patients. I was unable to locate any specific information on Dr. Hall himself but Cheney appears to be one shrewd and powerful (as in "connected") businessman. Cheney Medicine Company did a booming business for several years …. until the patent medicine industry began to be investigated and exposed by scientists and the American Medical Association.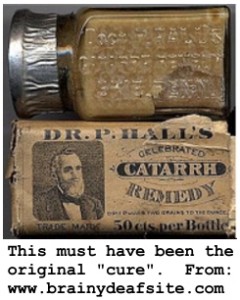 In 1871 Cheney began employing a very effective advertising campaign. His ads weren't flashy but they were everywhere – by the late 19th century he was advertising in over sixteen thousand newspapers world-wide. This type of advertising was likely what kept newspapers of that day afloat. Cheney, at one point, estimated that the proprietary medicine industry paid out more than $20 million dollars to newspapers per year! (Click to enlarge images)
halls cattarh adsCheney employed hundreds of people and he had representatives throughout the country doing door-to-door sales. By the mid-1890's the company was sending out 200,000 circulars daily at a cost of around $300 in postage per day.
Frank Cheney was a shrewd businessman. One of his "gimmicks", shall we say, was to put a wrapper on every bottle of Hall's Catarrh Cure which contained the following "guarantee":
One hundred dollar reward for any case of catarrh that can't be cured with Hall's Catarrh Cure.
Do you think anyone ever received this so-called "one hundred dollar reward"? According to the Journal of the American Medical Association, Volume 46, Issues 14-26, one patient, Mr. Robert Parks, wrote to the Cheney Medicine Company requesting his reward. You see he had used 26 bottles of Hall's Catarrh Cure without benefit – in fact, his condition had worsened. Mr. Parks received the following reply: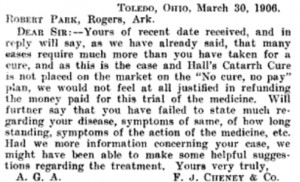 So apparently there was plenty of "wiggle room" in making these claims of cures. However, by the late 1890s and early 1900s, the patent medicine industry began to come under more scrutiny.
Proprietary Proprietors Strike Back
In response to the scrutiny and action threatened by state legislatures, Frank Cheney was instrumental in the formation of The Proprietary Association of America, its primary purpose being to protect the interests of the patent or proprietary medicine industry against state legislation and regulation.
For a period of time, Cheney served as the president of the Association and was largely responsible for the so-called "Red Clause" which was inserted in all advertising contracts with newspapers (printed in red ink). The Red Clause stated:
It is mutually agreed that this contract is void if any law is enacted by your State restricting or prohibiting the manufacture or sale of proprietary medicines.
Frank Cheney shared his advertising secrets and ploys with fellow members of the Association and for awhile those conversations and strategy sessions were kept from the public. An investigative journalist, Samuel Hopkins Adams, wrote a series of articles for Collier's Weekly in 1905 exposing many of the false claims of these so-called miracle cures. Adams also exposed the Association's secrets. As a result the general public was made aware of the fraud being perpetrated upon them, and the federal government began to take action.
The Pure Food and Drugs Act was enacted in 1906 and eventually the Food and Drug Act would be passed years later. Frank Cheney died in 1919 and his 1886 affidavit ad (see above) was still running in newspapers.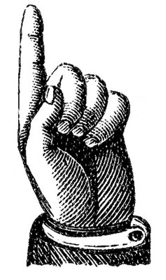 Did you enjoy this article?  Yes? Check out Digging History Magazine.  Since January 2018 new articles are published in a digital magazine (PDF) available by individual issue purchase or subscription (with three options).  Most issues run between 70-85 pages, filled with articles of interest to history-lovers and genealogists — it's all history, right? 🙂  No ads — just carefully-researched, well-written stories, complete with footnotes and sources.
Want to know more or try out a free issue? You can download either (or both) of the January-February 2019 and March-April 2019 issues here:  https://digging-history.com/free-samples/
Thanks for stopping by!