These two gravestones caught my eye.  I suspected they were husband and wife, being the only Gamblins in this cemetery.  Both Syl (Sylvester) and Emma also lived into their 90s so I'm thinking they must have led full and interesting lives.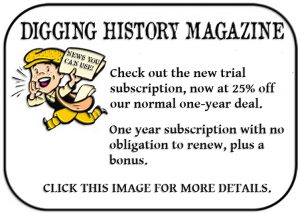 Emma was born on May 12, 1869 in Ohio (according to various U.S. Census records) and passed away on August 3, 1966. According to Syl's gravestone he was born in 1856 and died in 1947. In the 1860 Census, Sylvester Gamblin was three years old and living in Gap, Montgomery County, Arkansas. His parents were James and Emenella Gamblin.
In the 1870 Census, Syl lived in Texas, and in 1880 he lived in Center, Polk County, Arkansas, listed as a boarder with the Davis family. The missing data which could be gleaned from the 1890 U.S. Census records (burned in a fire in 1921) leaves some gaps in Syl's history and his migration from Arkansas to New Mexico Territory. However, according to various snippets in the Socorro Chieftain and the Silver City Southwest-Sentinel, Syl was in the area in the early 1890s: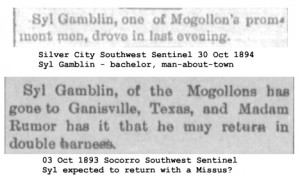 I also found a source citation from the 1900 US Census taken in Nome, Alaska, listing Syl Gamblin as a partner in relation to the head of the household and working in the mining industry, along with several other men. That census was taken from May 1 to June 1, 1900. The date of birth, age and place of birth match Syl's vital data. So, perhaps Syl had decided at some point to try his hand at mining in Alaska.

If true, he apparently didn't find riches in Alaska and sometime after June 1, 1900 he returned to Mogollon, as evidenced by an IRS Tax Assessment List for taxes due from October 1, 1900 (the date his business commenced) to June 30, 1901 (click to enlarge all graphics).

In 1910, according to that year's census, Syl was still living in Mogollon and single. A mention of Syl in a book about a local law enforcement officer, Cipriano Baca, made a short reference to Syl but did not include dates. In this short blurb ("Cipriana" in the quote below was Cipriano Baca's daughter) the author mentions Syl:
So the information and graphic above about tax assessments would likely be for the saloon.
Syl was apparently civic-minded. He was appointed as Precinct Election Judge several times, served as a delegate to the County Democratic Convention and he paid his taxes.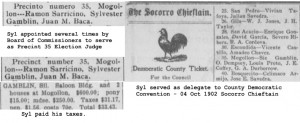 Syl Gamblin knew plenty of hardship as well. Like today, the area around Mogollon is prone to both fires and floods: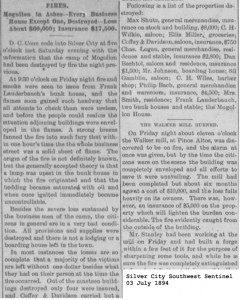 Thus, Syl Gamblin was a prominent citizen of the area as shown by the news articles posted above. NOTE: I searched extensively to locate a picture of Syl without success.
A little more research turned up some interesting information about Emma. Emma (maiden name Williams) married Charles Alfred Shellhorn on January 12 ,1898. I noticed that there were several Shellhorns buried in this cemetery as well. On January 3, 1899 their son Herman was born and died on July 12, 1899. Another child, Harriet, was born one year to the day after Herman's death, on July 12, 1900. Charles, whose occupation on the 1900 Census was listed as "teamster" died on February 9, 1908. He probably worked in the mines and perhaps died on the job, although I could find no news article about such a disaster around that time.
While searching for a news item about Charles Shellhorn's death, I came across this news item about little Cipriana Baca, Hattie Shellhorn's best friend (see book excerpt above):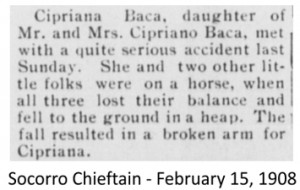 This accident happened on the same day as Charles Shellhorn, Hattie's father, died.
In 1910, Emma is listed as a widow on that year's U.S. Census, living in Mogollon and working as a housekeeper, with one child, Harriet aged 9. Harriet ("Hattie") died on October 14, 1918 and is buried in the same cemetery. I suspected Hattie was a victim of the 1918 Spanish Flu Pandemic, although according to her death certificate she died of pneumonia. (Hattie Shellhorn Death Certificate) Many people in Mogollon fell ill and died that year, and it is known that in the fall of 1918 the flu strain was much more virulent and deadly (see Albert Samsill Tombstone Article).
So, by 1918, Emma had suffered one loss after another. Her entire family, including her first husband Charles had died. From the book excerpt cited above, it sounds like perhaps Syl had known Emma awhile before they married because he knew Hattie when she was younger. By the 1920 Census, Syl and Emma had married, he being 63 and she 51 and were living in Hansonburg, Socorro County, New Mexico where Syl worked as a stockman or stock raiser. (One record I found suggested Syl and Emma married in 1912, but it was a subscription site, so I couldn't view the documentation. A search of a New Mexico Marriage database yielded no results either. However, that certainly fits the theory that they married sometime between the 1910 and 1920 Census.) Hansonburg was a mining district.
I found no record of the Gamblins in the 1930 Census, but in the 1940 Census Syl is 82 years old and his occupation is listed as "miner" and living in Mogollon, Catron County, New Mexico. Hmmm…perhaps Syl had been part of the Nome gold strike of 1900 after all and now he was trying his hand again at mining? Come to think of it, there was gold fever in Polk County, Arkansas in the 1880s and Syl lived in Polk County according to the 1880 Census.
Digitized newspapers at the Library of Congress are only available through 1922, and the 1940 Census is the last one available at this time. So the only remaining information I could find about the Gamblins is on their tombstones — Syl died in 1947 and Emma in 1966.
Perhaps Syl Gamblin was a restless soul, wandering near and far, in search of riches and success – or dare I say a "gamblin' man". Maybe when he found Emma he found real happiness and contentment at last. Doesn't that sound like material for a historical fiction/romance book?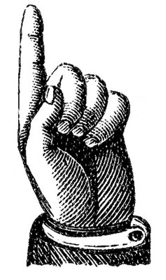 Did you enjoy this article?  Yes? Check out Digging History Magazine.  Since January 2018 new articles are published in a digital magazine (PDF) available by individual issue purchase or subscription (with three options).  Most issues run between 70-85 pages, filled with articles of interest to history-lovers and genealogists — it's all history, right? 🙂  No ads — just carefully-researched, well-written stories, complete with footnotes and sources.
Want to know more or try out a free issue? You can download either (or both) of the January-February 2019 and March-April 2019 issues here:  https://digging-history.com/free-samples/
Thanks for stopping by!