Ancestral and Historical Research
I have been bitten by the ancestry/historical research bug BIG TIME, and have various resources at my disposal to help me discover your family history.  For recent discoveries I've made, see the FAQs.
Are you an author in need of historical research for your non-fiction or historical fiction book?  I can help you write a compelling manuscript by researching unique and obscure pieces of history.  To view samples of my work, read the Digging History blog or ask for a free issue of Digging History Magazine.  Contact me for more information or to request a writing sample.
See the Pricing page for more information, including ways to fund an extended family history project.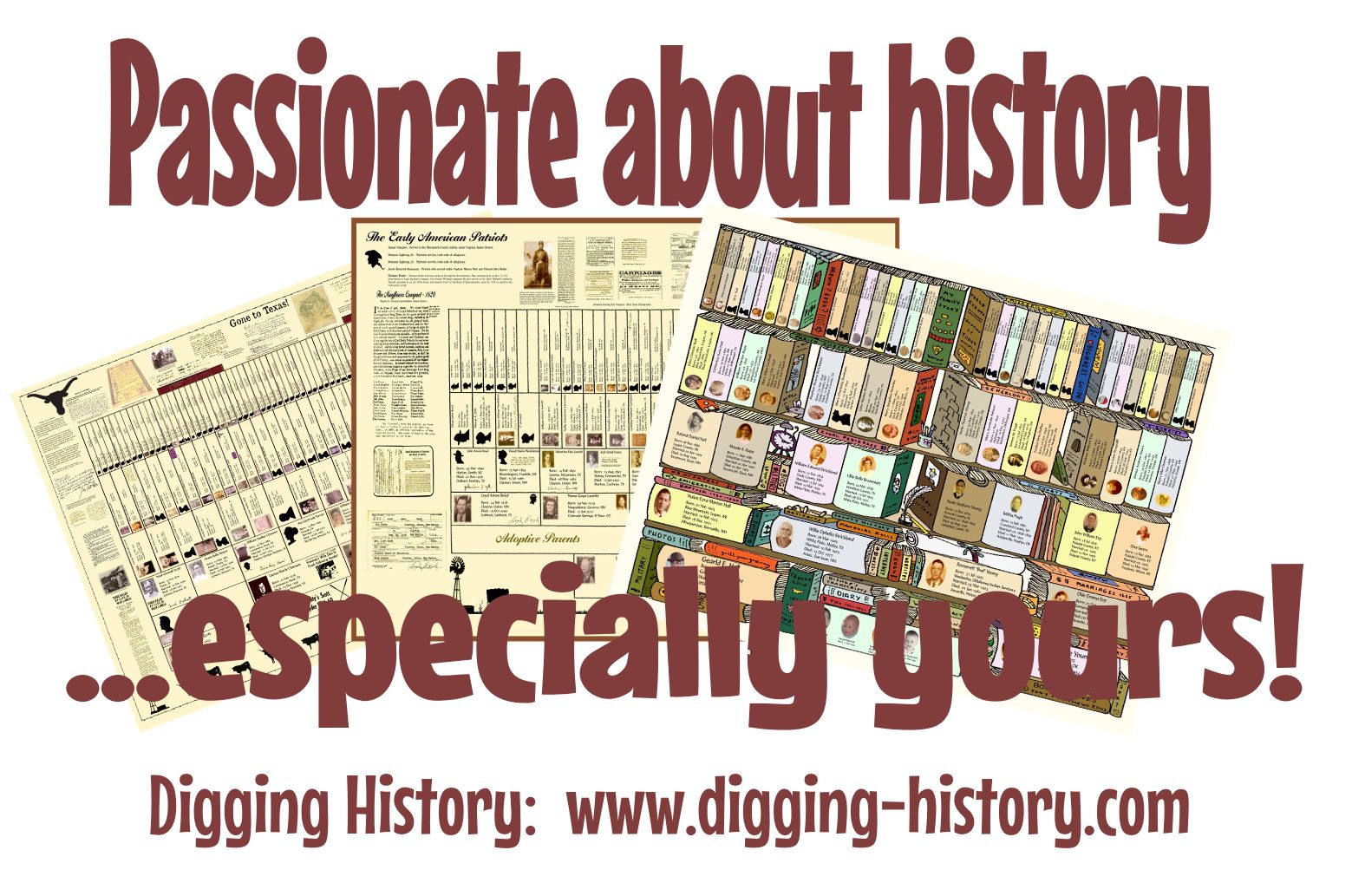 Pedigree Charts
Want a unique and decorative pedigree chart to proudly display your family's history? I can format one that includes pictures and vital information about your ancestor, including birth and death dates, news clippings, signatures, cattle brands and more.
Charts can be sized to meet your requirements. See Pricing or contact me for more information.
Digging History Magazine
Digging History Magazine is a monthly digital (PDF) publication available by single issue purchase or subscription.  The magazine runs 60-80 pages per month of articles (just articles, no advertisements) which highlight a wide range of historical events and characters, including thoughtful articles sometimes offering a different perspective.  Each issue also features articles of interest to those researching family history.  Some issues are thematic.  For example, the April 2018 issue was all about the Civil War, even the book reviews!  Some of the article titles in that issue included:
National Traitor or American Martyr:  John Brown's Enigmatic Position in History
The Civil War Before THE Civil War
Hell No, We Won't Go! – The New York City Draft Riots
Adventures in Research:  What Really Happened to Stephen Paul?
When Johnny Came Marching Home (Without an Arm or Leg)
Yankee Doodle Dandies:  Civil War Silk Stocking Regiments
Winning the War by the "Hundreds"
North and South:  Profiles in Courage
Subscriptions are the best option with four affordable and budget-minded options:  month-to-month, 3-month, 6-month and one year (now with a free one-month trial, except month-to-month).  Purchase online once with a credit card and your payments will automatically recur at the interval you have chosen until you tell me you want to cancel.
NOTE:  For those who wish to subscribe but don't want to do it online, one-year subscriptions may be purchased by check.  Contact me first:  seh@digging-history.com to arrange payment.
If you love history, you'll love Digging History Magazine, your monthly "history fix" delivered to your inbox!