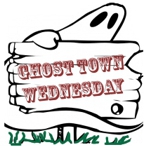 This ghost town in northeast Cherokee County was first known as "Skin Tight".  According to legend the community got that name after cattle buyer and merchant Henry L. Reeves opened a store.  It's believed the name was due either to Reeves' "close trading tactics" or perhaps because he worked as a trapper and animal skinner.
The town had begun to take shape in several years earlier in 1849 when Hundle Wiggins settled there after the Texas Legislature created Cherokee County in 1846.  Reeves built a store there in the early 1880's and on June 13, 1883 a post office was established under the name "Lone Star".  Not long afterwards Reeves moved to Smith County and was shot to death in Troup on June 13, 1886.
By 1885 Lone Star had grown to a population of 160 with a cotton gin, gristmill, sawmill, general store and school.  The town was somewhat isolated but the town continued to grow steadily.  Both Woodmen of the World and the Masons established chapters in the small community.
By 1890 there were three mercantile stores and a millinery shop in the business district. In 1893 a fire swept through the business section of town and destroyed all but two buildings. The fire started in the offices of Dr. J.E. Rowbarts, who died in the fire. No one was ever able to determine the exact cause although it was common knowledge the doctor kept a cannister of black powder in his office.
The town was rebuilt quickly and resumed its growth, reaching a population of three hundred by the mid 1890's, aided in part by the Lone Star Institute established by Colonel T.A. Cocke and Reverend M.A. Stewart in 1889. The school's reputation for excellence led many families to settle in Lone Star and remain after their children had graduated.
Lone Star had four churches – Universalist, Methodist, Baptist and Church of Christ – along with three saloons. One of those was closed following the Blizzard of 1898 when its beer stock stored in the cellar froze and burst.
Lone Star's decline began at the turn of the century, especially after the Texas and New Orleans Railroad bypassed it in 1903. Instead, the railroad was built through nearby Ponta, where many merchants and residents moved. In 1915 the population was two hundred and the post office closed the following year.
Even after oil was discovered nearby in 1939 the town failed to revive since the field never produced much. The Lone Star Oil Field produced 878,051 barrels and the Lone Star Pettit Field just over 6,000 barrels before both sites were shut down in 1960. A few businesses were still hanging on in 1940 but after World War II even more residents chose to leave.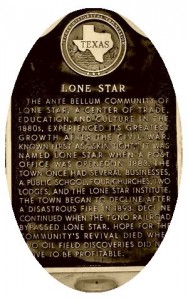 In April of 1986 Lone Star was designated as a historical site. By the 1990's only an old weather-beaten blacksmith shop remained. Not a whole lot has been written about Lone Star and except for the historic marker most people wouldn't even know a town ever existed there. At the dedication ceremony in 1986, John Mark Lester spoke about the "Saga of Lone Star":
The people who settled Lone Star never were able to build a lasting town for themselves and their descendants, but old Lone Star is not forgotten when the history of Cherokee County is told. There are numerous stories and incidents that have not been told her this afternoon such as the story of Sam Asbury Lindsay, Jr. who came to Lone Star in 1900 and was so impressed with the telephone system that he went on to found what is the $221 million United Telecom Company. The Town's star rose, glowed brightly for a time, dimmed, died, and never could be rekindled. The crumbling old blacksmith shop, the abandoned old cemetery, a few old homes and business building foundations lost in the weeds are the mute evidence that a town once was on this site. Lone Star lives in our memories and now in our history.1
Footnotes: