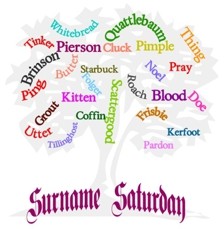 I haven't done a Surname Saturday in awhile and today seemed a good day to highlight this particular surname after stumbling across an interesting story this week – and possibly a link to my own family history.  The name I actually ran across while working on an ancestry research project was Renfro (Renfrow or Rentfrow).  As it turns out, these are all variations of Renfrew, and as I suspected the name has Scottish origins.
The name originates from a town of the same name in Renfrewshire.  Perhaps the earliest instance of the name was seen in the late thirteenth century when the name Adam de Reynfru was recorded in Edeneburk County.  Early in the following century a Scottish prisoner of war by the name of Robert Reynfreu was imprisoned at the Old Sarum Castle between 1304 and 1307.
In 1408 the name Galfridus Renfrew was recorded in Aberdeen and later in the century the name of Bartholomew Renfrew appeared in Glasgow records in 1481.  Later the name appeared in English records with various spellings like Rentfrow, Rentfree, Renfree, Renfro and more.
As I alluded to above, while working on a research project I came across an unusual name which I've placed on the list of future Tombstone Tuesday articles: June Victory "Queen Victoria" Rentfrow Parrish.  While attempting to find out more about "Queen Victoria" I came across others with the Rentfrow surname who might have been related to her.
I was startled, however, when I came across two records, one at Ancestry.com and another the Find-A-Grave entry of Thomas Jefferson Rentfrow.  When I saw the Ancestry.com record, I thought it very unusual and perhaps someone's mistake.  Thomas Jefferson Rentfrow's parents were Hickman Hensley and Elizabeth Rentfrow.  But, why were there children surnamed "Rentfrow" and not "Hensley"?
The most immediately startling detail, however, was the name Hickman Hensley.  I have at least one ancestor, and possibly two by that name: Hickman John Hensley (1806-1872), my fourth great-grandfather, and Hickman Hensley (1759-1815 or 1816), my (possible) sixth great-grandfather.  Hmm.  A little more digging was clearly in order.  Here's what I discovered.
According to family researchers who base their findings on the Bible records of Hickman Hensley and Elizabeth Rentfrow, Hickman was born in Virginia on April 15, 1759 to parents Benjamin and Elizabeth (Hickman) Hensley.  From what I've read it appears Hickman was first married to Agnes Fisher – sometime before 1778 perhaps.  By 1790 he is enumerated in the first United States census with a large family.
While it's unclear just how many children Hickman and Agnes had (nor, for that matter, their names), family researchers believe four of their sons were Larkin, Samuel, William and James.  Some believe they also had a son named George Washington Hensley, who may be my fifth great-grandfather and Hickman John Hensley's father.
Some believe Agnes died before 1800 (perhaps sometime in the 1790's following the census).  This is likely when Elizabeth Rentfrow entered the picture.  Elizabeth was the daughter of John and Elizabeth (Fisher) Rentfrow – Agnes was her aunt and by marriage Hickman's niece.  Researchers claim records prove that Hickman and Elizabeth never married and their children listed in the family Bible were: Jesse, Rhoda, Rodica, Joseph, John, Eli, Levi, Thomas Jefferson and James Madison – all taking the surname of their mother Elizabeth Rentfrow.  As someone pointed out, it seems an odd place to list children born outside of marriage.  Technically, they were Hensleys, making them possibly my kin even though none of Elizabeth's children are part of my Hensley line.
It's possible George Washington Hensley was not the son of Hickman and Agnes – Hickman's children with Agnes were not listed in the Hickman-Rentfrow family Bible records.  Still, it seems logical and certainly possible there is a link if George Washington Hensley had a son named Hickman John and named him after his own father.
I may not be able to prove if Washington belonged to Hickman and Agnes, but I found this such a fascinating story.  I'll still file it away as part of my Hensley history.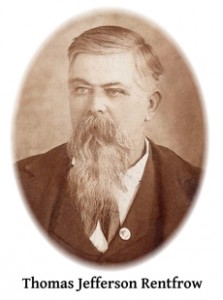 Thomas Jefferson Rentfrow was born to Hickman Hensley and Elizabeth Renfrow in Maury County, Tennessee on July 12, 1812.  It appears for a period of time Hickman had been in and out of Tennessee before settling there sometime between the 1800 and 1810 censuses.  When or where Hickman died is uncertain, but Elizabeth was later enumerated in 1850 living in Effingham, Illinois with her son T.J. Rentfro.
T.J. married Eleanor Trapp in 1843 and was a prominent citizen of Effingham County.  His biography was included in the History of Effingham County, Illinois:
Thomas J. Rentfrow, farmer, P.O. Effingham, was born in Maury County, Middle Tennessee, in July, 1812. In the fall of 1829, he came to Illinois with his mother, who settled in Wayne County, near what is known as Fairfield, until the spring of 1830, when they came to Effingham county.  Richard Cohea and Hickman Langford, brothers-in-law, came at the same time, and four brothers of our subject, Jesse, John, Joseph and Eli, joined the party in this county in 1860. They settled on the Little Wabash, just above Ewington, this county. At this time there were more Indians in this county than white people.  Our subject states that there were only two white families within 10 miles of their home; these were John P. Farley and Samuel Bratton. The Rentfrows brought four horses and one ox team.

On their arrival, they went into a deserted Indian Camp on the Wabash bottom, near what is now known as the old Reynolds place, in the month of March, while snow was yet on the ground, making their surroundings as comfortable as possible, they began to tap the maple trees and make sugar. The old camp was made of linn puncheons pinned to trees with wooden pegs; they contented themselves as best they could in this temporary shelter, until they had time to build a house on the hill, near a spring, as the Tennesseans in those early days did not know what a well was. Joseph was the bread finder, and went as far as Paris, in Edgar County, to get corn, on horseback.  In those days, the green-head flies were so thick and ravenous that it was impossible to travel in mid-day with the additional pest of mosquitoes and gnats.  They cleared off a patch in the bottom and planted corn, and also a patch of cotton, but the latter was a failure. The corn for bread was pounded in a wooden mortar, dug out of a log or stump, with a pole attached like a well sweep, with an iron wedge as a pounder.  Raising early in the morning, preparing the frugal breakfast, the pounding for meal was answered by the gobbling of the wild turkeys, which were very abundant in those days.

In a few years, the convenience of the colony was improved by the erection of a horse mill on the Okaw, thirty-five miles distant, whither the subject would go with his grist, and had to wait four or five days for his turn at the grist, living on parched corn and sleeping in the mill.  The journey on these occasions was made with ox teams across the prairie at night, driving into the bushes, cutting them down and building "bush Harbors" for protection, the oxen feeding on the high grass so common in those days.  When the grist haulers arrived and squatted around the mill, it had the appearance of a modern camp meeting.  Deer, wild turkeys, and bee trees were plenty, and it took but a short time to accrue either to supply their need.  A few black bears could be encountered, and wolves, big and little, were plenty, and at times dangerous.

The tables of the settlers were furnished with wild meat, wild honey and corn bread.  Our subject went to school for a few months in Tennessee, but never had an arithmetic or a quire of paper, and never attended a school after settling in this county.  He remained a member of his mother's family until he was married, May 18, 1843, to Miss Eleanor Trapp, daughter of John Trapp, of this county, who was at one time Sheriff of Effingham County.  He had made improvements on the first settlement of the family, and bought the interest of his mother and others, which he sold to Reynolds for $160.00 and entered 120 acres in Section 35 in 1842, afterward entering 280 acres more; he now owns 300 acres, all under cultivation, raising principally grain, with good success.

Mr. Rentfrow, is the father of ten children, six of whom are living – John C., of this county; Mary E., wife of Dennis O. Keating; William Elijah, of this county, Sarah, wife of Lee Burrell of Effingham; Stephen A. and Michael, at home.  Once upon a time, Mr. Rentfrow, while hunting with Alexander McWhorter, they would lay out all night, Rentfrow placing a coon skin under his head for a pillow; the natural warmth of his head united with the heat from the log heap, melted the snow and frozen ground while he was sleeping, on awakening; he found his hair frozen to the ground, requiring skill, patience and solid pulling to get him loose.  Mr. Rentfrow was elected sheriff of this county in 1843, which he held for eight years, he was nominated by the Democrats of which party he had been a lifelong member.1
Thomas Jefferson Rentfrow (actually a Hensley and possibly my kin) died on October 6, 1889 and is buried in the Rentfrow Cemetery in Effingham County.
Have a GREAT day . . . someday it will be HISTORY!

© Sharon Hall (Digging History), 2015.
Footnotes: