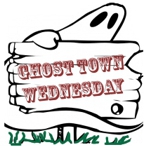 During the early eighteenth century, Spanish explorers mentioned this area and its unique water supply flowing from seven springs which fed the nearby Pecos River.  Despite those advantages, settling the area wasn't feasible at the time due to the presence of hostile Plains Indians.  Around the time of the Civil War, however, Anglo settlers began making their way to the area and more soon followed.
In 1866, Charles Goodnight and Oliver Loving brought their herds and set up camps there and what is now called Carlsbad.  To the vast herds owned by Goodnight and Loving, John Chisum added an additional one hundred thousand to graze the Pecos River Valley.

NOTE: This article has been SNIPPED.  Why?  Digging History is now a monthly digital (PDF) magazine.  This article will be included in a future edition of Digging History Magazine. Check out the latest issue here:  www.digginghistorymag.com or try a subscription here.  Want to TRY OUT the magazine?  Click the magazine link in the previous sentence, then scroll to the bottom of any page and provide your email and Subscribe.  A free issue will be coming your way soon!