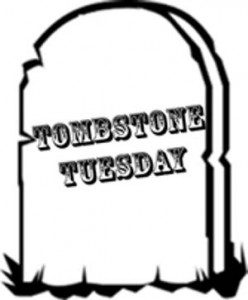 I could just as well tell her story under the "Feisty Female" category of this blog, but I'm choosing to write about the woman known to the country throughout the 1930's until her death in 1946 as "Aunt Lizzie Devers".  To research her entire life, however, would be a monumental challenge for even the most experienced and well-seasoned genealogist.  In fact, there is only one person on Ancestry.com who has attempted and I'm not sure whether it's correct or not.
If the hundreds of newspaper articles written about her are to be believed, however, Aunt Lizzie Devers had quite an interesting history.  The following is compiled from those 1930's and 1940's newspaper articles.
I can't say what her full birth name was, except her first name was probably Elizabeth since she went by Lizzie.  Her father was said to have been full-blood Cherokee and her mother Dutch-Irish.  The only definitive census records which indicate her Native American ancestry are for the years 1930 and 1940 where she is clearly enumerated as "Indian".
She always believed she was born in Georgia in 1831, but near the end of her life she couldn't recall the exact date, although it was usually commemorated on May 1.  Lizzie claimed she came to Oklahoma over the so-called "Trail of Tears", but when her migration to Oklahoma occurred is unclear as far as actual dates are concerned.
Census records indicate that her first marriage occurred at the age of twelve and in 1932 she stated that her first husband was a Revolutionary War veteran and her next husband fought in the Civil War.  That's quite a time gap.  She always claimed to have been married nine different times and had outlived all of them, whether they died or just walked away because she didn't believe in divorce.
In 1938 she told reporters that she was the mother of twelve children and had lost track of all but one son with whom she lived, Henry Pinkham (or Pinkman).  She would later claim she was fourteen when Henry was born, although census records (and some newspaper articles) tell a different story.  For instance, in 1939 Henry was reported to be her youngest son, aged fifty-eight, but in 1920 the census enumerated him as twenty-six and Lizzie a mere fifty-one years old.
Amazingly, by 1930, however, Lizzie had aged not ten years but forty-seven (98) and Henry had tacked on an extra thirty years (56).  The 1940 census was good to Henry – he "lost" two years and was enumerated as being 54 that year, while Lizzie was 109.  On the occasion of her 110th birthday Lizzie proclaimed she had a "feeling" she would outlive her father who had died at the age of 115.  Would she?  Read on.
Lizzie always said she was in Georgia when General Sherman and his troops were fighting their way through the South.  She also claimed to have winked at Sherman, although he didn't wink back.  In 1938 the Waco News-Tribune reported that at the age of nineteen Lizzie had "waved goodbye to boy friends when they went to fight for the Confederacy", although the article said she was married at the time of Sherman's march through Georgia and the mother of two children.
Either the newspapers were stretching the truth or Aunt Lizzie was – the numbers simply don't add up.  If her claim of nine husbands was accurate, it would be impossible to trace all of them since it's doubtful whether any  official records could be found.  A search for the last name "Devers" for the Dawes Commission Enrollment of the Five Civilized Tribes turned up nothing, although a search of "Lizzie" brought up several Cherokee women by that name – but which one, if any of these, was her?
With a history clouded with so many inconsistencies and muddled facts (at least from today's perspective and skimpy documentation), what brought Aunt Lizzie Devers to the attention of the world?  Interestingly, her name first appeared in newspapers on the occasion of her application for government aid at the age of 100 (not long before her 101st).  She had fallen on hard times, reported the Miami (Oklahoma) Daily News Record on March 11, 1932: "the rag collecting and selling business had not been so good [that] winter."  She said she was "a victim of hard business times or otherwise would not have asked for assistance."
With her application for government aid, the country apparently took notice of Lizzie, because for the rest of her life most every birthday was noted in newspapers across the country (with a few articles in between when she said or did something noteworthy for an aged person).  Those news accounts, if accurate, indicate Aunt Lizzie Devers was quite a colorful character.
For your reading enjoyment (and amusement), here are a some highlights from the last years of her life, which at times clarified her life story (and sometimes muddled it more!):
1932
While reporting on her aid request, the News Review (Roseburg, Oregon; 01 Apr 1932) reported Lizzie as saying: "Modern girls grow old because they use too much rouge and lipstick, Mrs. Devers confided, but she said tobacco was different.  'Sure, I use tobacco, when I can get it,' said she.  'I smoke a pipe chew and even dip snuff when I have the chance.'" Other newspapers around the country picked up the story – clearly her age was making news.
1937
The next birthday-related articles I found were published in 1937.  The Ada (Oklahoma) Evening News (03 May 1937) wrote that on the occasion of Lizzie's 106th birthday she had challenged younger women to a "washing and wringing" contest (no takers, however).  Her birthday that year had "caused no excitement in her quiet life."
The Evening News reported she was born in Rome, Georgia (the first time an exact birth location had been mentioned) and "she remembered well Sherman's march to the sea."  She was of the opinion that James Garfield had been the best president the country had ever elected.
1938
In early April of her 107th year, Lizzie was looking forward to trying a few new things.  She would take a trip to the drug store, sit down and buy a soda (she'd never had one).  Then she was going to a "picture show", also her first.  Finally, she said she would be driven home and vowed to utter not one word of complaint about the driving.
She again reflected back on the Civil War, saying "General Sherman was a handsome man, worth any girl's time" (remember, she claimed to have winked at him).  Asked where she minded living alone, she replied she didn't mind but she was no hermit either.  "All I want is a few acquaintances.  I gave up friends 50 years ago."
On April 30, the Waco News-Tribune reported Lizzie, in the days leading up to her 107th birthday, was busy "toting swill to her prize pig as usual today and declared she's still 'just a giddy girl.'" She wasn't planning a festive celebration, planning to wear her one black silk dress "reserved for great occasions."
She continued to claim her Cherokee-Dutch-Irish heritage was a "mean mixture" and the reason she was so tough – too tough to die she always said.  "I've had nine husbands.  I've got my pig fattenin' for bacon, 75 chickens, eight dogs, three and a half cats – one lost a leg and tail in a trap.  Tell the folks that for my birthday I'd like a monkey.  And maybe another husband.  No, you can't take my picture.  Makes me look old."
1939
On the occasion of her 108th birthday, Lizzie took her first airplane ride and "looked forward to seeing 'the young folks jitterbug'" that night.  The Emporia (Kansas) Gazette reported "the Cherokee Indian woman got her bonnet Sunday and climbed into an airplane".  Her son Henry (age 58, remember the census record) told her, "Don't go, Ma, you might drop."  She replied, "Henry, I'm going if it kills me."
She enjoyed her twenty-minute flight, proclaiming she had received her "second sight", wishing she had her second teeth as well.  "It was the best birthday present I ever had.  I liked it so good I forgot my snuff.  Now if someone will just take me Monday night to a place where I can see the young folks jitterbug, I'll be happy."
1940
Aunt Lizzie Devers "reckoned she was good for another hundred years.  It seems like I got my second wind now.  Why I'm ready to get married again."  Mostly she wanted a monkey to go along with her eleven goats, two hogs, pig, twelve chickens, a cow and a goldfish.  (Nevada State Journal, 01 May 1940)
1941
Had she not been sick in bed with the flu, Aunt Lizzie would have been celebrating her 110th birthday with her tenth trip down the aisle, reported the Iola (Kansas) Register:
The bright-eyed, witty little Sapulpan, feeling "fresh as a flapper" and itching to be up and about, admitted she was in love again, this time with John Knight, a 77-year old neighbor.  "I'm just a fast-steppin' giddy girl," she said.  "We're goin' to get married soon as I'm able to get up and cook."  Now that romance has come into her life again, Aunt Lizzie said she needed only three things to make her birthday complete – a monkey, a canary bird and "a ride I none of them airplanes."  Aunt Lizzie's father was a full-blood Cherokee Indian.  Her mother was Irish and Dutch.  "That's the meanest mixture they is," she commented.  "That's why I'm tough.  Man, I've been snake bit six times, been bit by a mad dog once, had nine husbands and I'm still here"
She walked with the Cherokees over the "Trail of Tears" to Oklahoma and still is made at the palefaces because "they wouldn't let us stop and bury my pore [sic] old grandmother," who died on the trail.  She smokes a pipe and uses snuff but when offered a cigaret she shook her head.  "No, sir, I don't smoke them things, and I don't like to see any woman do that at all.  Me, I like snuff and I don't just dip it.  I eat it."
When asked about the war in Europe, Lizzie opined, "they're comin' over her, shore as shootin'.  When they git to Sapulpa, I'm agoin' to git in it.  Why, I could shoot the hat off your head and never touch you."  That was what the Iola Register reported.
The Lubbock Avalanche-Journal, however, reported that Lizzie "wouldn't marry another man on a bet."  She admitted the business about her marrying again was a big joke, "just having some fun with the reporter boys who were having fun with me."  Something tells me Lizzie did that a lot.
Later that year on the day before Thanksgiving, Lizzie was struck by a car and hospitalized with serious injuries, including a fractured shoulder and leg.
1942
Just before her 111th birthday, newspapers were reporting her amazing recovery from the accident.  The bone had knitted and after five months she was home in time for her birthday.  Doctors said the knitting of the bone was unusual for a person of her age.
1943
World War II was in the headlines and war-time rationing was the order of the day throughout the country.  Lizzie's advice: "If Americans raised more beans instead of so much hell, there wouldn't be so much of this rationing business."  She was making plans for her own victory garden.  For the previous five years, she had asked for a monkey for her birthday, "explaining that since there was no chance for a tenth husband she would take the next thing to a man."
1944
Sitting on her porch and puffing her corncob pipe, Aunt Lizzie told interviewers she had outlived four wars and expected to outlive the current one.  She laughed – "maybe I won't die at all, maybe I'll just be transfigured."  The Pampa (Texas) Daily News cleared up a bit of muddled history by reporting that Lizzie had been born in Georgia and brought West as an infant.  She had returned to Georgia during the Civil War at age thirty-four (different from the earlier claim of her being nineteen at the time of the war) and witnessed General Sherman's march.  She had in fact got one of her nine husbands from his ranks.  "Lord, I'd like to have another," she chuckled.
Clearly, however, the newspaper articles continued to provide conflicting details about Lizzie.  The Miami (Oklahoma) Daily News Record reported on April 30 that she was living with her 60-year old son who had a trash-hauling business (again, remember the census records) – did Lizzie have a child at age fifty-three (remember, some reports claimed he had been born to her at age fourteen).
She was toothless but had good hearing and eyesight.  She ate simply, slept plenty and got lots of exercise – the recipe for a long life she proclaimed.  In fact, the Cleveland Plain Dealer reported she claimed God told her she would live until the end of the world.  "I don't think about dying – I think about living and maybe I ain't destined to die.  I still hate automobiles as the contraptions of the devil; airplanes is pure demons out of hell."
The Lord willing she planned to celebrate her birthday by putting on a "new wrapper" and sitting down to her own roast chicken dinner, visit with friends and "just act like a human being.  And I challenge any woman in the country to get the kicks out of life I'm a gettin'."
1945
As her 114th birthday approached, Lizzie planned to be working in her garden and tending her animals.  And why not – she had outlived nine husbands, was still spry and witty, survived four wars (soon to be five), six snake bites, one mad dog bite and being struck by a car three years earlier at the age of 111.
The Miami Daily News reported she had come to Oklahoma in a cart in the 1890's selling patent medicine.  Her secret for a long life?  "Minding [her] own business and having plenty of business to mind."  She was hoping to outlive the current war, yet she predicted it would continue for several more years.  "The war won't end until it gets right over here – and I mean right here."
She wasn't impressed with the United Nations peace conference in San Francisco either.  "It won't do no good.  The Lord appeared to me and told me about this war three years before it started, and he's told me it ain't going to end for six more years – and right here."
She wore nine wedding rings on one finger and boasted she had outlived all her husbands, adding she didn't intend to die.  The Whitewright (Texas) Sun mentioned Henry's age, reporting he was only fourteen years younger than Lizzie, making him, instead of 54, 56 or 60, one hundred years old himself!?!  Lizzie, "still full of the salty pioneer spirit," was able to stretch her arms high above her head and "disprove any notions she was growing old and feeble."
1946
Just a few weeks before her 115th birthday, Lizzie (who had reportedly called airplanes "pure demons out of hell") was ready for another airplane ride.  This time she was taken for a flight over part of the Trail of Tears, and this time she remembered her snuff.  All she asked of pilot Clyde Kirby, whom she had known since he was a boy, was a dip of her snuff.  Aunt Lizzie, however, was showing signs of decline, despite her prior claims of "I ain't never going to die."  She commented she was tired of all the hoopla.
Maybe it was a premonition.  On June 24, the Amarillo Daily News was reporting Aunt Lizzie was just "resting up" in Tulsa's Hillcrest Hospital, reportedly after being kicked by one of her cows.   She had climbed into her hospital bed on her own power, proclaiming "nothing's the matter with me except I've lived a long time."  Hospital staff agreed – after a few drips of her favorite snuff and a few sniffs of a bouquet of roses from an anonymous well-wisher – she was on her way to recovery.
Lizzie was released from the hospital, but on July 22 she was found dead in her home, said to have been living alone at the time.   As I said, she was quite a character.  Her obituary was published throughout the country, here and there adding a few more details about her life.
Throughout the years following her 100th birthday, it's clear there were conflicting bits of information reported, but whether those were due to mis-reporting or Aunt Lizzie kidding around with reporters who may have annoyed her is unclear.
I just love doing stories about colorful characters like Aunt Lizzie Devers – I hope you enjoyed it too (and hope it wasn't too long and boring!).   A life like hers just couldn't be contained in a few paragraphs, don't you agree?
Have a GREAT day — someday it will be HISTORY!
© Sharon Hall (History Depot), 2015.