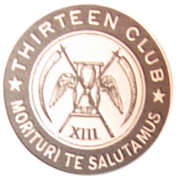 Do you suffer from friggatriskaidekaphobia (and you say, I don't even know how to pronounce it, so how could I be afflicted with it!?!).  Maybe not, but it may affect between seventeen and twenty million Americans.  According to the Mayo Clinic, in clinical terms a phobia "is an overwhelming and unreasonable fear of an object or situation that poses little real danger but provokes anxiety and avoidance."
This particular phobia, as it relates to a certain calendar date, may only be experienced one to three times per year.  This year it will haunt millions of people three times on a Friday – February 13, March 13 and November 13 – and no one seems to know definitively when and where the notion of "Friday the 13th" being an unlucky day, or for that matter the number "13″ being associated with misfortune and bad luck, originated.

NOTE: This article has been SNIPPED.  Why?  Digging History is now a monthly digital (PDF) magazine.  This article will be included in a future edition of Digging History Magazine. Check out the latest issue here:  www.digginghistorymag.com or try a subscription here.  Want to TRY OUT the magazine?  Click the magazine link in the previous sentence, then scroll to the bottom of any page and provide your email and Subscribe.  A free issue will be coming your way soon!