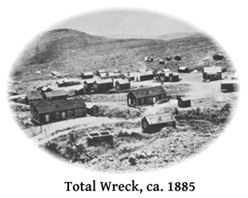 In 1879 silver was discovered in the eastern Empire Mountains of Arizona and the claims were held by John T. Dillon.  According to Ed Vail, author of The Story of a Mine, one of the mines and the little town that sprung up nearby got their name from remarks made by Dillon when he signed the recording papers with Vail's brother Walter in 1881.
Walter asked him for a name and Dillon said, "Well, the mineral foundation is almost a total wreck," alluding to the fact that it was located beneath a quartzite ledge that looked like a total wreck.  The name stuck and on August 12, 1881 a post office was established.
NOTE: Digging History is now a monthly digital (PDF) magazine.  This article will be included in a future edition of Digging History Magazine. Check out the latest issue here:  www.digginghistorymag.com or try a subscription here.