Clarence King, a Yale-educated geologist, surveyed the American West and served as the first director of the United States Geological Survey.  His close friend Henry Adams said that he had "that combination of physical energy, social standing, mental scope and training, wit, geniality and science, that seemed superlatively American and irresistibly strong."
At the age of twenty-two Clarence served as a volunteer geologist in the 1864 Survey of California, crossing the country with a group of pioneers who departed from St. Joseph, Missouri.  His skills as a geologist astounded his co-workers – he scaled mountains, named peaks and drew extremely accurate maps.
Around this time, Clarence made a note in one of his diaries regarding his fascination with women of color, whether native or slave – he just found them more attractive than white women for some reason. Soon afterwards he was appointed to lead a survey called the "Geological Exploration of the Fortieth Parallel" – a survey which would be directed by the military and last for some seven years.
Clarence King was given a grant of $100,000 to complete his task, and even though he was so young, many experienced geologists clamored to join his team. The team of thirty-five left Washington and headed to California via Panama and upon arrival they immediately crossed the Sierra Nevada and began surveying. His team produced volumes and volumes of detailed maps and illustrations.
In 1872, five years after beginning the survey, Clarence King became aware of what would be called The Great Diamond Hoax of 1872 – the subject of last Friday's "Far-Out" article. By stepping into the situation and "solving" the mystery of why diamonds, rubies and sapphires would be found randomly at a remote location of Colorado, Clarence King gained even more notoriety. King knew the West well and he was able to determine approximately where the supposed diamond field was located. King discovered the hoax when he and his small group determined the field had been "salted" with uncut stones placed their by the hoax perpetrators – even duping Charles Tiffany no less!
In 1875, King explained his taste for darker-skinned women to the Atlantic Monthly:
Whoever has strolled at dusk where palm groves lean to the shore and watched the Indian women sauntering in the cool of evening with a gait in which a ripple of grace undulates–whoever has seen their soft, dark eyes, and read the expression of tenderness and pathos which is habitual on their faces, can but feel that here simple nature has done all she can for a woman.
King simply had no taste for white women. A friend in Washington, D.C. tried to set him up with an attractive lady and King remarked "To see her walk across a room, you would think someone had tilted up a coffin on end, and propelled the corpse spasmodically forward." He lived in New York and would frequent places where women of color congregated. Sometime in late 1887 or early 1888 King met a nursemaid named Ada Copeland. She was young and attractive, from Georgia and had been born into a family of slaves. He was forty-six and she twenty-eight – he white, she black.
Clarence King knew he was treading dangerous waters as it was highly unacceptable in that time for a white man to pursue a black woman. But he figured out a way to, in his mind, circumvent the situation by lying to Miss Copeland. First he didn't tell her his real name – he was James Todd. Clarence had grown up in a well-to-do Newport, Rhode Island family but he told Ada he was from Baltimore. The third lie was his occupation – he claimed to have been a former steelworker who now worked as a porter on a train.
Since it had long been accepted that porters on trains were black, the inference was that he was black (even though he was fair-skinned with blue eyes!). In that era, just one drop of Negro blood made one a black person. He and Ada fell in love and married in September 1888; however, no friends or family of Clarence's attended the simple ceremony before a Methodist minister. He and Ada had five children, but Clarence lived an exhausting double-life.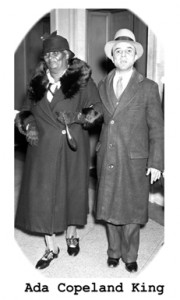 He split his life between a residential hotel in Manhattan and his family home in Bedford-Stuyvesant and, of course, it turned out to be an expensive lifestyle. Clarence was forced to borrow thousands of dollars to cover the expense of his dual life – on the one hand, he was still an eminent white geologist and on the other he was a black man with a sizable family. And, of course, to continue the masquerade, he had to continue to be deceptive. Simon Winchester, in his book "The Men Who United the States" (see yesterday's book review), noted that at one point Clarence was introduced to a geologist at a conference who just happened to be named, of all things, James Todd – probably a bit startling to Clarence!
Clarence became increasingly desperate to pay his bills – he tried mining in Mexico and cattle ranching but neither venture was successful. By the late 1890's his health began to show signs of decline – not only his physical health but mentally as well. His appearance grew shabbier and at one point he was confined to an insane asylum after an altercation at the Central Park Zoo. In 1900 he moved his family to Flushing because the anxiety of his two worlds colliding had pushed him to his limits – living farther away from New York City proper reduced the chances of his friends and associates finding out about his deceptive lifestyle.
Ultimately, however, the deception of "passing strange" took its toll on Clarence King. Clarence contracted tuberculosis and left New York, alone, to convalesce in Arizona. It became clear, however, that he would not recover and he decided to tell Ada the truth – or at least some of it. He wrote to tell her that in fact his first name was Clarence and that she should rightly be referred to as "Mrs. King". When he died on Christmas Eve of 1901, his Phoenix doctor telegraphed the news to Ada. Apparently aware of Clarence's deception, the doctor filled out the death certificate, describing the decedent as simply "American", being neither black or white. As Simon Winchester pointed out in his book, perhaps Clarence's ideal of a composite American society had in some small part (at least in Clarence's life) been attained – a country where no one was Irish, German, Negro or White but simply American.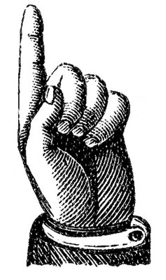 Did you enjoy this article?  Yes? Check out Digging History Magazine.  Since January 2018 new articles are published in a digital magazine (PDF) available by individual issue purchase or subscription (with three options).  Most issues run between 70-85 pages, filled with articles of interest to history-lovers and genealogists — it's all history, right? 🙂  No ads — just carefully-researched, well-written stories, complete with footnotes and sources.
Want to know more or try out a free issue?  That's easy if you have a minute or two.  Here are the options (choose one):
Scroll up to the upper right-hand corner of this page, provide your email to subscribe to the blog and a free issue will soon be on its way to your inbox.
A free article index of issues is available in the magazine store, providing a brief synopsis of every article published in 2018.  Note:  You will have to create an account to obtain the free index (don't worry — it's easy!).
Contact me directly and request either a free issue and/or the free article index.  Happy to provide!
Thanks for stopping by!