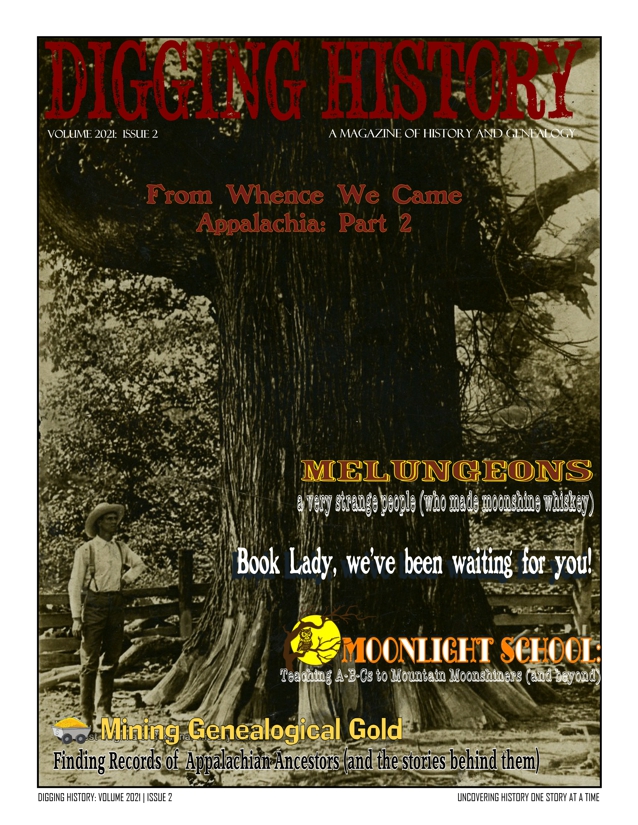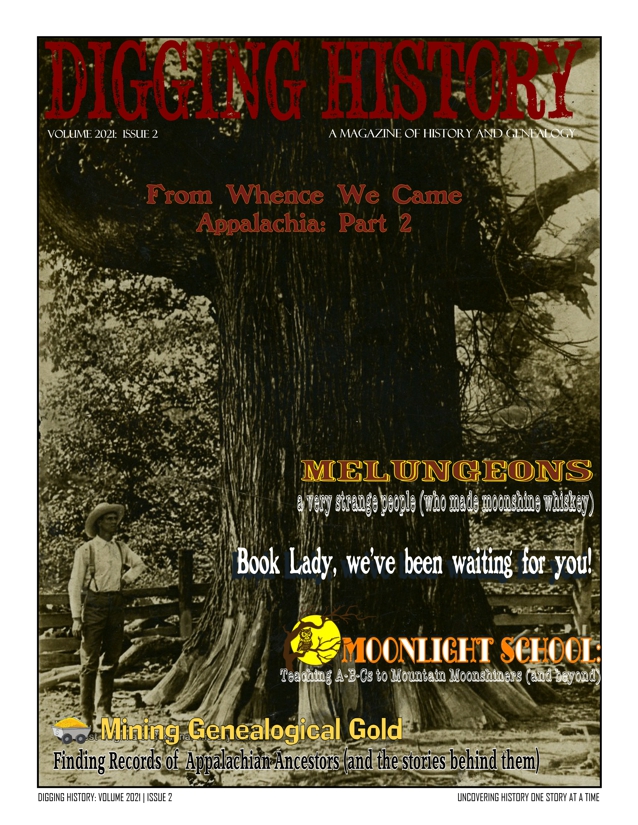 Description
Customer Reviews (0)
This issue continues the series entitled "From Whence We Came:  Appalachia".  Part 2 features:
Mining Genealogical Gold:  Finding Records of Appalachian Ancestors (and the stories behind them) - Part 2 features tips for finding Virginia and West Virginia Appalachian ancestors.  Once upon a time Virginia was quite a large state, eventually parts of it split off to form parts of Kentucky and later the state of West Virginia.  It's an interesting history and one worth knowing, especially if  one's ancestors lived in the part of Virginia which later became West Virginia.  These two states' history will be important when searching for Civil War ancestors -- which side did they choose?  As one might imagine, there are lots of records -- some by subscription and many FREE! 
Book Lady, We've Been Waiting for You! - A story about the Pack Horse Librarians of Eastern Kentucky, a WPA project created by the Roosevelt administration.  It wasn't the only place in America with an isolated rural population, but few were as inaccessible as eastern Kentucky. Getting from one place to another meant following creeks and navigating mountain paths on mule, horse, or on foot. Tiny one-room schools scattered up in the hills, isolated as they were, had little too offer except the most basic education. There were few textbooks, let alone a library.  It became one of the most successful WPA programs.
Moonlight School:  Teaching A-B-Cs to Mountain Moonshiners (and beyond) - Rowan County, Kentucky must have seemed an unlikely locale to mount a campaign against illiteracy in the early twenty century. Major American cities were grappling with an unprecedented wave of immigration as almost fifteen million immigrants flooded our shores between 1880 and 1910. Most arrived from southern and eastern Europe,  However, America had grappled with its own
native illiteracy for quite some time. In Appalachia, home to "hillbillies and hollers", it was especially high.   I'd like to think the pack horse library project's success was at least, in part, owing to this unique program instituted by a tenacious Rowan County, Kentucky school superintendent in September 1911.  Cora Wilson Stewart called them moonlight schools.
Essential Tools for the Successful Family Researcher - This regular column offers general research tips for discovering one's family history.  This issue covers more from the Digital Public Library of America where you can browse through millions of records (literally).
May I Recommend - Book reviews include Blood and Treasure: Daniel Boone and the Fight for America's First Frontier, The Zealot and the Emancipator, and When Last I Saw You.
Melungeons: a very strange people (who made moonshine whiskey) - According to the Melungeon Heritage Association (MHA) there are upwards of 200 distinct (and different) ethnic groups of mixed-race ancestry residing in the eastern and southern regions of the United States. All of these groups, including people identifying as Melungeon, share one thing in common – no one is entirely certain of their origins and all have been misunderstood, stigmatized and derided at one time or another.  Fascinating topic, but Melungeon research isn't for the faint of heart!
The Dash: Benjamin Franklin Cooley. Master Clockmaker - The story of self-taught master clockmaker Benjamin F. Cooley of Grayson County, Virginia.
There are no reviews yet, submit yours in the box provided.
Submitting Your Review, Please Wait
Your Review Has Been Submitted Successfully
Add a review for March-April 2021
You must include a title, rating, and message in your review.
Your Review Title
Your Rating
Your Review