Welcome RootsTech 2023 Conference Attendees!
Thanks for stopping by our booth to see what we have to offer — we're excited to be a Virtual Exhibitor this year!  Here you'll find details regarding our RootsTech 2023 special and prize drawings — plus how to enter our VERY SPECIAL Grand Prize drawing!  NOTE:  If you've come across this page and aren't attending the conference, please feel free to participate in any and all prize drawings and giveaways.  Come one, come all!
Conference Special:  20% Off All Services (No Expiration)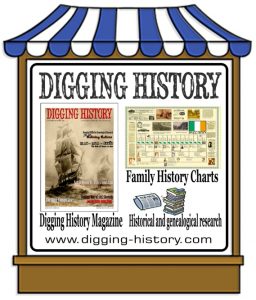 Digging History is pleased to offer attendees the opportunity (through March 10, 2023) to sign up for 20% off all services.  Our services include genealogical and historical research, newspaper research and custom-designed family history charts.  To learn more about our services check out this link — and be sure to take a look at the sample charts:  https://digging-history.com/services/.
To sign up for the coupon, email me at seh@digging-history.com or sign up at the exhibitor booth.  If entering by email, please include "RootsTech Conference Special" in the subject line.  In the email text provide your name and the service(s) you might be interested in.  In return you will receive a 20% off coupon to use any time (no expiration date) and just for asking you receive one entry for the conference prize drawings.
Conference Prize Drawings
Digging History will hold two drawings to give away a 2-hour gift certificate (worth $70) for any of our services, including custom-designed family history charts.   Good Luck!
Grand Prize Drawing
A GRAND PRIZE drawing will be held on Friday, March 10,  2023 at Noon CDT for a custom-designed family history chart!  These charts are stunning and no two are alike — a prize worth up to $350!  No expiration date — use it whenever you're ready to document all your hard work.  Please read all the details below (including the rules regarding possible forfeiture) carefully.  Email Sharon if you have questions:  seh@digging-history.com.
This year's Grand Prize is separate from the conference drawings described above, and geared towards building the subscriber base of Digging History Magazine.  Therefore, Grand Prize entries are tied to the purchase of a subscription (Quarterly [$8]; Semi-Annual [$16]; Annual [$32]).   Entries for the conference giveaways or coupons are NOT included in the Grand Prize drawing.
A Quarterly subscription earns you ONE entry; a Semi-Annual subscription earns you TWO entries; and an Annual subscription will earn you THREE entries.  Magazine samples and articles available here (download as many as you like):  https://digging-history.com/free-samples/.  Purchase the recurring subscription of your choice (before Friday, March 10, 2023 at Noon CDT) by clicking here.

THERE'S MORE . . . . Purchasing a subscription also enters you into an ongoing Special Promotion AND grants you special benefits as a subscriber.  Details here.
What does all this mean?  Purchasing a one-year subscription would give you FOUR chances; THREE chances with a Semi-Annual subscription and TWO chances with a Quarterly subscription) to win a custom-designed family history chart.
NOTE:  Winners (Grand Prize or Special Promotion) must remain a Digging History Magazine subscriber until their chart is completed.  If you cancel the subscription you will forfeit the custom-designed family history chart prize.