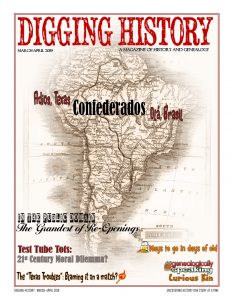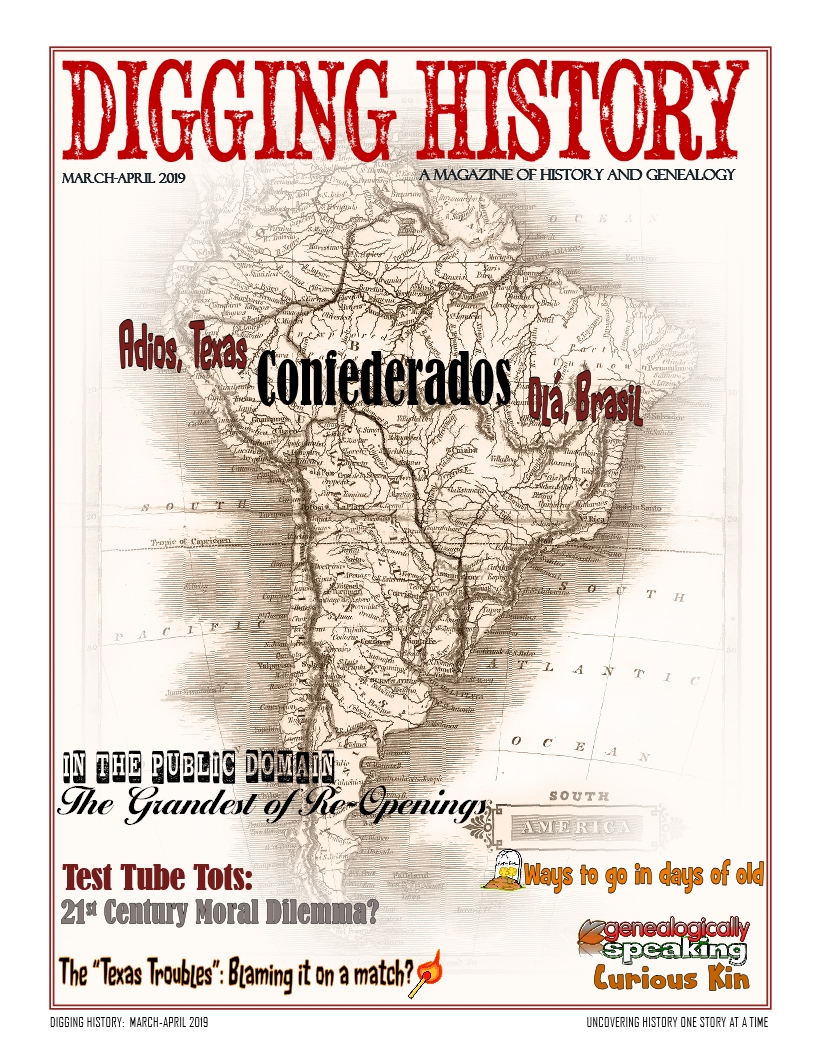 The March-April 2019 issue of Digging History Magazine features a variety of articles, although quite a few focus on the Civil War — one of them led to a little "adventure in research" for a family that appeared to have just disappeared after the 1860 census. Here is a summary:
Confederados:  Adios, Texas!  Ola, Brasil! – a look at a little-known piece of United States and Civil War history.  Do you have ancestors who seem to have vanished following the Civil War?  This article may provide some clues to finding them.
Elusive Ancestors?  Crack Open a History Book or Two (or Three) – The Confederados article led to an "adventure in research" and a lesson about not only looking for dates and records, but the history of the times your ancestors lived in.
In the Public Domain:  The Grandest of Re-openings – a look at the history of what we call the "public domain", a concept enshrined originally in the United States Constitution.  This year all materials published in 1923 will be moved into the public domain, next year 1924 and so on.  What does it mean for finding digitized materials and gaining access?
Genealogically Speaking:  Curious Kin – The occasion of stumbling across some uniquely-named brothers inspired this story.  One thing leads to another — what about the "Ocean Sisters" or "Thomas Jefferson Roach and His Sister Wives".  Bigger Head?  Somebody was really named that (there's a story!)?
The "Texas Troubles":  Blame it on a Match? – The story of a little-known incident which could very well have set off the Civil War months before April 1861.  The South was on edge already and a series of mysterious fires across Texas seemed rather suspicious.
Speaking of Matches – a companion story about another kind of match — one that morphed into nineteenth century political name-calling.  Sound familiar?
Ways to Go in Days of Old – a new column which will highlight some of the common and not so common ways our ancestors died.  This one is inspired by a Civil War Widow's Pension Application.
OK, I give up . . what is it? – another new column which highlights archaic terminology which one might come across in historical and genealogical research.  For example, what is a hog reeve or "sessor" or pounder?  Each played a significant role in the community life of early American towns and settlements.
Test Tube Tots:  21st Century Moral Dilemma? – What if you took a DNA test and found out something rather shocking about who you were (and were not) related to?  What would you do if you found out, for instance, the man you always considered your father wasn't your biological father because you'd been conceived artificially (unbeknownst to you)?  An interesting topic to explore in the world of rapidly advancing DNA technology.
The Dash: William Henry Sallada – Part I of an extended article about a man who lost his sight during the Civil War and went on to live a long, full and purposeful life.  Sometimes you run across stories that just beg to be old.  This is one of those.
On sale in the magazine store or better yet, start a subscription (three budget-minded options).