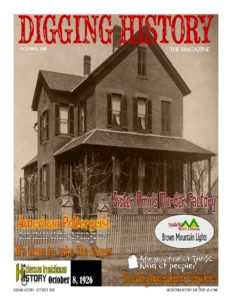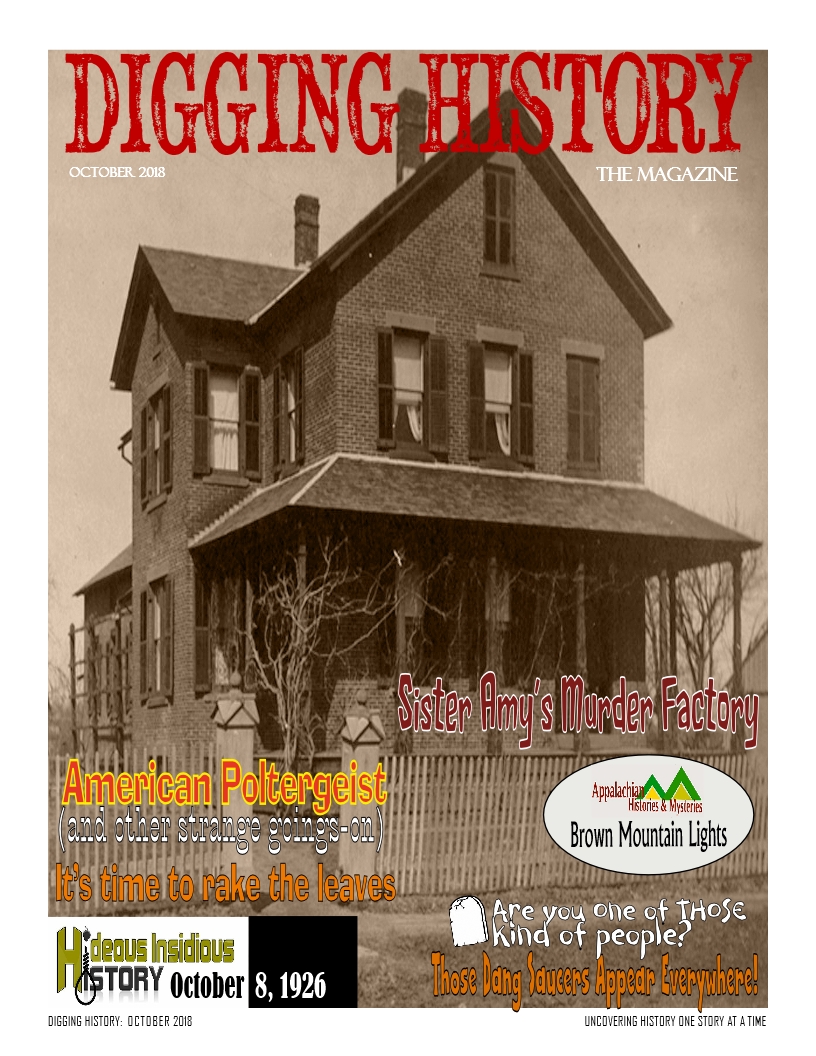 It's October and everyone thinks Halloween . . . spooky stuff, you know?  This month's issue goes right along with that theme:
American Poltergeist (and other strange goings-on).  America has had its share of strange other-worldly phenomena.  America's first ghost made an appearance (or so they say) in 1800.  Early colonists seeing flying ships . . . hallucinations or the real thing?
Sister Amy's Murder Factory.  It's a long and winding saga of what some call America's first female serial killer.  Was she crazy-crazy, crazy-manipulative, wicked-crazy or just plain crazy?  You be the judge.
Brown Mountain Lights: Appalachia's Historical Mystery.  A historical perspective from Kalen Martin-Gross, an Appalachian native.
Genealogy Speaking:  It's Time to Rake the Leaves.  It's fall, it's Family History Month, and what better time to take a closer look at the "leaves" on your Ancestry.com tree.  You might be surprised at some records which may not be useful at all.
Are you one of THOSE kind of people?  If you're a genealogist, you know THOSE kind of people I'm talking about — those who can't pass up a cemetery stroll.  What is with genealogists and dead people?
Those Dang Saucers Appear Everywhere.  You've heard about UFOs seen in the 1940s and 1950s.  In July 1952 there were an unusually high number of sightings.  What was that all about?  Plus, an extensive look at the so-called Lubbock Lights.
Hideous Insidious History.  Quite often history inspires us.  Unfortunately, sometimes it disgusts us.  We don't need to look away, but instead learn from it and pledge it will never happen again.  A new column introduced this month.
Grave Headlines.  People (supposedly dead) coming up out of their coffins (and scaring the bejeezus out of funeral attendees!).  No way (yes way!).
Joseph Faubion:  The Man Who Died Twice
and more
Single issue purchase here ($3.99).
Affordable subscription options available here.  Note that the 3-month, 6-month and one year subscriptions now come with a 30-day trial.