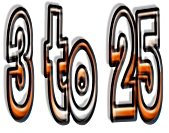 3 to 25.  Whatever does that mean?  To me it means a milestone.  Three weeks from today, October 1, marks the 25th anniversary of being a self-employed entrepreneur.  In 1993 I started my first business, The Perfect Solution.  Through the years I've had some fantastic clients (still do!) and I appreciate each and every one of them.
I currently operate two more businesses:  Digging History (providing ancestry research and custom family charts) and Digging History Magazine (a monthly digital publication focused on history and genealogy, available by single issue purchase or subscription).
How does one celebrate 25 years of being in business for oneself?  What does one wish for?  Business for Digging History and Digging History Magazine has been slow and sporadic this year.  My initial goal for subscribers is 50 and I'm currently at 22.  I'd like to boost that number up before year's end to 50 (or more!).  I love what I do — I LOVE history and want to share my passion with like-minded history nuts.
Subscriptions are easy to purchase at the Magazine Store.  Here are the instructions:
Select a subscription option.
Checkout
Scroll down and select a payment method and provide all requested information.
Purchase and your subscription will begin and your first issue will be delivered post haste.
That's it — EZ-PZ!
Want to "gift" a subscription to someone you know with a love of history.  Contact me at seh@digginghistorymag.com with your friend's name and email address and I'll send you an invoice (choose payment preference: credit card or PayPal) so they can begin receiving monthly issues courtesy of your generosity.
3 to 25 — care to make my day?
Blessings,
Sharon Hall, Publisher and Editor, Digging History Magazine