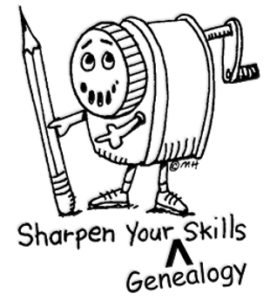 Today I was putting the finishing touches on an article for the August issue of Digging History Magazine.  The article, originally published in November 2013, is being "re-purposed" (as I like to call it these days).  In the case of this particular article it involved almost a complete re-write of the original article.  The subject, Nellie Ross Cullens-Norwood, is the same, but her story has been updated with a far more interesting story than the original.  Why's that?
Quite simply, online newspaper research — something I didn't have much access to back in 2013 as I was just starting the Digging History blog and beginning to assist clients with family history research.  Since then, I've learned the rewards (despite the subscription costs) of newspaper research.
Genealogists love combing through old newspapers to (hopefully) find an obituary — the kind that provides the vital information we all look for:  birth date, birth place, parents, children and more.  Some items, however, amount to little more than a death notice, announcing a funeral service.  Those are disappointing for sure.
Don't despair, though!  Try a different tack and look for items which mention your ancestor before their death.  You might be surprised as to what you'll find.
In the case of the "Dash" article for the August issue, I found the more I dug around in old newspapers the more I learned about Nellie.  What had first caught my eye back in 2013 was the fact she appeared to have moved Alaska (about 50 miles from the Arctic Circle) sometime between 1924 and 1930.  She was born in 1859 so she would have been approaching 70.
The original article had a lot of "unknowns", but when I began digging for more this weekend, I discovered (perhaps) some reasons for why she might have struck out on her own.  For genealogists, newspaper research is vital — and not just obituaries.  If you want the real story — the person's life "between the dash" — start digging!  While newspaper archive subscription cost can be out-of-reach for some, consider looking around for free sites like these:
There are many more to choose from these days since states are beginning to provide this valuable resource.  These are but a few of my favorites — and I use them despite the fact I spend (big) bucks to subscribe to sites like Newspapers.com, Genealogy Bank and NewspaperArchive.com.  What's great about the free state-based sites is you might find a small hometown newspaper.
Next month's issue will be out on August 1, and given that August is often one of the hottest months of the year, we're going north (way north) to Alaska and the Klondike.  Dreamers, drifters, grifters and gunslingers — men (and women) caught "Klondicitis" (that was an actual term used in newspapers!).  Missing an ancestor around the turn of the twentieth century?  Have you looked north?  If not, you should.  Gold fever was everywhere!
This issue won't just be about one of the coldest places on earth, there's an article entitled "Eleven Days of Hellish Heat" — weather so hot people were driven insane!  Monthly issues are available for sale as well as subscriptions of varying lengths:  3-month, 6-month and one-year.  Use the discount code "2OFF SPGS" at checkout for an extra $2 off a one-year subscription.  Want to try a free issue before deciding whether to sign up?
Stay cool!
Sharon Hall, Publisher and Editor, Digging History Magazine