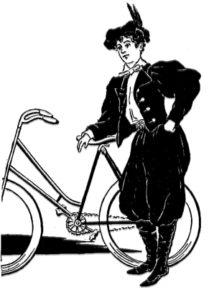 "Let me tell you what I think of bicycling. I think it has done more to emancipate women than anything else in the world. It gives women a feeling of freedom and self-reliance. I stand and rejoice every time I see a woman ride by on a wheel…and away she goes, the picture of free, untrammeled womanhood."
So declared Susan Brownell Anthony, social reformer and women's rights activist, in 1898. For hundreds of years women had been dependent on a man to take them wherever they needed or wanted to go. Suddenly, with a little practice on the new-fangled two-wheeled machine, they were free to go wherever and whenever they pleased. It truly was liberating!
Young and old alike, women were discovering the joys of bicycling. At the age of fifty-three, following her mother's death, Frances Willard – activist, social reformer, suffragist and one of the founding members of the Woman's Christian Temperance Union – decided she had new worlds to conquer. She would learn to ride a bicycle.
The rest of the story (plus all the controversies and perceived detriments to women's health – what exactly was "bicycle face"!?!) can be found in the June issue of Digging History Magazine.  Subscriptions are also available (month-to-month, 3-month, 6-month and 1 year) — easy to subscribe and receive an issue every month in your inbox (60-70 pages of colorful graphics, history and genealogy focused articles and virtually ad free.  In other words, just history!).
Keywords: Amelia Bloomer, bicycle face, bloomers,Digging History Magazine,Frances Willard, safety bicycle, Susan B. Anthony, Women's Christian Temperance Union, women's suffrage, bloomerism. Mary Gove Nichols, Victorian fashion, Victorian dress reform, Dr. Mary E. Walker, wheelwoman, flopping skirts, scorchers, bicycle scorchers