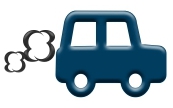 The June issue of Digging History Magazine features stories on road-tripping (as it's called today).  These road trips, however, were a far cry from the ones we take today.  The early ones took weeks to cross America from coast-to-coast — shovels, shotguns and lots of patience were required!  Automobile races had been around for awhile and another one — possibly the most audacious of all — was to take place in the dead of winter.  This one would begin in New York and end in Paris, via Alaska and Siberia.  It's been called The Great Race of 1908.
Yet, when J.M. Murdock decided to drive his family home to Johnstown, Pennsylvania from Pasadena, California in 1908 his hometown newspaper thought the Murdock trip could very well exceed interest for the planned race around the world later that year.  By the time the Murdock family had packed their car it was a good thing the maps were of the vest-pocket size, as they likely couldn't have fit one more thing.  The description of what they took along on their trip reminds one of the I Love Lucy episode when the Ricardos and Mertzes were headed to California.  The article, entitled "Rolling Along in an Automobile:  America's Love Affair with the Road Trip", traces the history of family road trips, including early travelers hitting the road with their new-fangled machines and "everything but the kitchen sink", earning them the somewhat pejorative nickname "Tin Can Tourists".  From Tin Can Tourists came the auto camps which morphed into motor courts and then roadside motels.
The story of the Murdock family's trek across the country will make you grateful for the traveling conveniences we all take for granted today.  The June issue is on sale here.  Subscriptions are also available:  a budget-conscious month-to-month plan (or take a "test drive"); 3-month; 6-month and 1-year.  Use the "2OFFSUM18" discount code at checkout for a one-year subscription for an even better deal.
Here's a deal worth taking a look at:  On the right-hand side of this page find the "Subscribe to Blog Via Email" section, type your email address and Subscribe.  Then, look for a free issue of Digging History Magazine in your email inbox just for signing up as a follower.