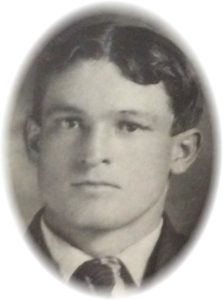 I love what I do — helping clients discover who they are, where they came from, did their ancestors make history (good or bad) and more.  I take a slightly different approach perhaps than many genealogists who are looking for land and census records and clipping obituaries.  I look for those too, but what I really enjoy finding are the stories.  I never know what I'll uncover.  When I come across something that is either challenging or unexpected (a real "family history mystery") you can expect to see it written about in Digging History Magazine.  I want to share what I've learned in hopes of helping other researchers who are challenged by their own "family history mysteries".
One such memorable mystery actually began right around the time I began writing articles for the Digging History blog.  One of the first articles I wrote was to commemorate the 100th anniversary of a tragic coal mine explosion in Dawson, New Mexico.   Approximately one month later I wrote a "Feudin' and Fightin' Friday" article about a seemingly obscure Texas feud.  Turns out the two articles were amazingly linked, something I wouldn't discover until contacted by someone in 2015 requesting a change in the Dawson article.
As an editor, the request, ironically, involved a misspelled name.  It had been misspelled in the newspaper article used as a source and Doug Simpleman, great grandson of the man with the misspelled name, wanted to set the record straight.  In fact Doug had been working for awhile to set the record straight about Roy Simpleman — and to find out who he really was.  You see, Roy had been born as Refugio Badial, the illegitimate son of Ramona Badial.  How did he become Roy Simpleman?
Doug contacted me in July of 2015 and by September we were reconnecting about the article and Doug's ongoing research.  On September 19 we exchanged a flurry of emails back and forth for about four hours.  Then, everything began to fall into place — who Roy really was and that his likely birth father was the son of a German immigrant, George B. Zimpelman.  A Y-DNA test would soon prove Doug's theories.  Doug and I reconnected recently when I decided to include the story in the March issue.  I've since uncovered even more details and was able to significantly enhance the Texas feud story.  It wasn't an insignificant event, but one that had been simmering for years in the post-Reconstruction era.
It was such an interesting research adventure, and despite my part in it being rather minuscule, I had to write about it.  As a matter of fact, I'm still writing about it as I've uncovered more about the Zimpelman family.  Several days ago I contacted other members of the Zimpelman family and now they are becoming aware of this amazing story.
By the way, the Zimpelman saga continues next month as April will feature a focus on stories from the Civil War.  This month's story arc includes not only the "family history mystery" but an updated article on the El Paso Salt War.  Additionally, a ghost town story and a repeat of the Dawson mine explosion article are both related to Doug's family history mystery.
One good story begets another, I say!  Read the entire story arc (and more) in the March issue, available on sale here.  Or, purchase a subscription here (buy a subscription during March and it will begin with March issue).
Keywords:  Family history mystery, Roy Simpleman, George B. Zimpelman, George Walter Kyle Zimpelman, El Paso Salt War, solving genealogy problems with DNA, breaking down brick walls with DNA, Digging History Magazine, Dawson New Mexico 1913 mine explosion, Digging History, mining history, historic mine disasters.