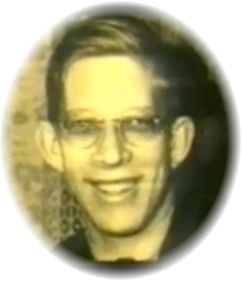 On February 22, 1918, with war raging across the seas in Europe, Harold and Addie Wadlow of Alton, Illinois welcomed their firstborn child into the world – Robert Pershing Wadlow.  He was a little over eighteen inches long and weighed eight pounds and six ounces – a perfectly normal size and weight for a baby.  Little did his parents know, however, what the future held for their firstborn child as six months later his height had almost doubled, his weight nearly quadrupled.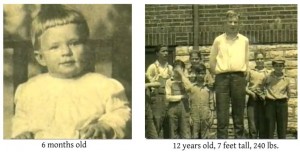 His height and weight steadily increased – by the third grade Robert, towering over all his classmates, was taller than his teacher. Despite his size, however, he spent what would be considered a normal childhood – playing with friends, running a lemonade stand and joining the Boy Scouts. The Bloomer Shoe Factory made a special pair of size seventeen shoes for eight year-old Robert.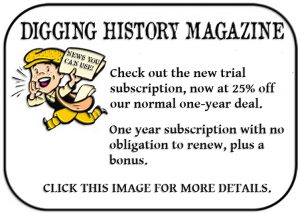 When exactly the rest of the world outside his family and friends in Alton began to learn about the boy who would later be called Alton's "Gentle Giant" is unclear. One woman interviewed for a documentary about his life said she had never heard of him until one day she was outside and noticed a "man" riding along in a red wagon. Robert's family had just moved across the street.
Around Alton and neighboring areas, attention was drawn to him perhaps as early as 1927 when one newspaper called him "A Man at Eight" – he was taller than his father by then:

At the age of ten he was wearing size fifteen shoes. Five square feet of leather – a lot of cow, as one newspaper reported – was required to make them.
By the age of twelve, Robert was about seven feet tall and weighed two hundred and forty pounds. Like other boys his age, he loved to play baseball, football and basketball and hoped to someday fly like his idol, Charles "Lindy" Lindbergh – if he could find a plane big enough – or maybe he would become a movie star.
Around that time, an Italian named Primo Canera was making headlines for his athletic prowess as a boxer. At six feet and five inches Canera towered over his opponents and much of the press surrounding him emphasized his "gigantic" frame. His promoters thought it would improve gate receipts when he fought in St. Louis if Robert met him for publicity photographs. Canera, assuming he was meeting with a small child, agreed – what would be the harm? Plenty, according to a documentary about Robert's life. Canera was proud of his height and weight, but posing with a "mere child" who stood even taller, turned out to be somewhat of an embarrassment.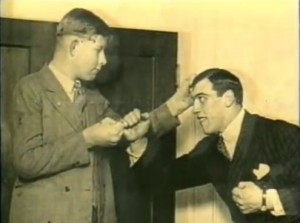 That same year Robert's parents finally took him to Barnes Hospital in St. Louis to find out what was causing his unusual growth. There they were told their son's condition was due to an overactive pituitary gland. Although surgical options were available, the risks were high, possibly resulting in death. Robert suffered no mental disabilities (his IQ was quite high), and although significantly larger than other children was still proportionately adjusted in weight and height. For his parents, surgery was out of the question.
Even so, it must have been difficult for a boy his age to blend in and not draw attention to himself. As one can imagine he was teased, yet according to one of his classmates he took it in stride. Although he would blush with embarrassment, he would never become angry. Robert continued on to high school and wanted to participate in basketball, although coaches were fearful he would hurt himself. By the time team officials were able to have a custom pair of shoes made for him the season was over.
Although he had to drop out of school for approximately six months due to a foot infection, Robert made up the required course work and graduated in January of 1936. His cap and gown required fourteen square yards of material. At eight feet, three and-a-half inches, he was the tallest high school graduate in history.
He enrolled at Shurtleff College with a goal of studying law but after only one semester decided to pursue a career in business. The International Shoe Company, as the makers of his specially-sized shoes, had known about Robert for some time. He worked for them as a field representative and the company displayed a copy of Robert's gigantic shoes in their stores.
Robert traveled with his father to these stores where Harold would give a short talk about his son, and then they would depart so that the store could make their sales pitch to those who had gathered to see Robert up close and personal. Although a fairly well adjusted and mild-mannered person, Robert would get angry when people came up and asked him what he ate.
One sales representative who traveled with the Wadlows related how Robert would also become angry when someone came behind him and pinched the back of his legs to see if he was walking on stilts. The sales rep also related how he and Harold had to "nudge" Robert along as they were walking down the hallway on the way to their hotel room. With his extreme height, Robert was able to look through the door transoms as they walked by. They had to make sure Robert didn't linger too long or disturb other hotel guests.
Robert's clothing and shoes, of course, had to be custom-made. In 1936 a pair of size 39 shoes costing $88 to make was returned to the shoe company – they pinched his feet. Harold and Addie made plans to build a special house for their oversize son in 1937, but to their dismay discovered that such things as a ten-foot long bathtub didn't exist, unless one was specially cast for him at a cost of $500 to $1,000.
A stint with the Ringling Brothers Circus and other promotional tours brought him increasing notoriety throughout the country. Still, his family always wanted to ensure he lived a normal life. When Robert traveled he was always anxious to return home to be with his family. In 1939 he petitioned the Franklin Masonic Temple of Alton for membership as a Freemason. By year's end he had been elevated to the degree of Master Mason. At a gargantuan size 25, his ring was the largest one ever created for a member of that lodge. The lodge also built a special chair where he could sit comfortably and participate in regular meetings and activities.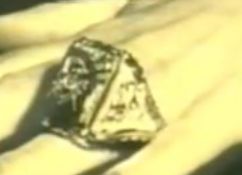 Eventually, walking would become a laborious task, difficult enough to require braces. Yet, he remained an affable and well-adjusted person who loved meeting people, especially children. He continued to grow and on June 27, 1940 he once again visited Barnes Hospital for a checkup. That day his recorded height was an astounding 8 feet, 11.1 inches with a weight of 439 pounds. With that measurement, Robert Wadlow officially became the tallest person in history.
He was scheduled to begin another promotional tour two days later and on July 4 complained of a brace which was irritating his ankle. A blister had formed which resulted in an infection. Robert was taken to a hospital where emergency surgery and a blood transfusion were performed. His temperature continued to soar, and ten days later on July 15, 1940 Robert Wadlow passed away at the age of twenty-two.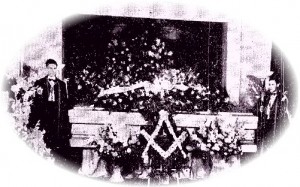 His body was returned to Alton where he lay in state in a specially-designed ten foot long casket as thousands of people came for the viewing. Eighteen men, including twelve of his fellow Masons, were required to carry his 855-pound casket. One thousand people congregated near the funeral home and thousands more heard the services through loud speakers. Flags were flown at half-mast on public buildings as Alton mourned its most famous resident.
Robert was buried in a double-sized, twelve-foot, cemetery plot in Oakwood Cemetery. To the world he may have been a curiosity, but to the residents of Alton he was remembered as a friend to many, a kind and gracious person throughout his life. His parents could have chosen surgery to "fix" Robert, but had instead decided to let time and nature take its course and let Robert be Robert, the "Gentle Giant".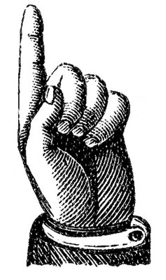 Did you enjoy this article?  Yes? Check out Digging History Magazine.  Since January 2018 new articles are published in a digital magazine (PDF) available by individual issue purchase or subscription (with three options).  Most issues run between 70-85 pages, filled with articles of interest to history-lovers and genealogists — it's all history, right? 🙂  No ads — just carefully-researched, well-written stories, complete with footnotes and sources.
Want to know more or try out a free issue?  That's easy if you have a minute or two.  Here are the options (choose one):
Scroll up to the upper right-hand corner of this page, provide your email to subscribe to the blog and a free issue will soon be on its way to your inbox.
A free article index of issues is available in the magazine store, providing a brief synopsis of every article published in 2018.  Note:  You will have to create an account to obtain the free index (don't worry — it's easy!).
Contact me directly and request either a free issue and/or the free article index.  Happy to provide!
Thanks for stopping by!