I know, I know – you probably think this story belongs in the Far-Out Friday category.  Yet, it's truly true there was a person named Tonsillitis Jackson.  I ran across the name while researching another Tombstone Tuesday article (another unusual name – stay tuned!).
Tonsillitis Jackson was born to Emsy (named spelled "Emgibe" on a government record) and Eddie (Basfield) Jackson of Oklahoma on November 7, 1932.  It seems Tonsillitis received his unusual name because his mother had a sore throat at the time.  Two years later the Jacksons had another son and named him Meningitis.
Emsy and Eddie had four more children and continued naming them after various diseases and maladies. Four girls followed the boys: Appendicitis, Laryngitis, Jakeitis and Peritonitis. The unusual names first came to the public's attention in early 1937 following the birth of Appendicitis on December 25, 1936. Time made mention of the family with children named after diseases in the "Miscellany" section of its January 25, 1937 issue.
The Afro American wanted to know "what's in a name" on January 2, 1937. The paper reported the Jacksons were having a hard time devising a short nickname for their newborn. The boys already had their nicknames – Tonsy and Mennie. The story also made international news in the Australian Worker on March 30, 1938 – according to this story the doctor had come up with the name Appendicitis. According to another source Emsy and Eddie finally settled on "Pendy" for a nickname. No word on what the remaining girls' nicknames were (Perry, Larry, Jake maybe?).
Tonsillitis made news of his own in 1951 when he decided to enlist in the Navy. He had to explain to recruiters his name was legally Tonsillitis Jackson, given to him because his mother had a sore throat when he was born (some sources say she in fact had tonsillitis).
Tonsillitis made headlines again in 1955 when he decided to re-enlist:
Navy Has Case of Tonsillitis
Jackson Family Likes Diseases for Names
The U.S. Navy is willing to have Tonsillitis for a second time, but without tonsils. This came about when Tonsillitis Jackson, who hails from Ardmore, Okla. offered himself at the San Diego amphibious base a few days ago for a second 6-year enlistment.
Doctors were about to pass him when they looked into his throat. The said: "Oh! Oh!" Tonsillitis had tonsillitis. He was sent to the Balboa, Calif. naval hospital to get the tonsils removed.
Tonsillitis was given his name by his mother, who had tonsillitis when he was born 22 years ago. The family after that, while generally healthy, just took to diseases for names. A brother, two years younger, was named Meningitis. There are four girls – Appendicitis, Laryngitis, Peritonitis and Jakeitis. Doctors say they are unfamiliar with the last name.1
Doctors may have been unfamiliar with the disease called Jakeitis, but one unidentified San Bernardino, California man offered an explanation a few days later. During Prohibition people all over the country were drinking homemade hooch – some of it quite dangerous and poisonous. In Harlem the home brew was concocted out of denatured alcohol flavored with Jamaica Ginger. The drink was called "jake". However, "a steady liquid diet of jake usually left the drinker with a burned out stomach and an extreme case of alcoholism. He'd be suffering from 'jakeitis'."2
The 1955 story also inspired a Moody Bible Institute "Three-Minute Sermon":
This is a case of unusual names. Perhaps no one on earth bears the same names as the various members of the Jackson family. But there is one name that every individual on earth bears, and that name – in Biblical language – is "sinner."3
Tonsillitis had enlisted in the Navy on November 6, 1951 and served twenty years before being discharged on November 26, 1971. He married a woman named Lula Mae (maiden name unknown) and remained in California according to U.S. City Directory records. Tonsillitis Jackson, a Korean War veteran, passed away on May 26, 2006 and is buried in the Riverside National Cemetery in Riverside, California.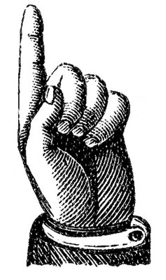 Did you enjoy this article?  Yes? Check out Digging History Magazine.  Since January 2018 new articles are published in a digital magazine (PDF) available by individual issue purchase or subscription (with three options).  Most issues run between 70-85 pages, filled with articles of interest to history-lovers and genealogists — it's all history, right? 🙂  No ads — just carefully-researched, well-written stories, complete with footnotes and sources.
Want to know more or try out a free issue? You can download either (or both) of the January-February 2019 and March-April 2019 issues here:  https://digging-history.com/free-samples/
Thanks for stopping by!