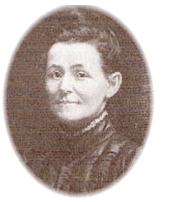 Abzuga "Zu" Adams was born in January of 1859 in Atchison, Kansas to parents Franklin George and Harriet Elizabeth (Clark) Adams.  She was the second eldest child of eight and named after her paternal grandmother, Abzuga Henry Adams.  According to Who's Who In Topeka (1905),  Zu, as she was called, was educated at home and in the public schools.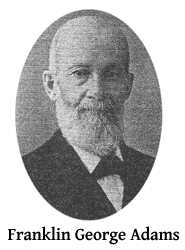 Franklin Adams was the first secretary of the Kansas State Historical Society, founded in 1875 in Topeka, and in 1876 Zu became his unpaid assistant. Her subsequent accomplishments were many and her family's history was entwined with the history of Kansas, and not just because her father was the first secretary of the state's historical society.
Her maternal grandfather, John Hawkins Clark, was an early pioneer who came to Kansas in the late 1850's after first making the trek west to seek his fortune during the California gold rush in the early 1850's. His journal, rich with historical details, was later published in the Kansas Historical Quarterly (you can read it here). According to his obituary, despite his literary abilities, he had chosen to work with his hands as a mason and plasterer.
JohnHawkinsClarkJohn Clark and his family settled in Atchison, Kansas in the summer of 1858 and then migrated to Clay County in 1870, where he served as mail agent and postmaster. Another son-in-law, Frank Albert Root, was a noted author and newspaper man. This is the family which influenced the life of Zu Adams.
Zu later received a salary and the title of librarian for the historical society. She never married and in 1896 adopted a daughter, Helen. Following her father's death in 1899 (her mother died in 1886), Zu lived with her younger brothers and sisters.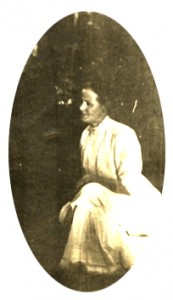 Zu and her father had always hoped she would succeed him as secretary of the historical society, but when George Martin was nominated for the position she withdrew her candidacy and instead work with Martin as his assistant the rest of her life. In 1896 she became a founding member of the Kansas chapter of the Daughters of the American Revolution (D.A.R.). In 1904 she served as president of the Kansas Library Association and worked to record and catalog Kansas territorial and state documents, in addition to her work with the Kansas Historical Society.
Throughout the years of her career as a librarian and historian, Zu kept diaries, one of which can be viewed on the Kansas Memory web site. She and her family were dedicated to the preservation of Kansas history, and in 1909 Zu received an honorary degree from Baker University. She continued to live in Topeka in the family home until her death on April 12, 1911.
If are interested in Kansas history, the Kansas Historical Society web site is an excellent resource for all things Kansas. An affiliated site, Kansas Memory, is also a great resource. Here you can browse and download primary source materials from the historical society.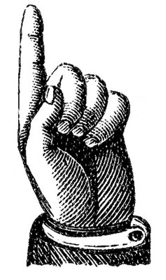 Did you enjoy this article?  Yes? Check out Digging History Magazine.  Since January 2018 new articles are published in a digital magazine (PDF) available by individual issue purchase or subscription (with three options).  Most issues run between 70-85 pages, filled with articles of interest to history-lovers and genealogists — it's all history, right? 🙂  No ads — just carefully-researched, well-written stories, complete with footnotes and sources.
Want to know more or try out a free issue?  That's easy if you have a minute or two.  Here are the options (choose one):
Scroll up to the upper right-hand corner of this page, provide your email to subscribe to the blog and a free issue will soon be on its way to your inbox.
A free article index of issues is available in the magazine store, providing a brief synopsis of every article published in 2018.  Note:  You will have to create an account to obtain the free index (don't worry — it's easy!).
Contact me directly and request either a free issue and/or the free article index.  Happy to provide!
Thanks for stopping by!