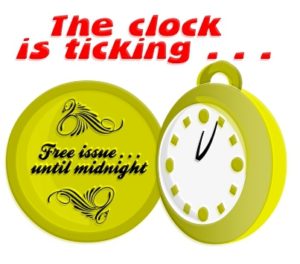 The clock is ticking on this one — FOUR more hours (Midnight, CST) and the January issue pf Digging History Magazine won't be free, but still available for its regular price of $2.99.  For complete details on this offer, click this link or contact us on the Magazine Contact page with your name, email address and type "Free Copy" in the message box.
Never fear … we'll have more special offers and giveaways now and again.  Follow us on Facebook and you won't miss out:  https://www.facebook.com/digginghistorymag/
The February issue will be up in a few hours.  Here are some highlights (our "practically all-things-snow" issue):
Baby, It Was Cold Outside:  Historic United States Blizzards
Believe it or not . . . strangers things have happened:  Baby Cages and Snowbank Cradles
Don't be Duped:  Genealogical Fraud
What's in a (Sur)name? . . . "Snowy Surnames" and Snow Ships
Ghost Towns:  Snowball, Arkansas
The Dash:  Isaac Lafayette and Arabazena Ottalee Castleberry . . . and more!
Help us build our customer base and get the magazine off to a great start!  Share this post on Facebook and other social media or purchase a copy and send us feedback.
Blessings,
Sharon Hall, Publisher and Editor