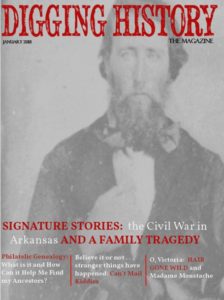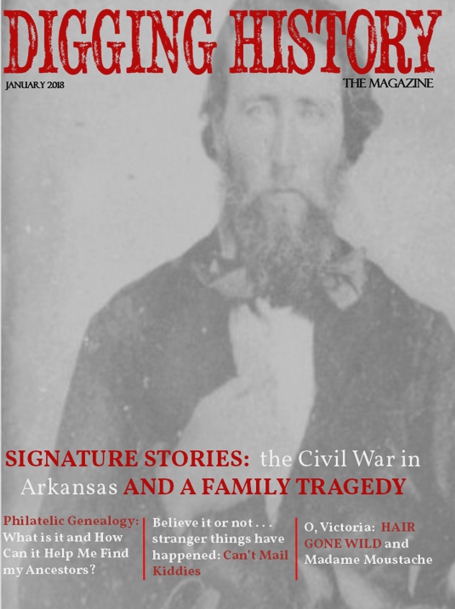 Free Issue – Hurry!
From 12:01 a.m. Wednesday, January 31 until 12:00 a.m. Thursday, February 1 (CST) receive a free copy (not just a sample) of January's inaugural issue.  Enjoy reading it on your computer, tablet or phone (PDF).  February's issue will go on sale just after midnight on February 1 and the January issue will then sell for its regular price of $2.99.  To receive your copy, go to the magazine's contact page here.  Provide your name and email address and in the message box type "Free Copy".  Please also let us know if you are interested in becoming a regular subscriber of the magazine.  Note:  Wednesdays are quite busy for me, but as long as you email before the deadline you will receive your free copy.
By the way, here's what people are saying since the launch on January 15:
"Don't know how I found it but really enjoyed it. I love to find the background story of ancestors. Just finding birth and death date does nothing for me. Can't wait for the next issue!"
"I started reading the magazine late last night? Love it! Layout looks great, font size is perfect, and content keeps me wanting more!"
"I found the contents fascinating and learned some useful information."
"Just read the whole enchilada.  So good.  Loved it."
"I love your articles, and am currently reading the Early American Faith special edition that I purchased this week. Please let me know – I'd be a subscriber in a heartbeat!"
Subscriptions
Regarding the last comment, subscriptions will be added soon, which will make it even easier and more convenient to get your monthly issue.
In the meantime, we could sure use your support by purchasing a copy of February's issue.  Articles include:
Baby, It Was Cold Outside:  Historic United States Blizzards
Believe it or not . . . strangers things have happened:  Baby Cages and Snowbank Cradles
Don't be Duped:  Genealogical Fraud
What's in a (Sur)name? . . . "Snowy Surnames" and Snow Ships
Ghost Towns:  Snowball, Arkansas
The Dash:  Isaac Lafayette and Arabazena Ottalee Castleberry . . . and more!
As you can see most of the articles are somehow related to snow — amazing how many stories you can find about that topic (and all history!).  The "Believe it or not article" is not-to-be-missed for sure!
Advertisements
In case you were wondering this magazine is mostly free of advertising and we plan to keep it that way if at all possible.  February's issue is 52 pages, which includes footnotes and sources, photo credits and a special supplement to the article on genealogical fraud.  Our purpose isn't to annoy our customers with advertisements just to fill space — it's to share our love of history.
New Contributor
In March we will introduce a new column, tentatively called "Appalachian Histories and Mysteries".  I can't wait to introduce our new contributor, a self-described "passionate historian" of all things Appalachian.
We are working furiously to get "tweaks" made to the site as customers have given us feedback.  Subscriptions are a big part of that.  Hang in there with us and help us grow!
Sharon Hall, Publisher and Editor