Happy New Year . . .  and with the new year come new (ad)ventures!  Digging History will be "going digital" by mid-January (if all goes as planned).  What does "going digital" mean?  (Update:  looks like it will be sometime Tuesday, January 16 for opening day!)
Digging History will be publishing a monthly digital history magazine packed with an eclectic mix of articles and topics.  Digging History has always tried to focus on the unusual, unique and unheard-of stories which are not found in history books and that tradition will continue with Digging History Magazine.  After purchasing you'll be able to download a copy to your computer, tablet or phone to read and enjoy at your leisure.
There will be a new web site: www.digginghistorymag.com (still under construction).  Here you'll be able to purchase monthly issues, beginning with January 2018.  Also available will be special editions which are dedicated to one particular theme.  For example, an "Early American Faith" special issue will be available and focus on a series of articles and essays previously published on the Digging History blog (with some new content).  Another special issue entitled "Genealogy and the Census" is also planned, with more to come.
While early on most articles will be written by Publisher and Editor Sharon Hall, the goal is to garner interest from other lovers of history who would like to write and share these same kind of stories.  If you have a story to tell, contact us and let's discuss.  In addition to serving as publisher/editor of Digging History Magazine, Sharon also serves as Editor for the award-winning newsletter of the South Plains Genealogical Society in Lubbock, Texas.
The first issue begins with an "Ancestories" column and most issues will include articles focused on family history research.  January's inaugural issue also introduces a regular column:  "Family History Tool Box" which will feature essential tools and tips for successful family history research.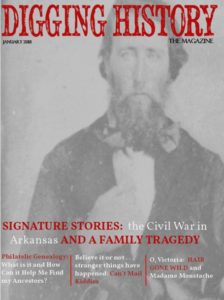 Featured in the January Issue:
Signature Stories:  The Civil War in Arkansas and a Family Tragedy
Philatelic Genealogy:  What is it and How Can it Help me Find my Ancestors?
Brick Walls:  Despise Them or Conquer Them
Brick Walls, you say?  Try Ask-ing, Bing-ing or Google-ing:  Effective Internet Search Techniques
Ghost Towns:  Glenn Spring, Texas
Believe it or not . . . Stranger Things Have Happened:  Can't Mail Kiddies
O, Victoria:  Hair Gone Wild and Madame Moustache
Ghost Towns:  Bodie, California
Epitaph:  Lowry James Englebright (1865-1965)
Each issue will include a bibliography of footnotes and sources.  Monthly issues will be priced at $2.99 and special editions priced somewhat higher, depending on content.  Look for monthly special offers like a chance to win an hour of genealogy or newspaper research or e-book packages (with the purchase of a monthly issue).
Please consider following us on Facebook or other social media so you will know when new issues are available — and tell your friends and family!