It's been awhile since I posted an article.  I've been busy with other projects — writing and research.  From my latest ancestry research project I'd like to share a case study for finding elusive ancestors.  If you're searching for some of those, perhaps it will encourage you to keep digging.
When I begin a research project I never know what I'll find (don't we all know that!)  My client had begun her search awhile back and recently received her Ancestry DNA results, yet still didn't know a whole lot about her family history.  In her possession are two books representing significant research published several years ago on two lines:  Belshe and Minear.
Those types of books can certainly be helpful, but if you don't understand how to interpret the research what good are they.  Still, once I found the names of the ancestors I knew were part of her line, it rolled out quickly.
That was great to get a line or two started and begin exploring more in-depth research (and verification), but there were still many mysteries to be solved.  One in particular was my client's great grandfather John Elam Whitehead, a Methodist Episcopal minister.
John Elam Whitehead:  Who Were His Parents?
I like to start out with census records, particularly for anyone born in 1835 and after because they usually begin to show up with their parents in the 1850 census.  I had an approximate date for John's birth (around 1852) and soon found his grave stone at Find-A-Grave.  The inscription only contained birth year and death year (1852-1937).
Of course, I first began searching, not only the 1860 census but the 1870 and 1880 censuses to give me some information about where his parents were born.  Unfortunately, nothing turned up.  A bit farther out I located a 1900 census for John.  He was born in New York, his father in England and his mother in New York.  Finally, something that would surely lead to something more significant about his parentage.
With the 1900 census I knew John had been married to Ida Virginia Warman for approximately 15 years (hints at Ancestry later confirmed that with an exact marriage date) and they had four children:  Irving, Estella, Fred and Ethel.
That still left a significant gap in records for John, however, and despite all kinds of search combinations my attempts to find him in 1860, 1870 and 1880 proved fruitless.  Eventually, I was able to locate them, albeit through a circuitous route… more about that later.
When I can't find census records I often turn to newspaper archives — not that this method will always work, mind you, but it was worth a shot.  I began by searching for "John Elam Whitehead" (nothing), followed by "John E. Whitehead" (nothing) and "J. E. Whitehead" (Bingo!).
Somewhat to my surprise the newspaper articles, which began in 1883, were located in Kansas.  Apparently John had struck out from New York at a certain age, perhaps heeding not only the call to "Go West, young man" but a divine call to preach the Gospel throughout the wide-open prairies west of the Mississippi.
I found he was a prominent Methodist Episcopal minister who not only had a local flock to tend to, but also traveled around to the surrounding towns.  He also made his faith known through his support of the local Temperance Union (later his wife Jennie would prove an ardent and fiery supporter alongside him as well1.
It appeared, however, that John was reassigned a new pastorate at least once a year by the Kansas Methodist Episcopal Conference, of which he was a member with excellent  standing.  One newspaper noted:  "Rev. W. is an earnest and faithful worker."2  No matter where he landed he always had "quite a circuit and [was] kept busy filling all his appointments."3
Somewhere along the way he found time to meet, fall in love and court Miss Ida Virginia Warman ("Jennie").  They were married at Blue Mound (Linn County), Kansas on September 20, 1885.  His ministry to the various local congregations continued, along with "protracted" revival meetings.
In the late nineteenth century the issue of women's suffrage was one of the hottest topics around the nation.  Whether he was for it or against it is unclear, but in May of 1894 the Whiteheads had the opportunity to hear none other than Susan B. Anthony in Girard.  The meeting, announced in the local papers, seemed ominously important, referring to a "Crawford County Mass Meeting".4
While these little snippets and articles gave me a snapshot of the life of John Elam Whitehead, Methodist Episcopal minister on the prairies of Kansas, I still had no clue as to his parentage and where in New York he was born.  Hmm.
Then I came across a mention of yet another move to Lebo, Kansas in April of 1895.  The news was in two paragraphs, the first preceded by another news item that caught my eye:  "Grandma Whitehead started Tuesday for Syracuse, New York, on a visit to her daughters.5
Grandma Whitehead — could that have been John's mother?  Traveling to Syracuse, New York to visit her daughters seemed like a valuable clue to me.  However, nothing turned up with a search for daughters married or otherwise in the Syracuse area.
Meanwhile, I continued combing through various clippings.  Even as John and Jennie were growing their family and probably taking care of his mother, he remained busy with both and local and circuit ministry.  This continued until in 1904 John was superannuated (basically retired) due to throat trouble.  It appears the years of faithful and vigorous ministry had taken their toll.  He and his family left Kansas and went to Siloam Springs, Arkansas to spend the summer.
As it turned out the family remained there, although Jennie traveled quite a bit, as did Grandma Whitehead (I still had no clue what her name was, however).  Their oldest son Irving was married to Virginia Bennett and the two served as missionaries to South America.  Their other children were:  Estella, Fred Erie (born in Erie, Kansas and my client's grandfather) and Ethel.
Curiously, however, "Grandma Whitehead" didn't appear with the family in 1900 — and I still couldn't locate 1860, 1870 or 1880 census records for John.  Again, some interesting tidbits but no real clues as to John's parentage.  Then I came across not a United States census record, but an 1885 Kansas State census record for J.E. Whitehead, a minister and E.A. Whitehead, aged sixty-six.  Could this be his mother?
After delivering the newspaper clippings and the Kansas State census record to my client, I decided that night to try something on a hunch (a "wing and a hunch" if you will).  I was curious to see if maybe I could find a Civil War record of someone named Whitehead.  I had no idea the first name of John's father, so I just typed "Whitehead" and chose Civil War at Fold3.
Talk about the "luck of the Irish" (I recently discovered I'm 21% Irish)!  The very first, not the second or the twentieth record — the first one was a John Whitehead who served in New York's 9th Regiment.  This 42-page record turned out to be the mother lode which utterly demolished the brick wall surrounding John Elam Whitehead's parentage.  After skimming through the file I was able to ascertain the following vital information about John Elam:
Elizabeth Ann Whitehead (obviously E.A. Whitehead from the Kansas State census record) filed for a widow's pension. Her husband John was killed near Petersburg, Virginia during the Battle of Hatcher's Run, a devastating Union loss, on October 27, 1864.
To prove her marriage to John Whitehead, Elizabeth obtained and filed an affidavit from Reverend George Fisher, the former minister of the Fort Edward Baptist Church in Fort Edward (Washington County), New York. Reverend Fisher attested to the fact there was no other marriage record available at the time and he was well acquainted with both John Whitehead and Elizabeth Ann Richardson.  John and Elizabeth were married on January 12, 1851.
I found John Elam Whitehead's birth date: August 29, 1852.  Three or four neighbors provided affidavits as to their knowledge of Elizabeth's marriage to John and the birth of her son John Elam.
John Whitehead was born in Stockport, England (Cheshire) in approximately the early 1820's. He was 42 at the time of his death in 1864 according to the government's record.  He was described as being 5 feet 7 inches, lightly-complected with dark hair and blue eyes.  Before his death on October 27, 1864 John had been wounded on May 5, 1864 and had still been absent from the front on June 30.
Elizabeth received a widow's pension of $8 per month, and until John Elam turned sixteen years of age she received an additional $2 per month.
These were all vital facts I had been searching for — what a EUREKA! moment.  I had skimmed through several of the pages and decided to return to two affidavits which I had glanced at the names but didn't know who they might be.   These two women were claiming to have been in the house where John Elam was born, although not in the very room where Elizabeth gave birth.  Hmm.
With John being born in August of 1852, a respectable number of months following his parents' marriage in January of 1851, these could not be sisters, or could they?  I felt like I was approaching yet another brick wall — and for awhile it was.
I still hadn't found an 1860, 1870 or 1880 census record so I started thinking, you know maybe Elizabeth was a widow with two daughters when she married John Whitehead in 1852, he perhaps a recent immigrant to America.
I went back to the pension file to those pages with the women who had been in the same household when John Elam was born.  I noted their last names and assumed they were probably married names:  Nancy Cary and Susan Russell.
I searched for "Nancy Cary" in New York in 1860 and lo and behold who did I find but a young lady named Nancy M. Carry (misspelled) age 22 living in Chester, Warren, New York where the pension file had indicated John was from at the time of his death.  Actually, the transcribed record should have included her with the name below hers — that of her husband Isaac Cary.
Nancy was transcribed with the another young lady, age sixteen by the name of Susan Richardson — obviously Elizabeth's daughter from her first marriage.  Her two daughters, John Elam's half-sisters were living with John and Elizabeth "Witehever" — no wonder I couldn't find them!
Susan Richardson was still single in 1860, so still not finding an 1870 record for John Elam and Elizabeth (now that I knew John had been killed in action), I searched for her married name Susan Russell in New York.
I found not only Susan Russell, married to Harlen Russell with two children, I found Elizabeth and John E. Whitehead living with them in Johnsburgh, Warren, New York.  Yet another brick wall was beginning to crumble.
That still left the 1880 census (which I still haven't located) but the 1885 Kansas census firmly established John Elam and his mother Elizabeth in Kansas by that time, although I wasn't sure exactly when they had arrived.
Another look at the pension record revealed another important clue, albeit sort of obscure.  At the top of page 31 of the pension file was the facsimile of a card indicating that they pension case had been dropped because Elizabeth had died on February 27, 1907.
At the top of the card, frayed at the edges,  was this notation (click to open and enlarge):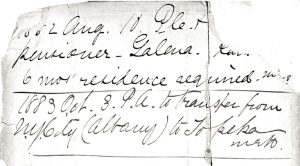 While the note is somewhat disjointed due to the frayed edges I deduced that John and Elizabeth probably arrived in Kansas (Galena) in the summer of 1882 and by October of the following year the residency of at least six months required to transfer her case from Albany, New York to Topeka, Kansas would have been fulfilled.
Although still not able to find an 1880 census record, I was far from disappointed because I felt the research time had been well-spent and fruitful.  I also came across an 1860 Non-Population Schedule (Agriculture) for John Whitehead, further establishing his presence in Chester, Warren, New York.
After entering John Whitehead into Family Tree Maker a subsequent vital hint appeared — his birth record in Stockport, Cheshire, England:  born to John and Ann Whitehead.  Now I had his parents and John Elam's grandparents' names.  I haven't located their marriage record but at least I have John Whitehead and Ann ??.
However, I couldn't leave John Elam hanging without knowing about Elizabeth's parentage.  Since I knew her married name was Elizabeth Ann Richardson I searched the 1850 census records and found E.A. Richardson with daughters Nancy and Susan in Kingsbury, Washington, New York.  Elizabeth was obviously a widow at the time.
I checked the 1840 census for Kingsbury and found a few Richardson records but only one made sense given that Nancy was born around 1838.  That record belonged to Benjamin Richardson of Kingsbury with a 20-29 year-old male, a 20-29 year-old female (Elizabeth) and one female under 5 (Nancy).
Despite vigorous efforts and multiple search combinations to produce a marriage record for Elizabeth and Benjamin, I turned up nothing that would inform me of Elizabeth's maiden name.  I glanced again at the 1850 record and noticed Susan had a middle name of Lane.  Might that have been Elizabeth's maiden name?  After all, it wouldn't have been at all unusual in that era to give her a family surname as a middle name.  Nancy had been given her mother's middle name Ann.
I toyed with the idea her name was Elizabeth Ann Lane and found a couple of possibilities in 1830 and 1840, but again no marriage record of any kind for Benjamin Richardson has been found.  Another brick wall?  Perhaps, but maybe something will pop up eventually.
For now, I am over-the-moon excited to have found the missing links and able to tie them together with the newspaper clippings.  It all fit together perfectly!
John and Jennie continued to live in Siloam Springs where they both died, he in 1937 and she in 1959.   I'll set this line aside for now and wait for more clues — now it's on to another adventure — and if necessary, "on a wing and a hunch"!
P.S.  One more thing.  In addition to John's busy local and itinerant ministry I came across an announcement in 1896 which stated he had been granted a United States Patent (#567057) for a shell cleaner ("to thoroughly and effectually clean metal shells for firearms, whether straight or bottle-shaped".6
Have a GREAT day . . . someday it will be HISTORY!
 © Sharon Hall (Digging History), 2016.
Footnotes: