America's first official kidnapping accompanied by a demand for ransom occurred in 1874 when four year-old Charles Brewster Ross, son of Philadelphia merchant Christian Ross.  The kidnapper demanded ten thousand dollars via an anonymous communication.  Mr. Ross notified the criminal he was willing to negotiate but had offered only three hundred dollars to obtain the release of his son.
Charles was never found although his father later offered five thousand dollars in late 1874 for the safe return of his son.  He was satisfied the abductors had been killed on Long Island on December 14 and was begging for information as to Charles' whereabouts.  Despite the mayor of Philadelphia's proclamation the following year urging the state legislature to enact a law granting immunity to the person or persons holding Charles, nothing had turned up.   By the end of March all hope would be gone of ever finding him.
Until the 1930's hundreds of kidnap-ransom crimes would be committed, although most were handled as local crimes.  Federal agents only stepped in when a kidnapping had occurred on federal lands such as a national park or Indian reservation.1  That all changed following enactment of the so-called Lindbergh Law in 1932.
On January 1, 1934 William Hamm, Jr., 1933 kidnapping victim of the Barker-Karpis gang, was finally getting on with his life, marrying his fiancé Mrs. Mary Hersey Carroll of St. Paul.  (NOTE: In case you missed yesterday's "Wayback Wednesday" article on the Depression Era Kidnapping Epidemic you can read it here).  The trial of his alleged kidnappers, the Roger Touhy gang, was over, resulting in their acquittal.2  In reality it had been the Barker-Karpis gang who committed the Hamm kidnapping and absconded with one hundred thousand dollars in ransom.
The epidemic not only made headlines it made the funny papers, as Dan Dunn (aka Secret Operative 48) "repulsed by heavy fire from the old mill" in order to "save the police from further danger, takes a desperate chance – he's going to enter the old mill alone – by way of the river, and attempt to capture the kidnap gang single-handed."3
Speaking of the funny papers, this device invented by retired policeman Elmer Carlstrom seemed Dick Tracy-like (click image to enlarge):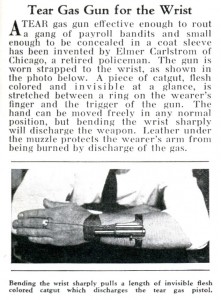 Carlstrom claimed the device was "effective enough to rout a gang of payroll bandits and small enough to be concealed in a shirt sleeve."4
Hollywood was also capitalizing on the kidnapping epidemic.  In early 1934 two movies were showing at the picture show.  The Mad Game starred Spencer Tracy playing a bootlegger turned kidnapper.  The other, Girl Missing, asked potential movie-goers: "Is the kidnap epidemic on level – or are restless girls using a dime-novel alibi for a night's whoopee?"5  Yet, Hollywood actors and other celebrities weren't immune from these wide-spread extortion schemes in real life.
Mary Pickford was sued for expressing her concerns that a certain man and woman had been following here during a Boston engagement.  J. Raymond Cornell, a retired organ manufacturer, offered few details but had every intention of suing the actress for defaming him.  In April of 1934 actress Alice Brady received a threatening phone call alleging a possible kidnapping.  Three months earlier police were said to have been close to solving the Lindbergh kidnapping and possibly uncovering a plot to kidnap Babe Ruth and Jack Dempsey.
Children were frequently the target of kidnappers, although not all were driven by extortion.  A grieving Omaha man snatched an eleven-year-old boy from an orphanage.  "I wanted a boy and just went out and got him," said George W. McDonald.6  McDonald's wife had died and his son had been killed in an automobile accident.
Local and federal agents were kept busy chasing down leads for hundreds of kidnappings during the epidemic.  Many kidnappers died in shootouts with law enforcement.  In November of 1933 enraged Oakland, California residents took justice into their own hands after the body of twenty-two-year-old Brooke Hart, scion of a wealthy San Jose family, was found in the bay.  Thomas Thurmond and J.M. Holmes confessed to the crime and were locked up.  Fears of mob violence were realized following a two-hour battle with police when angry citizens removed Thurmond and Holmes from their cells and hanged them from trees at a park in San Jose.  In some cases the gangs were enabled by a corrupt police department.
Before Prohibition was repealed in 1933 by Franklin Roosevelt, Chicago's Al Capone controlled bootlegging operations.  There were so-called "safe cities" where organized crime could operate in conjunction with the local political machine.  St. Paul, Minnesota was such a place.  With corrupt police chief Tom Brown and racketeer Harry Sawyer, who was credited with organizing much of the city's criminal element, St. Paul was a perfect haven for the Barker-Karpis gang.  "Big Tom" was also in the pocket of gangster John Dillinger.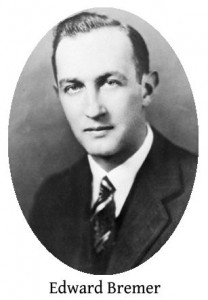 On January 16, 1934 Edward Bremer, banker and son of a wealthy brewery executive, was kidnapped in broad daylight on the streets of St. Paul just after he'd dropped his daughter off at school.  One of the men who approached him was Arthur "Doc" Barker, brother of Fred and son of Kate "Ma" Barker.  Bremer was repeatedly punched and pistol-whipped and thrown into the back of his own car and blindfolded.  When the car was found later concerns were raised over Bremer's fate given the amount of blood found in the vehicle.
Bremer was held captive in Bensenville, Illinois while the gang made demands for a two hundred thousand dollar ransom.  Bremer's father Adolph attempted to negotiate a reduced ransom while demanding proof of life.  After tense back and forth negotiations and demands the ransom was paid, although Fred Barker had wanted to kill Edward when his father began dickering with the demanded sum.  On February 7 Edward was driven to a deserted road and released, forced to make his own way back home with a small amount of cash.
The FBI was on top of this case, however, after recording the serial numbers of the cash delivered to the gang.  An intense investigation ensued, although at first Bremer refused to cooperate fearing for his family's safety.  Presuming Karpis to have been the gang's leader, the FBI designated him "Public Enemy No. 1″, a term adopted by J. Edgar Hoover in the 1930's.
Frank J. Loesch, chairman of the Chicago Crime Commission, had first used the term in April 1930 in referring to Al Capone, the city's most famous gangster.  The FBI used the term when referring to dangerous criminals and fugitives like John Dillinger, Bonnie and Clyde, Baby Face Nelson, and now Alvin Karpis and the mother of his partners, Kate "Ma" Barker.
Hoover considered Ma Barker (born Arizona Donnie Clark) "the most vicious, dangerous and resourceful criminal brain of the last decade."7  Stop by tomorrow for a  "Felonious Females" article (and the conclusion of this short series) about Hoover's version of her story and how Ma met her demise.
Have a GREAT day . . . someday it will be HISTORY!
 © Sharon Hall (Digging History), 2016.
Footnotes: