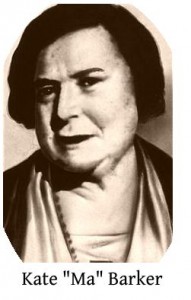 She was born Arizona Donnie Clark on October 8, 1873 to parents John and Emaline (Parker) Clark in Greene County, Missouri.  Arizona, or Arrie (and later Kate) as her family called her, grew up on a Missouri farm, and raised as a good Christian went to church and Sunday school.
In 1892 she married George Elias Barker, a farm laborer, and together they had four sons: Herman, Lloyd, Arthur and Fred, or Freddie as she liked to call her favorite son.  Kate remained faithful, taking her family to church and singing hymns "with the same lustiness as the rest of the congregation"  George, described as a "mild, inoffensive, quite man who seemed somewhat bewildered by his dominating wife", was dragged along with the family to church.1
As the saying goes, boys will be boys, but the Barker boys seemed to get in more than their share of trouble in Webb City – petty at first, but eventually escalating into more serious crimes which brought their names into the headlines.  In 1909 sixteen-year-old Herman had been sent to jail for ninety days for receiving stolen property.
George purchased a farm in Stone County, Missouri, but Herman left home and went back to Webb City where he got into trouble and landed in jail.  In late June the judge granted clemency for Herman and told him to go home to his family and behave himself.  That didn't happen, however, after he and Lloyd formed a gang.  By 1910 every one of the sons had been accused of breaking some state law – even little Freddie.
In 1915 the family moved to Tulsa, Oklahoma and this is where Kate and her sons formed their years-long criminal enterprise.  At some point, however, George left his family, moved to Joplin and ran a filling station, having never participated in the family's crime sprees.
All along it seemed Kate was in one way or another enabling her son's criminal behavior as she would defend her sons by first arguing their innocence, and failing that, claim they were being persecuted – they were good boys after all.  If that tactic didn't succeed she would plead for clemency.  What mother wouldn't defend her sons?
J. Edgar Hoover saw it differently: "Home again with her guilty offspring there would be bitter upbraiding for the clumsiness of flight which had led to their capture."2  Hoover opined Kate's defense was only teaching her sons (and herself) how to become more ruthlessly criminal.  It would do no good to punish them since in her mind they had done no wrong.
The boys joined the Central Park gang, innocent school boys by day and perpetrating robberies by night.  Mother "Ma" Barker, as she became known, opened her home and allowed the gang to meet there.  While the gang schemed she would sit and listen, offering suggestions to skirt the laws.  This gained her a reputation and word spread about a place in Tulsa where a criminal could get protection and shrewd advice.
Criminals released from prison would seek her out upon their release.  If a crook needed a partner for a job, Ma was the one to see to make it happen.  Ma didn't run a house of ill repute, however, since she banned both liquor and women.  She seems to have been well-paid for her advice, enjoying a life of luxury.  Amazingly, however, she was only charged with one crime – the boys did her dirty work.

Herman continued his own crime spree as a member of the Kimes-Terrill gang and repeatedly arrested for crimes like robbery, burglary and larceny.  In January 1927 he and Ray Terrill were jailed in Joplin after robbing the First National Bank of Jasper, Missouri.  Terrill surrendered but Herman was wounded and held under guard at the hospital.  Herman escaped and continued his crime spree until a Newton, Kansas robbery in late August 1927.  Police flagged their car and a gun battle ensued.  One officer was killed and when cornered Herman turned the gun on himself and committed suicide.
Lloyd Barker was sentenced to a twenty-five year prison term in 1921 after robbing a mail wagon driver.  Paroled in 1938, Lloyd turned away from a life of crime, joining the Army and serving as a cook at Ft. Custer in Michigan during World War II.  He was honorably discharged, married and moved to Denver, Colorado.  Lloyd was killed by a shotgun blast fired by his wife Jean as he was entering their home.  Jean claimed to have been in fear for her life and the safety of her children.  She pleaded innocence by reason of insanity and later committed to a psychopathic hospital.
Fred formed his own gang with Alvin Karpis (Arthur later joined them), and when kidnapping stories began to pop up all over the country Ma had a great idea.  The gang had moved on from Tulsa, first to Chicago and later to St. Paul, Minnesota where Chief of Police Tom Brown's reputation for shielding criminals was well-known. Soon afterwards banker Edward Bremer was kidnapped and later released after the gang received a ransom of two hundred thousand dollars.
The FBI became involved in the Bremer kidnapping so Ma and her gang decided it best to leave St. Paul and head back to Chicago – a good place to launder the money.  Arthur was arrested on January 8, 1935 in Chicago, found guilty of the Bremer kidnapping after his fingerprints were found on a gas can.  Sent to Alcatraz, he died during a prison escape attempt in 1939.
Fred and Ma had departed Chicago and were holed up in Ocala, Florida.  Hoover's "Flying Squad", a group of highly-skilled agents and lawmen from around the country, specialized in hunting down dangerous criminals.  The Bureau discovered a map of Florida in Arthur's apartment with the area around Ocala circled.  After an informant provided information as to the Barkers' whereabouts (a cottage on Lake Weir), the FBI went right up to the door of the house and knocked.
Hoover later described the beautiful white house as an arsenal – "three automatic pistols, cartons of ammunition, a rifle, and five bullet-proof vests" were found.3  Hoover succinctly and rather matter-of-factly described the encounter that ensued: "In the darkness of the night the Special Squad surrounded the place, firing started, and eventually Fred and his mother were killed."4
Ma answered the door and after the agent stated his purpose was to arrest her son, Fred began firing a machine gun from an upstairs window.  The agent escaped unharmed but an hours-long gun battle ensued.  The battle ended after tear gas was used the following morning (January 16), forcing  the Barkers to attempt flight.  After being gunned down by the feds, a Negro cook employed at the rented cottage went inside and returned with the message, "They are all dead."5
Agents continued to bombard the already bullet-riddled house with machine gun fire and tear gas, even after a wagon had been called to take away the bodies.  When Ma Barker fell she was said to have been holding a machine gun in her hand (although some dismiss this as FBI bravado), perhaps felled by a single bullet wound; Fred's body was riddled with bullets.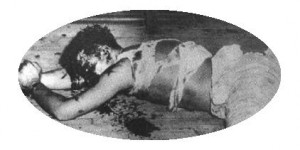 After putting up the fight of her life, the "brains" of the Barker criminal enterprise went down in a blaze of gunfire at the hands of agents who had already rid the world of the likes of John Dillinger, Bonnie and Clyde, Baby Face Nelson and Pretty Boy Floyd in the previous year.
Their bodies were put on public display for a time and then moved to storage in an Ocala morgue.  The bodies were later abandoned on October 1, 1935 and transported for burial to Welch, Oklahoma.  Family members buried them next to Herman in the Williams Timberhill Cemetery.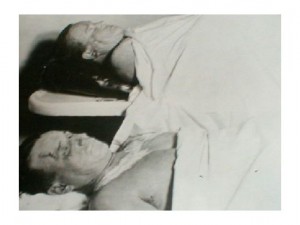 NOTE: This concludes a series about the Depression era kidnapping epidemic.  I often write Ghost Town stories on Wednesdays, but this week I was browsing through old newspapers and came across the so-called "kidnapping epidemic".  I decided to write a three-story arc of related stories — I hope you found the series interesting and informative.  In case you missed the other two articles you can read them here and here.
Have a GREAT day . . . someday it will be HISTORY!
 © Sharon Hall (Digging History), 2016.
Footnotes: