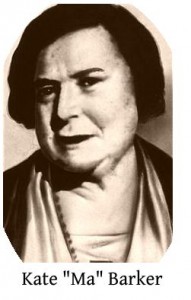 She was born Arizona Donnie Clark on October 8, 1873 to parents John and Emaline (Parker) Clark in Greene County, Missouri.  Arizona, or Arrie (and later Kate) as her family called her, grew up on a Missouri farm, and raised as a good Christian went to church and Sunday school.
In 1892 she married George Elias Barker, a farm laborer, and together they had four sons: Herman, Lloyd, Arthur and Fred, or Freddie as she liked to call her favorite son.  Kate remained faithful, taking her family to church and singing hymns "with the same lustiness as the rest of the congregation"  George, described as a "mild, inoffensive, quite man who seemed somewhat bewildered by his dominating wife", was dragged along with the family to church.1
NOTE: This article is being re-purposed and may be included in a future edition (or Special Edition) of Digging History Magazine. After January 1, 2018 it can also be purchased as an individual article. If interested, please subscribe to the blog (to the right of this post) and you will be notified when the new Digging History Magazine web site is launched.