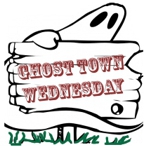 This area of Texas is home to just a handful of residents these days, but once boasted a population of four thousand.  The town was named for Colonel (later General) William R. Shafter, commander at Fort Davis, and located about eighteen miles north of Presidio.  It became a mining town after rancher John W. Spencer found silver ore there in September 1880.
Shafter had the sample assayed and found it contained enough silver to make it profitable to mine – profitable enough for Shafter himself to invest.  Spencer had thought it prudent to share his secret with Shafter since the area was prone to periodic Indian attacks.  Protection would be needed to carry out successful mining operations.
NOTE: This article is being re-purposed and will be included in a future edition of Digging History Magazine. Please check out our new site:  www.digginghistorymag.com.  Go to the Magazine Store and see what's available.  Don't miss an issue — subscriptions now available, as well as single and special edition issues and individual articles formerly posted here at the Digging History Blog site.