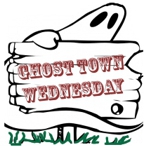 According to a Fremont County, Colorado web site the population of Whitehorn was less than ten as of 2014.  Accounts vary, however, as to who founded the town in the mid-to-late 1890's.  In one account prospector Dennis Patno came to the area in February of 1897, struck gold and started a rush to the area in the mountains northeast of Salida.  In yet another account the town was founded in May of 1897 by Arthur L. Whitehorn – according to a 1901 article published in the Whitehorn News, he was indeed the founder.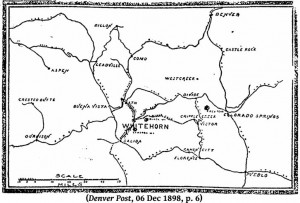 Whitehorn had recently been appointed as U.S. Deputy Mineral Surveyor in Pitkin County, having also mined around the Tin Cup area.  He set up his assayer's tent at the camp some miners humorously referred to as "Suckerville".  However, the specimens he examined were promising enough and soon the town named in his honor began to be laid out.
NOTE: This article has been SNIPPED.  Why?  Digging History is now a monthly digital (PDF) magazine.  This article will be included in a future edition of Digging History Magazine. Check out the latest issue here:  www.digginghistorymag.com or try a subscription here.  Want to TRY OUT the magazine?  Click the magazine link in the previous sentence, then scroll to the bottom of any page and provide your email and Subscribe.  A free issue will be coming your way soon!