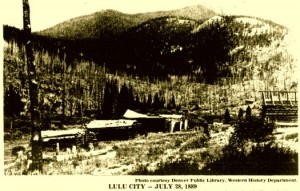 This ghost town, now located in Rocky Mountain National Park, was founded in 1879 after Fort Collins merchant and entrepreneur Benjamin Burnett heard about a silver strike in the mountains west of Fort Collins near the headwaters of the Grand River (later Colorado River).  Burnett sent out prospector John Rigdon to investigate the claims.
Rigdon went over Thunder Mountain (later renamed Lulu Pass) and camped in a beautiful park situated at an elevation of 9,400 feet.  There he began to prospect, initially finding a vein of silver and lead.  After returning to Fort Collins and having the ore tested down in Denver, Burnett decided to personally investigate.
NOTE: This article is being re-purposed and will be included in a future edition of Digging History Magazine. Please check out our new site:  www.digginghistorymag.com.  Go to the Magazine Store and see what's available.  Don't miss an issue — subscriptions now available, as well as single and special edition issues and individual articles formerly posted here at the Digging History Blog site.