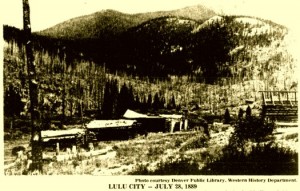 This ghost town, now located in Rocky Mountain National Park, was founded in 1879 after Fort Collins merchant and entrepreneur Benjamin Burnett heard about a silver strike in the mountains west of Fort Collins near the headwaters of the Grand River (later Colorado River).  Burnett sent out prospector John Rigdon to investigate the claims.
Rigdon went over Thunder Mountain (later renamed Lulu Pass) and camped in a beautiful park situated at an elevation of 9,400 feet.  There he began to prospect, initially finding a vein of silver and lead.  After returning to Fort Collins and having the ore tested down in Denver, Burnett decided to personally investigate.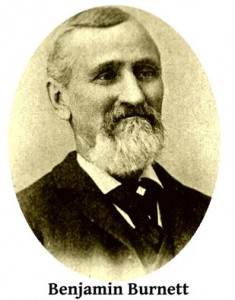 In the summer of 1879 he loaded up a wagon and took his family to the park. He wasted no time in laying out a town, and an ambitious one at that. One hundred blocks were platted, with sixteen lots per block. Streets were numbered first to nineteenth and the avenues were named Ward, Mountain, Riverside and Trout. The town was named in honor of his daughter Lulu.
Burnett was assisted by a man named Godsmark, building a store and erecting log cabins. He returned to Fort Collins, loaded the wagon with supplies for the new stores and brought back six large mules. There was, however, no road per se. His son Frank later described the arduous trek:
The route traveled to Lulu City was from Fort Collins up through Livermore, Long Cabin to Manhattan, through Manhattan west to Old Baldy. There are two peaks of Old Baldy and the road went between them on the west through the top of the mountains on the north side looking down on the Cache La Poudre River, on to Chambers Lake. There was no dam at Chambers Lake at that time. It was put in later by the Larimer County Ditch Company of Fort Collins. Thence on to Cameron Pass, to Lulu Pass and down the headwaters of Grand River, now called the Colorado River into Lulu City.1
The trip, although scenic, would normally take seven or eight days. The mules were large and powerful, and driver Jack Spring knew just how to get them to make the pull up and down the mountains. Frank Burnett recalled the crack of Spring's long whip echoing through the Canyon.
Eventually more entrepreneurs made their way up into the mountains, no doubt hopeful of making a buck or two, as miners began prospecting. The town began taking shape with another general store (Godsmark & Company), saloon, drugstore, lumber mills and a post office in 1880.
In September of 1880 the Georgetown Colorado Miner was reporting a "splendid claim" at Lulu. Assay reports were good and new discoveries were made every day. Engines and smelting equipment were being ordered. Rattlers No. 1, 2 and 3 were showing the largest body of minerals of any of the claims in the area with a vein six to ten feet wide consisting of galena, ruby silver, sulphurets and more.
The Georgetown correspondent was overjoyed to see families experiencing a measure of prosperity and "greatly pleased over the future prospects of Lulu City."2 Elections would soon be held and roads would place Lulu City in direct communication with Boulder, Denver and Georgetown. Folks were hopeful a railroad might come to Lulu the following year. During the winter of 1880-1881 several mines continued to be worked extensively and prospects seemed favorable come springtime.
By June 1881 the road from Georgetown to Lulu was in excellent condition – one team could traverse it with a one-ton load without any problems. Fort Collins was raising money for a road to Lulu. Building was outpacing lumber production by two to one as two saw mills ran night and day. More entrepreneurs were arriving – a woman from Denver drove in twenty cows to furnish milk and butter.
Miners were still arriving from places like Chicago, developing their mines as rapidly as they could manage. Some were beginning to wonder whether Lulu would be the next Leadville. Miners and merchants certainly believed the mines would continue to produce. Benjamin Burnett was Lulu City's most ardent supporter and some thought he might eventually become the "Tabor of the camp"3 However, as one Fort Collins Express correspondent remarked, "there is only one Leadville at present in the world."4
Ten mines were worked during the winter of 1881-1882 and Lulu City was booming. By mid-December the town's property had more than doubled in value. While the town had great ambitions for success, certain components never materialized. For instance, a church was never established, nor a small school until much later.
Al Godsmark and his brother had claims to attend to in addition to their other enterprises (general store and hotel). During the winter of 1881-1882 they worked hard and made a name for themselves. However, most miners left Lulu during the harsh winter months, unable to work their claims.
As hopeful as Benjamin Burnett and Al Godsmark had been of Lulu City's future, miners began looking for "greener pastures" by the end of 1883. With news of a gold strike up the canyon, practically everyone packed their wagons and left Lulu City behind.
The following year Lulu City was virtually abandoned; the post office closed in 1886. While some good ore (even some gold) had been mined, much of it turned out to be low-grade. Operational costs at that remote and lofty location made it less appealing as time went by.
According to the National Park Service, a flowered field is all that remains of Lulu City in what is now known as the Kawuneeche Valley of Rocky Mountain National Park. Hikers can still view log cabin remains and look for tailings from the nearby Shipler Mine (the mine owned by Joe Shipler whose initial strike piqued Benjamin Burnett's interest). The easy to moderate hike from the Colorado River Trailhead is a 7.4-mile round trip.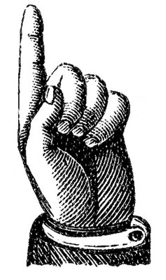 Did you enjoy this article?  Yes? Check out Digging History Magazine.  Since January 2018 new articles are published in a digital magazine (PDF) available by individual issue purchase or subscription (with three options).  Most issues run between 70-85 pages, filled with articles of interest to history-lovers and genealogists — it's all history, right? 🙂  No ads — just carefully-researched, well-written stories, complete with footnotes and sources.
Want to know more or try out a free issue?  That's easy if you have a minute or two.  Here are the options (choose one):
Scroll up to the upper right-hand corner of this page, provide your email to subscribe to the blog and a free issue will soon be on its way to your inbox.
A free article index of issues is available in the magazine store, providing a brief synopsis of every article published in 2018.  Note:  You will have to create an account to obtain the free index (don't worry — it's easy!).
Contact me directly and request either a free issue and/or the free article index.  Happy to provide!
Thanks for stopping by!