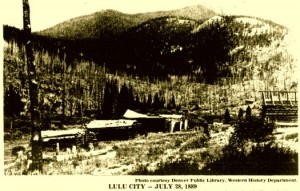 This ghost town, now located in Rocky Mountain National Park, was founded in 1879 after Fort Collins merchant and entrepreneur Benjamin Burnett heard about a silver strike in the mountains west of Fort Collins near the headwaters of the Grand River (later Colorado River).  Burnett sent out prospector John Rigdon to investigate the claims.
Rigdon went over Thunder Mountain (later renamed Lulu Pass) and camped in a beautiful park situated at an elevation of 9,400 feet.  There he began to prospect, initially finding a vein of silver and lead.  After returning to Fort Collins and having the ore tested down in Denver, Burnett decided to personally investigate.
NOTE: This article has been SNIPPED.  Why?  Digging History is now a monthly digital (PDF) magazine.  This article will be included in a future edition of Digging History Magazine. Check out the latest issue here:  www.digginghistorymag.com or try a subscription here.  Want to TRY OUT the magazine?  Click the magazine link in the previous sentence, then scroll to the bottom of any page and provide your email and Subscribe.  A free issue will be coming your way soon!