Recently I've added a new dimension to ancestry research by collecting signatures of either my own or those of my clients' ancestors.  When the time comes to format a pedigree chart, I will be incorporating these on the chart — something unique to document history besides a bunch of dates and places.  Each one will tell a different story.
I was formatting a few signatures of my Rupe ancestors and was thinking about their stories – call them "signature stories" if you will.  One set of signatures was included in a series of affidavits averred to by four members of the Rupe family of Sebastian County, Arkansas in support of  George Abbott and his claims for property "appropriated" during the Civil War.
George Abbott was a miller living in either Sebastian or Scott County until February of 1864 when he went to Fort Smith.  Abbott was deeply opposed to secession and his sympathies were solidly Union.  Like many others in the South (Arkansas was a divided state) who considered themselves Unionists, Abbott was harassed by Rebels.
At Fort Smith he worked for the Union cause and claimed this as evidence of his loyalty.  His petition to the Commissioner of Claims, established under the act of March 3, 1871, stated in April of 1864 members of the 9th Kansas Cavalry (as well as two Arkansas units) camped near his home in Sebastian County and appropriated: one mare ($150); two thousand pounds of fresh beef ($120 or 6 cents a pound); and one hundred bushels of corn ($150).  He was requesting remuneration in the amount of $420.
Abbott's petition also included a sworn statement whereby he further established his loyalty to the United States by denying he had ever supported the Confederate cause.  Had that statement not been true it's unlikely he would have ever received anything in return.  Abbott had friends and neighbors to support his claims, and instead of appearing in Washington, D.C. before the Commission of Claims, "so great a distance from their homes", they would provide signed affidavits.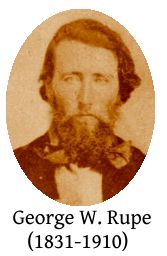 George Washington Rupe (my third great grandfather and George Abbott's brother-in-law) and his brother Lewis would serve as primary witnesses.  To make his case Abbott told how he had been harassed by rebels – at various times he believed the Confederate Army had stolen four horses, a wagon, about twenty head of cattle, approximately thirty hogs, a gun, saddle and two bridles.  Of course, he never received any payment.
Major Gibson threatened to kill George Abbott and my great grandfather George Rupe because they were milling and grinding corn for federal troops.  Major Gibson, however, was killed by Union soldiers as he made his way to carry out the threat.  Abbott seemed to have been quite generous with both his time and supplies in service of the federal troops.  I would imagine George Rupe and his family did the same.
I have another ancestor from the Hall line who also lived in Sebastian County, Mary Ann (Story) Hooper, my fourth great grandmother.  Mary Ann was born on July 24, 1819, the daughter of a Kentucky doctor.  In 1904 just before her 85th birthday she was featured in a newspaper article entitled "A Remarkable Arkansas Family".
At the time of the article a "careful count" of her descendants totaled 450, six generations which included one great-great-great grandchild).  To her friends and family she was known as "Aunt Pop", a woman of charity to those in need.  She had lived in Arkansas for about fifty years and in addition to raising her own large family had made herself a blessing to neighbors as well.  In that span of time she had served as midwife for over one thousand births, traveling through all sorts of weather "to the aid of her sisters".  During the Civil War she fed hungry soldiers on both sides, no matter their allegiance.
While neither Abbott nor my great grandfather had actually seen the Kansas group take the provisions, George Rupe had seen them on a road out of Fort Smith and recognized the horse, a chestnut sorrel.  Upon reaching the mill he told Abbott what he had seen.  Although Rupe hadn't seen the other supplies (beef and corn) he believed his father, my fourth great grandfather David Price Rupe, and his brother Lewis had seen the cattle in the government's possession.  As to the corn, Rupe just knew how much had been in the crib and it was all missing.  George Rupe signed his affidavit:

His brother Lewis gave his statement and signed with his "mark":

In August of 1864 Abbott had departed Arkansas, escorted by U.S. troops to Missouri.  He traveled all the way to St. Joseph to escape rebel harassment, and ostensibly, he claimed, because he was loyal to the United States government.  There he remained for about fifteen months before returning to Scott County in 1866.
David P. Rupe backed up Lewis' claim by stating his son had seen claimant's cattle in September of 1864.  David further investigated and found the cattle in the possession of a Fort Smith woman who told him she had been given the cattle for keeping until they were to be transferred to Kansas.  He made no attempt to retrieve the cattle, knowing the woman was the wife of a soldier, and times being what they were, many were heading north to escape the rebels.  David signed his affidavit on December 6, 1872:

One more Rupe affidavit, of David's son Ransom who had served the Union Army during the first two years, evokes an entirely different story, and a sad one at that.  However, before I relate it I'll wrap up George Abbott's story.  My ancestors' affidavits notwithstanding, Abbott didn't receive all he was claiming to be owed.  In the end he received only $125 in 1875.

Ransom's affidavit brought to mind a story I found while researching the Rupe family of Sebastian County.  Less than six months after signing these affidavits the Rupe family experienced a devastating tragedy.  On June 3, 1873 The Daily Gazette reported:
David Rupe, an old and respected citizen of Sebastian County, was foully murdered a few days ago.  Two sons of the deceased were arrested as the guilty parties.  One was released, and the other held for trial before the circuit court.
A subsequent article provided more details:
Sometime ago we published an account of the killing of old man Rupe and the arrest of his son Ransom for the murder.  He was sent to jail at Greenwood.  A few days ago he knocked the jailer down with a bottle and made his escape.  Ransom is now at large.
On Friday night last, Sam, another son of old man Rupe, committed suicide by shooting himself through the left breast, with a rifle gun.  He lived a few hours after he committed the deed and told how he placed the gun and touched it off with his toe.  He declared his intention of killing himself beforehand, as the people need rain and he said they couldn't have it until he died.
Tragedy beyond belief, stories evoked by a set of ancestor signatures.
(NOTE:  I don't know the motive for Ransom and Samuel to kill their father, nor exactly what happened to Ransom.  However, he died in Mena, Arkansas in 1895.  Mena brings to mind yet another Rupe family story, a lighthearted one.  In case you missed it, you can read this Surname Saturday article here.)
Have a GREAT day . . . someday it will be HISTORY!

 © Sharon Hall (Digging History), 2016.