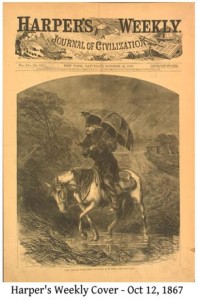 The typical circuit riding preacher of the eighteenth and nineteenth centuries wasn't someone who had been afforded formal seminary training. Rather, it was more likely a former common laborer like a blacksmith or carpenter who, following a dramatic religious conversion, answered the call to preach to the masses by riding from village to village spreading the Gospel.  It certainly wasn't a well-paying job and many died at a young age.  In 1855 a man who signed his editorial "An Old Circuit Rider"1 knew all too well the pittances afforded the itinerant preacher.
In 1827 missionaries received only fourteen cents a day on average and he had heard of ministers who hadn't received one cent in a six-month period.  The itinerant minister might "pass the hat" and gather enough to send him down the road a bit further.  One minister receive a saddle girth for his services.  That would keep his saddle in place but not food in his belly.
Yet another minister known by the "old circuit rider" made only one "cut bit" one year.  He went on to explain how in those days it was customary to make change by cutting larger pieces of silver into smaller ones.  A cut bit was an eighth of a dollar, also called a "sharpskin".  The man was about to set upon a trip of 250 miles and what was he to do?  He started riding, making stops along a seventy-mile stretch.  Upon preaching the last service of the stretch the "cloud bursted" and his act of faith was rewarded.
A friend had heard about his plight and informed the congregation ahead of his visit.  Within a few minutes the minister had enough to attend Presbytery and return to the circuit.  A mere $9.25 was enough to last the entire year.  Oh what a difference a couple hundred years makes, eh?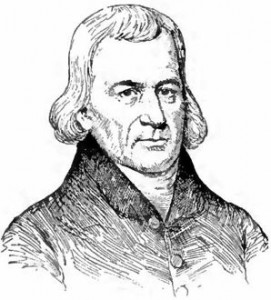 Circuit riders hold a special place in American history, or as one graphic I saw recently read: "Simple Obedience Changes History".   Sometimes the first person a new settler might meet wasn't a neighbor but a circuit riding Methodist minister.  Many people associate circuit riding with the Methodists, citing Francis Asbury as the original standard bearer.
That distinction is well deserved as he made a significant mark on American history.  When Asbury arrived in America in 1771 there were only a few hundred Methodists and perhaps a few dozen preachers.  Remember, the Methodists were persecuted (as were many other faiths) by the Puritans (see this past article).  By the time Francis Asbury died in 1816 there were over 200,000 Methodists and more than 4,000 preachers.2
Asbury is regarded as the most famous American circuit rider, but there are many, many more who made their own mark.  I came across one awhile back while researching a Tombstone Tuesday article.  I contacted a descendant and hope to gather some more information about their ancestor.  I have an interest in writing articles (and later a book or series of books) about circuit riding preachers and their impact on American history.  Specifically, I'm interested in finding some truly unique stories of unsung heroes and those whose story is as yet untold.  Do you have any ancestors who were circuit riding preachers?  If so, I'd love to hear from you.  You can comment below or use the "Contact" link at the top of the page.
Have a GREAT day . . . someday it will be HISTORY!
 © Sharon Hall (Digging History), 2016.
Footnotes: