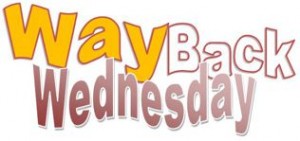 I ran across an interesting story while researching Norwegian ancestry for a friend's family tree.  I've also been meaning to introduce a new Wednesday column which will feature articles about unique (and often forgotten) historical characters and events.  Today seemed like a perfect time to publish the first "Wayback Wednesday" article, one of particular interest for those of Scandanavian ancestry.
He was called the "pathfinder" for Norwegians in America by the Minneapolis Journal in 1906.  On his gravestone in Bosque County, Texas he is referred to as "The Pioneer of Norse Emigration to America".
Cleng Peerson (a.k.a., Klein Pederson or Kleng Peerson) was born on May 17, 1782 in Norway to parents Peder Larsson and Inger Sjursdotter.  Growing up on a farm called Hesthammar, Cleng had few educational opportunities yet taught himself to speak and read English, German and French.
He learned the carpenter trade and as a young man married a woman named Catherine, intending to gain access to her wealth and property.  When that plan failed he left and never lived with her again.  In 1821 Peerson came to America with fellow Norseman Knute Olson Eide, perhaps at the behest of a group of Quakers in Stavenger County who were under persecution from the intolerant state church.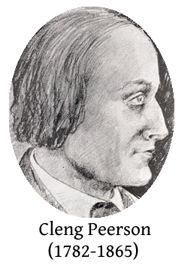 Norwegians knew little about America but the Quakers had heard it was a land which would afford them opportunity to practice their faith freely and openly without fear of persecution.  Peerson spent three years thoroughly investigating the social, economic and industrial conditions.  After traveling through several states, and finding a strong and supportive Quaker colony in New York City, he returned to his homeland.
The New York colony promised to assist the immigrants and Peerson's report was met with great enthusiasm.  Six of the families decided to sell everything and purchase a small boat to sail them away from their homeland to a new home in America.  Led by Lars Larsson, the group faced a harrowing journey in an "ill-fitted craft".
Larsson had been a prisoner in England for eight years where he learned English and converted to the Quaker faith.  The sloop, called the Restaurationen (the Restoration), set sail on July 4, 1825.  Peerson had already crossed back over and was awaiting their arrival fourteen weeks later in New York.  Fifty-two people had begun the journey and fifty-three arrived safely after Mrs. Larsson gave birth at sea to a girl.
Peerson had paved the way for his countrymen by purchasing land in the Kendall township of Orleans County, New York, and there he founded the first Norwegian settlement in America.  A wanderer, Peerson never established permanent residence there, however.  His countrymen, on the other hand, soon found the land and culture ill-suited and began to leave the settlement.
The Kendall settlement was fading and Peerson, unsatisfied with the outcome, was determined to travel farther west until he found the "promised land".  He set out on foot, passing through the land which would later become Chicago and across the prairies to the west and southwest.  One day while walking through an area (later La Salle, Illinois) he suddenly became fatigued.  He laid down in the grass, fell deeply asleep and experienced a dream – the wild land surrounding him was transformed into a vision of villages, cities and farms, a land of prosperity and contentment.
Believing he, like Moses, had a divine calling to lead his people out of bondage, Peerson walked back to Kendall and in the spring of 1834 led a small group to La Salle.  The Fox River community grew rapidly and spread to surrounding counties, becoming one of the largest Norwegian settlements in America.
Peerson, although a restless soul, bought several acres of land but later gave it away to others who had greater need.  Throughout his life he had been known as a kind and generous person, giving away perhaps as much as one thousand acres and untold amounts of money.  When he needed money he used his carpentry skills, and when he had no money to give to the poor Peerson begged from the rich.  Truly, immigrant Norwegians owed Cleng Peerson a debt of gratitude for selflessly helping them thrive and prosper.
In 1837, always looking for new and richer land for his people, Peerson left the burgeoning Fox River colony and headed to Missouri to found a third Norwegian settlement in Shelby County.  Determined to make the new settlement a success, he returned to Norway and convinced several families and a large group of unmarried men to follow him to Missouri.  Again, he purchased land in the new settlement and later gave it away.
Yet another Norwegian settlement was founded in Lee County, Iowa in 1840, with several members of the Missouri settlement migrating due to their disdain for slavery.  Peerson continued to wander but decided to give marriage another try in 1847 after his first wife had died in Norway.  Unfortunately, he found his second marriage as unhappy as the first.  After less than a year he left and foreswore matrimony altogether.
Peerson had visited Texas a few times during his travels and by 1850 had found a new home there.  In 1854 the Texas legislature granted him 320 acres of land just west of Clifton in Bosque County.  Whether Peerson was responsible for establishing Norse, the most successful of all Norwegian settlements in Texas, is unclear.  The first Norwegian immigrants arrived in East Texas in 1845.  Following an outbreak of malaria, and with Peerson's encouragement, they headed west searching for a drier climate.  In Bosque County they found land reminiscent of eastern Norway.
As was his custom, Peerson later gave his land away, this time in exchange for a friend's care until his death on December 16, 1865.  After finally settling in Norse after years of wandering, Cleng Peerson was buried there in Our Savior's Lutheran Cemetery.
Thousands of Norwegian immigrants owed a debt of gratitude to the man who championed Norwegian immigration.  Each had been given an opportunity to make a better life in America.  Some failed miserably, yet more persevered and prospered.   In 1906 a monument to his memory was placed at the grave site.  In 1982 King Olav visited the site to commemorate the 200th anniversary of his birth of the pathfinder and "Pioneer of Norse Emigration to America".
The land Cleng Peerson once possessed is now owned by, appropriately enough, a family from Peerson's hometown.  When Thomas Mannes and his family purchased the property, the original cabin and remnants of another home later built on the property were still standing.  The property was designated as a national historical site in November 2015.
Have a GREAT day . . . someday it will be HISTORY!

© Sharon Hall (Digging History), 2016.