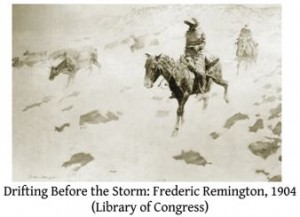 By the early 1880's stock ranching was big business across the West, from Montana down to the southern plains of Texas.  It seemed a rancher's dream – millions of unlimited, wide-open grassland, without a thought of over-grazing or lack of water.
Conditions were ideal then with mild winters, abundant spring rains, plenty of green grass and overflowing streams.  The summer of 1886 brought an end to all that with scorching hot dry weather.  Herds languished under the strains of severe drought.
Blizzards in late December 1885 and early 1886 had been disastrous for the cattle industry, this following the wide-spread installation of barbed-wire and drift fencing to keep cattle in the northern ranges from drifting southward (cows, like horses, turn tail to the wind during a storm).  Cattle were trapped up against the fencing and many perished, yet nothing compared to the following winter.
In November 1886 western Kansas cattle were sickened, most likely some believed, by the dead carcasses from the previous winter.  One more winter like that (or worse) with no improvement in sanitary affairs and one newspaper predicted "our numerous townsites will become cemeteries"1 – the cattle industry would suffer a fatal blow and thriving cow towns would become ghost towns.
The summer drought had taken a toll on cattle herds across the West, leaving them ill-prepared to face the disastrous winter of 1886-1887, so disastrous it came to be called "The Big Die-Up".  It became a sort of "live by the fence, die by the fence" scenario as cattle again drifted southward.  In the Texas Panhandle drift fences stretched across the entire northern part of the area.
Cattle huddled in bunches, some as large as four hundred yards deep, as temperatures plunged below zero.  One author later described how Longhorns moved south "like gray ghosts" with icicles hanging from their ears.  With no way to escape, nor a way to keep warm, the cattle were either frozen or smothered to death. Cattle which somehow survived the storm later starved to death, unable to find grass as the snows piled up as high as two feet across the Plains.
In 1885-1886 the losses had been overwhelming but the following winter was even more severe as herds were decimated.  In Wheeler County, Texas at least seventy-five percent of the herds were wiped out.  One LX Ranch cowboy reported skinning two hundred and fifty carcasses a mile for a stretch of thirty-five miles.
Two disastrous winters finished off many large-scale stock operations, which of course meant cowboys were out of work.  To make a living they would roam the range, "riding the chuck-line" for meals and shelter.  That kind of life didn't pan out for everyone and some began making their living by rustling cattle.
The era of open range ranching had essentially ended.  Charles Goodnight once laughed at the idea of barbed wire but later strung his own fences.  Thereafter, those who remained in the cattle business downsized their herds considerably, fenced in their land and raised hay and grain to sustain the smaller herds.  Barbed wire, first patented in 1867 by Lucien B. Smith of Ohio and later improved upon and patented by Joseph F. Glidden of Illinois in 1874, was here to stay.  The West had been won, some say, with barbed wire, but not without controversy and bloodshed (see  Fence Cutting Wars: Don't Fence Me Out).
Have a GREAT day . . . someday it will be HISTORY!

© Sharon Hall (Digging History), 2015.
Footnotes: