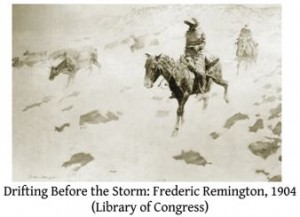 By the early 1880's stock ranching was big business across the West, from Montana down to the southern plains of Texas.  It seemed a rancher's dream – millions of unlimited, wide-open grassland, without a thought of over-grazing or lack of water.
Conditions were ideal then with mild winters, abundant spring rains, plenty of green grass and overflowing streams.  The summer of 1886 brought an end to all that with scorching hot dry weather.  Herds languished under the strains of severe drought.
NOTE: This article will soon be available in an edition of Digging History Magazine. If interested, please subscribe to the blog (to the right of this post) and you will be notified when both regular and special edition issues of Digging History Magazine are available.