The United States, only one day following President Roosevelt's declaration of war, had already scored a significant victory in the Philippines where direct hits had destroyed three Japanese ships.  Efforts to defend the homeland were already in process as farmers were asked to inspect their equipment and order parts before production of war machinery made them scarce.  Farmers were also encouraged to donate scrap iron, old fences, automobile bodies and other discarded pieces of machinery and metal around their farms.
The Kansas legislature was already looking ahead by setting aside a state labor regulation which prevented women from working between 9:00 p.m. and 6:00 a.m.  For those working in the defense industry their work, day or night, would be vitally important to the war effort.
Army officers and the federal government were ordering labor dispute settlements in anticipation of increased war effort manufacturing and transportation.  Army leaders ordered welders at the War Department's Morgantown, West Virginia ordinance plant to settle their differences and get back to work.  President Roosevelt sent a team to Chicago to avert a nation-wide railway strike by ordering a wage increase for railroad workers.
Roosevelt had warned of a long, hard war, but emphatically declared, "we are going to win the war and we are going to win the peace that follows."1  By December 10 over twenty-three hundred Axis nationals had been rounded up (1,291 Japanese; 865 Germans; 147 Italians), really only a small fraction over one million known to have been residing in the United States at the time.  The federal government was taking no chances.
Congress had expected a unanimous vote in support of President Roosevelt's request for a declaration of war against Japan on December 8.  Instead, long-time peace activist and Montana Congresswoman Jeanette Rankin cast a vote of "present".  When reporters swarmed her following the vote, she ducked into a phone booth while awaiting a Capitol Police escort back to her office.  The picture, as we say today, went "viral".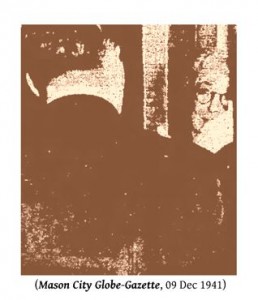 Her rationale?  She had promised to do everything in her power to keep the country out of the war.  In casting her vote thusly she had voted her convictions, redeeming her campaign pledges.  In a letter to her constituents she ended her explanation with, "I feel I voted as the mothers would have had me vote."2
When the vote to declare war against Japan's Axis allies Germany and Italy came up she abstained.  The Emporia Gazette appears to have been the only newspaper  defending Jeanette Rankin's vote.  She had voted "present" –  not a "yes" and essentially a "no" vote just like she had in 1917 during her first term in Congress.  Most newspapers decried her actions, or as the Medford Mail Tribune opined, "We admire the woman's courage, but deplore her judgment."3   Adamantly opposed to war, she never regretted her actions.
Vandals chopped down four cherry blossom trees in Washington, D.C., gifts from Japan's emperor who had years before given them as a symbol of friendship.  The cherry blossom tree had national significance for the people of Japan, symbolizing the ephemeral nature of life (a Buddhist concept).  During World War II the symbolism helped to stoke nationalistic pride and militarism throughout the Japanese citizenry.
Across the country citizens were being advised what to do in the event of a blackout.  Drills were already being held across the country, residents warned of the danger of exposing visible light in case of enemy air attacks.  No one was, of course, being asked to sit at home in the dark – merely obscure lighting in case of a blackout.
Residents of Seattle were determined to enforce the blackout – with heavy bottles if necessary.  Hundreds of irate folks had heaved bottles through the plate glass windows of business establishments who had left their lights burning.
The entire country was on pins-and-needles and security had been tightened.  Wes Roberts, secretary to Kansas Governor Payne Ratner, found the State Guard's security measure quite stringent as he was detained from entering his own office due to a lack of proper identification.  Brooklyn air raid wardens were embarrassed to discover whistles just purchased as part of their unofficial equipment were made in Japan.
Army and naval recruitment offices were swarmed with volunteers.  Professional wrestler Timothy Baskin walked into a recruitment center in Chicago and offered to try out his jiu-jitsu skills on the Japanese.  His height, however, at six feet and seven-and-a-half inches was an inch-and-a-half over the limit.
In Turlock, California a pretty nineteen year-old young lady had walked into the Marine recruiting station asking if she could serve as a Marine nurse.  Regretfully, the sergeant turned her down – "Marines have no nurses, Miss".  A twenty-six year-old infantryman stationed at Camp Barkeley near Abilene, Texas was released after serving only about a month of his 90-day sentence.  Sheriff Bill Marrs explained, "He seemed anxious to get back to the camp, now that the war was started, so we let him go."4
Former Detroit Tiger outfield Hank Greenberg was walking away from baseball and heading back to the Army after being released in May of 1940 for being just over the twenty-eight-year-old age limit set by Congress.  Greenberg told friends, "I'm going back in.  We are in trouble and there is only one thing to do – return to the service.  I have not been called back.  I am going back of my own accord."5  The Carroll, Iowa Navy recruitment office was open 24/7.
The young men in line at the Brooklyn, New York recruitment office were laughing and joking amongst themselves.  When interviewed, however, they gave more subdued responses – "fatalistic but normally hopefully that they would be among those to survive":
M. Cooney (22): "To enlist now is a duty, an obligation.  I don't expect it to be a picnic.  It's serious business."
Thomas M. Cooney (27): "I was discharged from the army Sept. 18 after a year as a selectee.  The navy will have the action and should offer the best opportunities for promotion.  I may make the navy my life's work."
Frank Hlenski (17): "I'll be learning and at the same time serving my country.  If it's my time to get killed, it's my time – we all got to go some day."
Joseph Malfitani (23): "I'm joining to make the navy my career.  And there's more reason to join now, since Sunday.  No, I ain't worrying about getting killed – if I was I wouldn't join."
Murray Hirsch (17): "I want a crack at the Japs.  We should fight to preserve what we live for."6
California residents were already being warned of a produce shortage, precipitated by a ban on purchasing from Japanese nationals who operated truck gardens throughout the Los Angeles area.  In addition, a special license would be required of wholesalers who handled such produce.  Fruit was another thing entirely – plenty of fruit.  The Redlands Heights Groves association had met the night before and discussed expected food restrictions.  They were, however, confident the market for their  products (seen as "protective foods") would flourish in wartime.
Residents of Ontario, California were anxiously awaiting word of their loved ones stationed in Hawaii.  No doubt, Joseph Jordan Lakin was among them although his name wasn't mentioned.  Six days later the grievous news arrived.  See this week's Tombstone Tuesday article here  for more on Joseph Lakin's sons who died together aboard the USS Arizona.
Residents of Long Beach, California found it difficult to wake up "with the milk man" after one dairy company discontinued pre-dawn deliveries until the night blackouts were cancelled in Los Angeles harbor area.  In Hollywood the military was asking Republic Pictures, known for its wild-west movies, to turn over all their six-guns and rifles to the Army.
The nation was just beginning to face the new reality.  Hopeful Americans were predicting great disaster for Japan, a suicide war, following early successes.   Newspapers had already taken to using the more pejorative term "Japs" when referring to the Japanese empire.   A correspondent of the Chinese National Daily appeared at the White House with a big white sign pinned on his lapel: "Chinese reporter – not Japanese, please."7
Meanwhile, Georgia's Confederate veterans had also declared war on Japan.   Ninety-three year-old General H.T. Dowling called them "yellow devils" and proclaimed they were about "to get a taste they won't forget from our boys."8
The newspapers were full unsettling news that day, but there were a few items of a "not-so-serious" variety which caught my eye:
"Gag Order": A judge in Brooklyn ordered an actual "gag order" be carried out against defendant (and mobster) Carlo Barone who had interrupted the previous day's proceedings with obscene outbursts.  Judge Leibowitz ordered a straitjacket and gag – a towel was placed over the gag and pinned to his neck.  Barone continued mumbling and the judge ordered another towel placed under his chin and fastened to the top of his head.  Psychiatrists had found Barone sane, merely a malingerer.  His co-defendant Dominck Grippo's defense attorneys moved for a mistrial, citing an unfavorable reflection on their client.  The judge denied the motion.9
"Citizen's Arrest":  This story reminded me of the Andy Griffith Show's "Citizen's Arrest" episode first broadcast on December 16, 1963.  Everyone thought Art Robinson of Sumner, Iowa was probably just getting back for his arrest for speeding earlier that year.  On the afternoon of December 7 he noticed a state highway patrol improperly parked.  Robinson filed the information and requested an arrest, although when the officer was arraigned the charges were dismissed.  It seems that although the area had been marked for parallel parking in the spring, the old marks for angle parking confused the visiting officer.  "Citizen's arrest" gone bust.
Dancing Ducks:  Mrs. Albert Stage of Eldora, Iowa had a flock of Muscovy ducks who went into a dance routine, akin to the Rumba.
Fear Not Conscientious Housewives:  Although not a "social error" if cockroaches ("evil insects") appear in your "well-appointed kitchen" – just don't broadcast it to your friends and neighbors.  It could happen to anyone, especially in certain parts of Texas, "especially if the eating is good."10
Women Prefer Lipstick to Serious Discussions:  Cosmetologists were concerned the government "might hog all metals and not leave any for lipstick and rouge containers, compacts, curlers, and permanent wave machines."11   Columnist Ruth Millett had a little fun and asked whether the ladies should back off and consider this:  what if they didn't have to put enamel on their nails, rouge on their cheeks, lipstick on lips, nor have their hair done every week and a permanent wave every few months?  Giving up the daily beauty regimen would result in one or two extra hours of free time, time to "mix in politics or do community work" – even time to help "run the affairs of state."  "How about it ladies", she inquired.
It was meant to be a tongue-in-cheek article, but in Europe cosmetics were already expensive and difficult to find.  If women wanted to keep up appearances they had to be especially resourceful.  Vegetable dyes were used to dye hair.  Shave your legs without a razor by using soapy pumice stone.  Having a bad hair day or running low on shampoo?  Wrap it in scarves or a hairnet – also useful especially if she had a job working around heavy machinery.  Remember "Rosie the Riveter"?
The Norman Rockwell painting originally appeared on the 1943 Memorial Day cover of the Saturday Evening Post.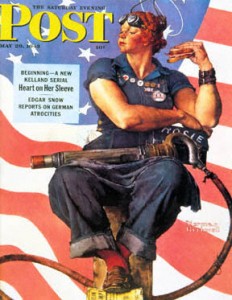 With her feet propped on Hitler's Mein Kampf and a riveting tool in her lap, Rosie the Riveter was used to bolster American patriotism and sell war bonds.  Another image often seen today was commissioned by Westinghouse in 1942 to boost employee morale: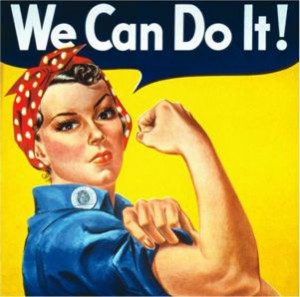 The original painting sold for five million dollars in 2002 and can be viewed at the Crystal Bridge Museum of American Art in Bentonville, Arkansas.
And then there were a couple of items that caught my eye in the San Bernardino County Sun – a little levity, if you please (some things you just can't make up!):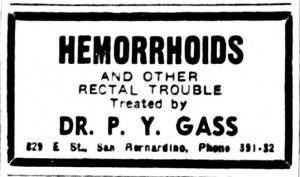 Marguerite Phillips of Seaside, Oregon wore this "fishy hat" – that's a goldfish bowl!  Admiring glances notwithstanding, Marguerite found it also unfortunately attracted seagulls.
Levity aside, parts of this story brought to mind the recent attacks in San Bernardino, California (home of one of the newspapers used to research this article).  Some are calling for a halt to Muslim immigration, at the very least a pause until the situation is better understood and an adequate plan to protect our country is in place.  Within hours of the attack on Pearl Harbor, restrictions were put in place and the government was rounding up hundreds of "Axis nationals".  President Carter took similar measures in response to the Iranian hostage crisis by shutting down Iranian immigration.  Were those overreactions?  Are those proposing much the same thing today overreacting?  History does have a way of repeating itself doesn't it?
Have a GREAT day . . . someday it will be HISTORY!

© Sharon Hall (Digging History), 2015.
Footnotes: