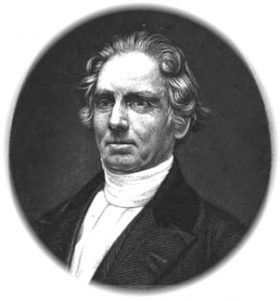 Reverend Joy H. Fairchild had good reason to be physically, and no doubt mentally, emotionally and spiritually spent (if you haven't read Part One of this story, you can read it here).  He returned in September feeling somewhat better but still quite feeble.  Reverend Fairchild would occasionally fill in when a regular pastor was away.  The First Church in Exeter wanted him to become their pastor after he filled in for about six months in 1843.  He consented and was officially installed on September 20.
Fairchild may have supposed his troubles were all behind him, but not long after his installation he became aware of rumors and innuendoes circulated by none other than Deacon Vinton.  The deacons of Phillips Church, South Boston, had broken their promise.  Anonymous letters, full of slander, arrived in March of 1844, addressed to Reverend Henry Jewell and one of his congregants, James Burley.
Jewell and Burley kept it to themselves and since they didn't react, the "anonymous writers" decided to take their own action.  On April 16 a circular signed by "Epaphroditus" and entitled "A Wolf in Sheep's Clothing" was sent to several heads of families in town.  It was full of slanderous accusations.
Fairchild requested a hearing before the Board of Referees and on May 8 they met to investigate the charges against his moral character.  Perhaps to the dismay of the accusing deacons, the board concluded that nothing brought before them suggested any misconduct had actually occurred: "We are happy to state that after a severe and thorough scrutiny, nothing has appeared in any part of his life which prevents us from according to him our full confidence as a minister of Christ."1
Dr. Nehemiah Adams, one of the board members, had signed the statement.  This was May 15, 1844 and at the time Adams was considered Fairchild's friend.  Shortly thereafter someone sent papers to Adams accusing his friend of an improper relationship with a servant-maid about three years previous.  When the two spoke later, Fairchild denied any improper behavior – "her charges were a tissue of falsehoods from beginning to end, and that he never touched the girl."2
It soon became apparent that Adams was no longer a friend.  On June 20, Fairchild attempted suicide by cutting his throat with a razor.  The wound was severe and just one hair's breadth from being fatal.  At least one newspaper took the occasion to include a bit of innuendo in their article – supposedly his conduct at South Boston "was not altogether free from suspicion."3
Dr. Adams wasn't surprised to hear of Fairchild's suicide attempt – he told another minister that he had seen a "picture of hell in his countenance."4  To add insult to injury a special committee was appointed to further investigate Fairchild's conduct.  Just two weeks after his suicide attempt, no doubt still in shock, he received a letter summoning him to appear and confront his accusers.
Unbeknownst to Fairchild, a case was being presented to a grand jury and Adams and Edward Beecher were called to testify against him.  He was still indisposed and chose not to meet with the committee on July 10.  Had he done so he likely would have been arrested, as it later appears they intended to entrap him.
Adams persisted in trying to convince Fairchild to admit he was guilty.  Fairchild maintained his innocence.  Without going into minute detail, the situation seems to have gotten totally out of hand after he was convicted of seduction by his peers and removed from the ministry.  By December of 1844 Fairchild had published his own defense, a pamphlet entitled Iniquity Unfolded.
On February 17, 1845 Reverend Fairchild presented himself before a judge at a Boston court house for trial on the grand jury's indictment.  The trial date was set for March 24.  Again, newspapers insinuated his guilt.   On March 31 he was acquitted of all charges.  How was he guilty before the ecclesiastical board and innocent before a court of law?  It appears that Miss Davidson couldn't keep her stories straight.
The truth finally came out – Rhoda Davidson had been induced to publicly (and wrongfully) accuse Reverend Fairchild.  She had been excommunicated from her congregation in Brookline following the birth of her illegitimate child.  The South Boston deacons were mortified at the decision, Fairchild later related.  Their own scheme to bring down Fairchild had failed miserably – there were no so-called signals and no hanky-panky in their first concocted scheme either.  Yet, his accusers weren't about to let it go.
Deacon Vinton came upon some information regarding a female with an illegitimate child who once lived with the Fairchilds.  He was told Rhoda never mentioned the father's name, only intimating he was a minister.  Another deacon was advised of the insinuations and eventually Rhoda was coerced to sign an accusatory statement in exchange for a sum of fifty dollars per year for ten years.  Oh, what a tangled web we weave when first we practice to deceive!
The jury deliberated for about seven hours before finding Fairchild innocent of all charges.  Despite a request to remain calm, the court erupted in unrestrained applause.  After the raucousness subsided, Fairchild rose to address the court.  He had been determined all along to defend himself vigorously in a court of law, despite his indictment by the ecclesiastical council.  Throughout the trial he had been silent but anxious to confirm his innocence before his Maker and Judge.  He vowed to forgive his enemies and persecutors and commended them "to the forgiving mercy of Almighty God."5  He continued:  "The pains and agonies, which they have caused me to endure, no tongue can tell.  They have brought me and mine almost to poverty; but I will trust in the Lord and fear no evil."6
Mr. and Mrs. Fairchild left the courthouse with their heads held high, warmly received by the crowds which had gathered.  He had been out of work for a year and owed about two thousand dollars to his lawyer.  Still, his wife had remained steadfastly devoted to him.  Two weeks later he was invited to return to the South Boston church, reinstated and pledges were received to help him pay his defense expenses.
Later that year a new church was formed, the Payson Church, composed of former members of the old church.  A committee of both male and female congregants begged him to take the position of pastor in the newly formed church.  They were standing by the man whose enemies had "hunted [him] like a partridge in the mountains."7
It was a fresh start for the embattled clergyman.  Although he had vowed to forgive his persecutors, Fairchild filed a case against Dr. Adams in October of 1849, citing libel and slander and suing for damages in the amount of ten thousand dollars.  Adams, as a member of the Suffolk Ministerial Association, was refusing to reinstate membership.  Thus, the charges didn't involve personal libel or slander.
Fairchild had written Adams at length in 1846, defending himself and imploring his adversary to accept the public court's decision and set aside their differences.  Adams replied at length as well – one particular sentence cut to the quick of Fairchild's spirit: "I am very sorry to say that no part of your letter awakened any suspicion or hope, in my mind, that you are a good man."8  Clearly, there was no hope of reconciliation between the two.
Adams continued his vendetta and went so far as write to an aged woman in Maine whose niece was purportedly one of Fairchild's paramours.  The woman remembered she had met Fairchild when he was a young man but had not seen or heard from him since.  There simply was no evidence of impropriety, yet Adams kept pressing and correspondence between the two men continued.
The trial was scheduled to begin in 1850, but not before "astounding developments" somehow came to light in November and December of 1849.  It seems one of the deacons, Jeremy Drake, was again challenging Fairchild's moral character.  He had found a Boston doctor willing to testify that Reverend Fairchild came to him for treatment of a bladder inflammation.
Dr. Hayward testified at the time (March 1833) that the condition he suspected was not bladder-related, but rather gonorrhea.  He had explained to the reverend the disease would have been caused by "illicit intercourse with the other sex".9  Following Fairchild's denial and the fact that a bladder inflammation could resemble the same symptoms as gonorrhea, Dr. Hayward agreed to treat his condition and dismissed all suspicions of illicit behavior on his patient's part.
Again, newspapers were playing a part in the inexplicable persecution of Reverend Fairchild.  The Boston Herald cautioned its readers against alarm, however.  As it turns out, Dr. Adams and Deacon Drake had concocted the story in yet another attempt to discredit and denigrate Fairchild.  By the time the trial concluded, however, the press had changed sides and Fairchild expressed his appreciation:
I wish also to express my gratitude to those editors and conductors of the public press, who have kindly aided me by proclaiming to the world that my rights as a citizen – not to say as a clergyman – have been most unjustly invaded, and most wrongfully attempted to be wrested from me.  Gentlemen of the press . . . from the bottom of my heart, I thank you.10
The case was removed from the courts, however, and assigned to a panel of referees.  In August of 1851 the panel decided in favor of Defendant Nehemiah Adams, believing that "every church has a right to maintain its discipline."11  The panel's decision was no doubt disheartening to Reverend Fairchild — how could it not be?
Instead of despairing, however, he continued to fight to clear his name and reputation.  He wrote a series of pamphlets and in 1855 published a thorough account of his trials and tribulations.  The book, entitled Remarkable Incidents in the Life of Rev. J.H. Fairchild (and sub-titled "Stranger Than Fiction" on the book's dedication page), is much more than an autobiography since it meticulously covers in great detail each and every aspect of his years-long battle to defend himself and clear his name.
The Boston Herald gave the book a big "thumbs up", finding it "deeply interesting".   Here the press stepped up and supported Fairchild, declaring the man stood "before the public as one who, through a period of uncommon persecution, has come out of the trial as the Hebrew children did, without even the smell of fire upon his garments."12  Still, the efforts to clear his name must have been mentally, physically, spiritually and emotionally exhausting.
On August 7, 1856 an incident occurred as the early train from Fall River was passing through South Boston.  Reverend Fairchild attempted to jump from the train.  Was this another suicide attempt?  Newspapers called it a "narrow escape".  When he attempted the jump, the train's speed was so great that it threw him violently to the ground and narrowly missed having his feet caught in the wheels of the car.  Although severely shaken and somewhat bruised he wasn't seriously injured.  It was truly a miracle his feet had not been cut off.
Despite all the persecution and trials he underwent, his church family stood steadfastly beside him and defended his honor.  The Payson Church continued to flourish and increase in numbers, but in July of 1857 Fairchild made the decision to retire at the age of sixty-seven.
The Payson Church committee met to consider his request to step down and reluctantly agreed to grant it.  They expressed their gratitude for his ministry, and after twelve years of listening to his preaching and witnessing the way he lived his life, declared their full confidence in his moral and Christian character.  It was truly sorrowful for the church to bid him farewell, but their best wishes went with their beloved pastor.
Fairchild did not, however, go out with a whimper.  The Saturday Evening Gazette (Boston) remarked that his valedictory sermon was "about as neat a castigation of the enemies who have so long pursued him as could well have been inflicted."13  No doubt the last several years of his life had taken its toll.  In May of 1858 he was laying paralyzed at his South Boston home with little hope of recovery.   He lingered for several months and passed away on February 21, 1859 at the age of sixty-eight.
A monument was later built to honor his memory and in November 1859 his remains were laid to rest beneath the monument (after resting temporarily in a receiving tomb).  The white marble shaft was inscribed with these words: "Erected by the members of the Payson Church, and friends."  Although shunned by members of his own denomination, his ecumenical graveside service was "quite interesting" as an Episcopal minister officiated, ministers of other churches spoke and the South Boston Methodist Church choir sang hymns.   After years of defending his moral character, Joy Hamlet Fairchild was finally at peace.
Notwithstanding the sorrows that clouded his pathway at times, he had many warm friends, who believed him a good man, and made that belief manifest by rallying around him when he was beset by trials.  He has passed away from earth, and into the presence of a righteous judge, whose dominions are pure and unclouded, and where sorrow can never disturb the peaceful serenity of a life immortal.14
To the end he insisted his purpose in publishing his "remarkable incidents" book was in no way intended to injure his fellow brethren in the ministry.  There was not one of them – not even Dr. Adams – he wouldn't have readily and publicly extended forgiveness had they asked for it and made their own reparations in regards to their constant attempts at character assassination.
Each party believed they were right I'm sure, but in the end it seems petty and pointless to have carried on their "feud" for years on end.  Having skimmed through his book, I believe Reverend Fairchild was indeed innocent of the charges Dr. Adams and other ministers under Adams' influence made against him.  In fact, it seems clear to me that all their charges were concocted and false.
All of which begs the question – Why?
Have a GREAT day . . . someday it will be HISTORY!

© Sharon Hall (Digging History), 2015.
Footnotes: