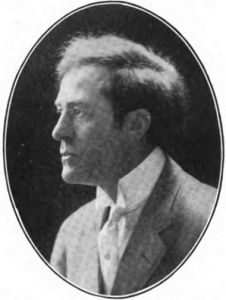 A couple of weeks ago my Tombstone Tuesday article asked the question "What's In a Name?".  I highlighted a few and have since discovered more for future articles.  One of the most unique names I came across was a man by the name of Nephi United States Centennial Jensen.  Here is his story.
Nephi United States Centennial Jensen was born on February 16, 1876 to parents Soren and Kjerstine (or Christina) (Rasmussen) Jensen.  His Danish heritage is interesting.  Soren was born on June 14, 1838 in the town of Hvirring, Denmark.  His parents, Jens Peter Sorensen and Anna Kuerstine Jensen were wealthy farmers.
Soren prepared to become a Lutheran minister but in 1859 was introduced to the Mormon faith.  After his conversion, Soren worked as a missionary before immigrating to America in 1860.  Whether or not his parents approved, family historians1 write that Soren signed away all inheritance rights to his family's estate and borrowed $173 to pay for passage to New York.  Smallpox had broken out on board the ship and for two weeks following arrival no one was allowed to leave the ship.
NOTE: This article is being re-purposed and will be included in a future edition of Digging History Magazine. Please check out our new site:  www.digginghistorymag.com.  Samples are available by clicking magazine image.  Regular monthly issues currently available for only $1.99. – Updated 1/20/18.