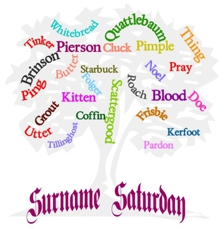 There are several theories as to the origins of this surname, one source referring to it as a very rare surname.  Perhaps most plausible is the theory the name was brought to England following the Norman Conquest in 1066, since the English word "rain" was originally derived from the French word "reyn" in the early Middle Ages.
Rainwater family researchers have their own theories, however, including the French derivation.  A web site called "The Rainwater Collection" notes that a number of old English records show several English names which may have described where a person got his drinking water (Atwater, Bywater, Passwater, Drinkwater, and so on).  The Rainwater surname, they theorize, may have described a poor family without access to water, meaning they depended on collected rainwater.1
Some records show the name "Rainworter", which as the web site points out, is hard to avoid rendering it as "Rainwater".  That seems to be both a simple and logical explanation.
Some sources, including Ancestry.com, indicate the name may be of German, or possibly Jewish origin as Reggenwasser.  Others believe the name has Dutch origins and point to the name "van Regenmorter".  Early English records show evidence of either "Rainmorter" or "Rainworter".  It's also possible that "Rainworter" was difficult to pronounce and "Rainwater" was a more natural rendering, albeit a mispronunciation – stranger things have happened.  Interestingly, the singular word "worter" meant "bucket".  Rainwater, although unusual and rare, seems a better alternative than "Rainbucket", however.
The first person bearing this surname to immigrate to America, Robert Rainwater, arrived in the Virginia Colony in 1706 as an indentured servant to John Hurt.  As was customary at the time, indentured servitude usually lasted for a period of seven years.  The indentured person would work unpaid for the person who paid their passage to America.  Only their food, clothing and lodging would be provided in exchange for their labors to repay the indebtedness.
No one seems to know for sure when Robert was born, except to assume he likely would have been at least sixteen in 1706, since it would have been highly unusual for someone to indenture a child.  With that assumption he was born perhaps around 1690 or earlier.
One record indicates he was paid a bounty of four hundred pounds of tobacco for two wolves' heads in 1713.  Five years later he was involved in a suit with someone with a settlement in his favor — three hundred pounds of tobacco.  The date of his death is uncertain as well, and only these records exist which mention his name in Virginia.2
While researching another story, I came across this surname in a Pulaski County, Kentucky 1890 Civil War record.  Josiah W. Rainwater was a descendant of Robert Rainwater and I'll tell his story in next week's Tombstone Tuesday article.  His story is of interest to me because he was from Pulaski County, home to many Earp/Erp ancestors on my mother's side of the family, and  he migrated to Texas and lived the rest of his life in a county that was home to my great-great grandmother on the Hall side.
Have a GREAT day . . . someday it will be HISTORY!

© Sharon Hall (Digging History), 2015.
Footnotes: