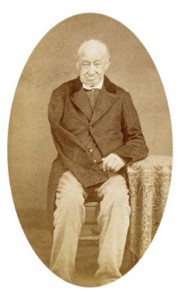 The Tiffin Tribune seemed to have finally set the record straight on May 16, 1878 as to Chadorlaomer "Lomer" Griffin's actual age, although it does appear the newspaper may have either mis-reported or mis-printed the birth year (see Part One).  The Tribune had dug around in some old birth records which indicated his actual birth date was April 22, 1774.  Later accounts and historical records, however, would indicate the date was April 22, 1772, yet Lomer's own personal accounts seemed to back up the original claim of being born in 1759.
Chadorlaomer "Lomer" Griffin was born to parents Nathaniel and Abigail Griffin in Hartford County, Connecticut.  Years later he would claim to remember (or at least that's what newspapers reported) "distinctly the departure of his brothers, one younger than himself, for the revolutionary army, to also part in the great contest for independence and liberty, while he remained behind to assist in taking care of the homestead."1
NOTE: This article is being re-purposed and will be included in a future edition of Digging History Magazine. Please check out our new site:  www.digginghistorymag.com.  Samples are available by clicking magazine image.  Regular monthly issues currently available for only $1.99. – Updated 1/20/18.