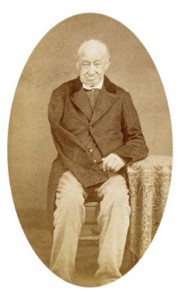 The Tiffin Tribune seemed to have finally set the record straight on May 16, 1878 as to Chadorlaomer "Lomer" Griffin's actual age, although it does appear the newspaper may have either mis-reported or mis-printed the birth year (see Part One).  The Tribune had dug around in some old birth records which indicated his actual birth date was April 22, 1774.  Later accounts and historical records, however, would indicate the date was April 22, 1772, yet Lomer's own personal accounts seemed to back up the original claim of being born in 1759.
Chadorlaomer "Lomer" Griffin was born to parents Nathaniel and Abigail Griffin in Hartford County, Connecticut.  Years later he would claim to remember (or at least that's what newspapers reported) "distinctly the departure of his brothers, one younger than himself, for the revolutionary army, to also part in the great contest for independence and liberty, while he remained behind to assist in taking care of the homestead."1
If the above quote is accurate, that would seem mathematically to lean more toward the 1759 date because it mentions a brother younger than himself who left to join the fight.  Assuming his brothers headed off sometime between the beginning of hostilities in 1775 until the war's end in 1783 following Cornwallis' surrender, it's possible that a brother of sixteen or seventeen could have joined the war effort while Lomer remained behind.   It would have been less common to have anyone much younger join the war, however, even if serving as a drummer boy.  The youngest boy to serve is reported to have been Nathan Futrell who joined the North Carolina militia at the age of seven.
It is clear that Lomer never served during the Revolutionary War, but did serve briefly during the War of 1812, sometimes referred to as the Second Revolutionary War.   His service was very brief (just over a month from August 3 until September 13, 1813).  Still, it qualified him to later receive a pension and land grant.
Lomer Griffin was husband to three wives and believed to have fathered twelve children during his lifetime.  His first marriage to Charity Moore occurred on April 15, 1797.  To their union were born seven children, six sons and one daughter: Parly, Willis, Ralzimond, Andrew, Thomas, Lydia and Harlow.
In January of 1818 Lomer and Charity and their five children headed west after loading a large box on a bobsled with runners and drawn by oxen.  Late in March they arrived in Medina County, Ohio and immediately Lomer set about to build a log cabin for his family.  Twelve years later Charity died leaving Lomer with young children.
On April 13, 1831 he married a widow named Charity (Blodgett) Lyman and to their ten-year marriage, before her death in 1841, were born two more children: Julius and Lucius.  One of Charity's children from her first marriage, also named Charity Lyman, married her step-brother Thomas Griffin.
An interesting part of his story which added to the challenges Lomer faced as a single father was an accident which occurred sometime during his second marriage.  He was passing through a heavily wooded area during a storm when a branch broke off, injuring his shoulder.  For years his arm hung loosely at his side, but never healed properly and was later amputated.  The loss of his right arm, however, never once hindered his ability to work.  Following the amputation he was still able to shave himself, swing an axe and work in his fields.
He married Jemima Taft, a woman approximately forty years younger than he, on November 7, 1844 and together they had three children: Amanda, William and Isadore.  In 1850 he applied and received a grant of bounty land based on his brief military service.  Given his advanced age, the application was granted without challenge.  In 1865 Lomer left the farm and moved to Lodi where he purchased a comfortable home.
In 1875 Lomer became a celebrity of sorts as newspapers reported him to be the oldest man in America.  That may or may not have been true.  The following year marked the centennial anniversary of America's founding and a list of "Centennial Centenarians" was published by the Baltimore Sun Almanac.  Interestingly, the short article listed several others, men and women, reported to have been considerably older than Lomer, although at the time most newspapers were still of the belief he was several years older.
The centenarians included Betsy Carr, a New Hampshire deaf mute woman who had turned 105 on her last birthday; Esther Norcutt of Massachusetts was 110; Captain Frederick Lahrbush of New York was reported to be 110 years old; Milly Carpenter of North Carolina, 110; Benjamin Greer of Kentucky, 113 (and newly married!); John C. La Mont of Maine, 107 with 23 children (and chewed tobacco steadily); Mr. Shepard of Massachusetts, 119; John E. Peoples of South Carolina, 126 and his wife who was 123; Mrs. Nellie Dodd of Bowling Green, Kentucky, 116; Perez Gurillen of Los Angeles, 137; and drum roll . . . . Harriet Hawley, born in New Hampshire in 1733 was purported to have been 143 years old!
It goes without saying that several of those reported ages defy belief, especially the claims of someone attaining the age of 143 years in 1876.  Whether the almanac was mis-informed or stretching the truth, another account in the Wyandotte Gazette (Kansas City, Kansas, 01 Dec 1876, p. 4) cast doubts on those claims.  Perhaps everyone was just so enraptured with the one hundred year celebration they embellished the truth?  Paraphrased from the Gazette:
Mrs. Harriet Hawley was reported to have celebrated her 106th birthday in August.  Her husband died during the War of 1812 and her father, John Rollins, was a lieutenant at Bunker Hill, standing beside General Warren when he fell.  She never attended a theater or rode in a train.  A cheerful conversationalist, she was still in possession of all her faculties and occasionally cooked her own dinner without assistance.
Doubt was also cast on Captain Lahrbush, whose age had been debated for years.  While he was purported to have celebrated his 110th birthday in March of 1876, his detractors were attempting to prove by his military records he was at least twenty years younger than he claimed.  One incident used to refute his age claims was a military report in which he had pleaded "youthful indiscretion" as the reason for his misconduct.  At that time of the incident Lahrbush was claiming to be fifty-two years old — it does seems a little old for "youthful indiscretion".  His supporters, however, believed he had been mistaken for a younger officer by the same name.
It's unclear how or why the information was mis-reported in the Baltimore publication, but Mrs. Hawley's age certainly sounds more reasonably so to have been 106 rather than 143.   The Gazette was, however, reporting that Lomer had celebrated his 116th birthday that year.  This picture found at the Find-A-Grave entry for Lomer notes that his date of birth and supposed age of 116 had been "Entered according to Act of Congress in the year 1875, by W.H. Cunningham [photographer], in the office of the Librarian of Congress in Washington."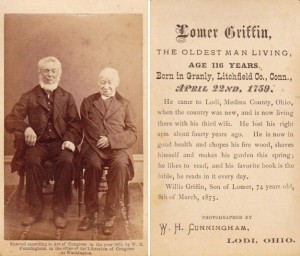 Stories about his age, whether factually true or not, continued to be published over the next three years.  It was usually noted that up until a few years prior Lomer had enjoyed various spirits, although he never used tobacco.  His story was featured in the May 1, 1875 issue of Harper's Weekly, along with a picture of him seated next to his seventy-four year old son Willis included with the article.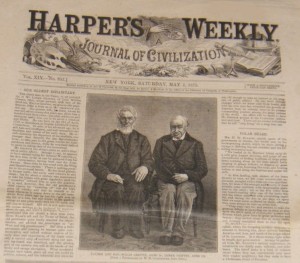 His political affiliations were often mentioned in those articles.  He had voted for Washington's second term and for John Adams in 1796, first as a Federalist, later a Democrat, and after moving to Ohio joining the Whigs and later becoming a Republican.  He usually voted a straight-Republican ticket and was actively involved in the civic affairs of his community.  One of the more amusing things said about his political affiliation was reported by a Washington, D.C. newspaper in 1875:  "Of course, he is old enough to be sensible, and is therefore a Republican."
However old Lomer Griffin really was, he lived a good, long life.  In fact, up until a few weeks before his death on September 16, 1878, he remained active.  After suffering a fall while chopping wood, he was taken to bed and never recovered.  He wasn't languishing away without a fight, according to reports of his death:  "He did not give up life, even at that age, without a struggle, the breath remaining in him for several days after his limbs and part of his body became cold, though he received no nourishment for a week before his death."2
Notices of his death varied from a brief paragraph about the "oldest man in America" passing away to a more lengthy one printed in some newspapers which included more details about his life and his ancestry.  From the New York Herald here are some excerpts with a bit of historical perspective:
To-day the last mortal remains of Lomer Griffin, the man whose life covers a century and who has exceeded the Scriptural allotment of years given to man by nearly two score years, were borne to their final resting place.  When he first saw light this Republic was only the dream of a few brave men.  Napoleon was yet an obscure student at St. Cyr, and Frederick the Great was marshalling the troops of Prussia. . . .
The precise age of the deceased, which has long been under dispute, has at last been conclusively satisfied, and he was, beyond a doubt now, 106 years, six months and twenty-five days old on the day of his death. . . . The reason that this record of the birth of Lomer Griffin was not sooner discovered and all disputes about his age at once settled was that he had been given such a singular name, "Chedorloamer," which was abbreviated and corrupted into the short "Lomer," and investigators were led to error in the difference of these names. . .
[He] has always been able to put in a good day's work to within a few years of his death [despite the loss of his right arm].  The diet, manner and habit of one having grown so abnormally old will always be of great interest to the reading public . . . He had always used stimulants and liquors to within four years of his death.  Four years ago he passed resolutions to abstain, and he struck, as I am informed, resolutely to this laudable resolve, the more praiseworthy on account of the age of the reformer.  He drank tea and coffee at various times of his life, but did not use tobacco.
Another fact in this wonderful man's life is that he has never been sick — aside from some trivial indisposition now and then — a single day in all his long years. . . And now this little old man who defied time and death so long, and with such a good will, is gone forever, and Lodi can talk no more of his wonder, and its street will not see the stoop-shouldered, one-armed little man with a heavy cane, a broad brimmed hat and a blouse hung loosely over him, hobble briskly along the sidewalks.
Chadorlaomer "Lomer" Griffin was buried next to his first wife in Lodi Cemetery, the dispute regarding his birth date and age finally settled.
Have a GREAT day . . . someday it will be HISTORY!

© Sharon Hall (Digging History), 2015.
Footnotes: