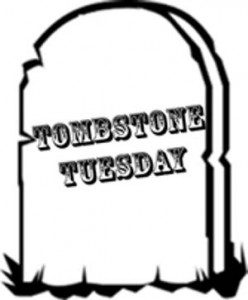 I came across the obituary of someone named "Somer Griffin" while researching another recent Tombstone Tuesday article.  At the time of his death he was thought to have been the oldest man in America.  But, you know what?  I couldn't find any additional information on "Somer Griffin".  Obviously, I did a little digging and found more information (or else I wouldn't be writing this article!).
Here's the obituary as printed in newspapers across the country (this one was printed in the October 10, 1878 issue of The Observer, Raleigh, North Carolina):
THE OLDEST MAN DEAD – The death of Somer Griffin, at Lodi, Ohio, at the age of 106, has already been mentioned.  The local journals give some interesting particulars about the man.  He died at last from the effects of a fall while splitting wood in his back yard – a vigorous occupation, surely, for a man of his age.  But for this accident, it is thought he would have lived five or six years longer.  He was a native of the village of Simsbury, Hardford [sic] county, Conn., and resided there until he was 46, when he started West in mid-winter with his family, carrying his worldly goods in a box on an old sled, accompanied by his wife and five children.  In ten weeks he reached Medina county, Ohio, put up a log cabin, and made it his home for many years, removing at last to Lodi, 10 miles distant.  He was thrice married, and 12 children by his three wives.  He was 72 when he took his last wife, who was 40 years his junior, who bore him three children, and who survives him.  He always used liquor until a short time before his death, and drank tea and coffee, though he never smoked or chewed tobacco.  He was never ill a single day in his very long life until after his fall, when he was confined to his bed five or six weeks.  In politics he had always taken a warm interest, having cast his maiden vote for Washington on his second accession to the Presidency, in 1793.  First he was a Federalist; then a Democrat; then a Whig, and finally a Republican, in which faith he died.  He is said to have been the oldest man in America, having been born April 22, 1772.
I wanted to know more about him so I "googled" and searched high and low at Ancestry.com.  So, why couldn't I find any more information about "Somer Griffin"?  Quite simply, that wasn't his name, and for some reason had been reported or spelled incorrectly and perpetuated in newspaper accounts across the country in 1878.  The Tiffin Tribune (Ohio) actually (and factually) cleared up the mis-reporting and confusion, however, four months to the day before his death.
First of all, his name was biblical, apparently in honor of King Chedorlaomer who is mentioned in the fourteenth chapter of the book of Genesis.  The Tiffin Tribune was a bit miffed it seems that a rival newspaper, The Cleveland Herald, hadn't done their homework and mis-reported  a few weeks earlier that Lomer (as he was called) had just celebrated his one hundred and nineteenth birthday.
Why was the Cleveland Herald (and likely other newspapers) reporting his age as one hundred and nineteen?  That is somewhat of a mystery, however there are several earlier accounts reporting his birth date as early as 1759, which would of course account for the incorrect date.  Here's what the Tribune had to say:
The extract quoted from the Cleveland Herald in your issue of April 29th, stating the age of Lomer Griffin, of Lodi, O., at 119, is incorrect.  As it tends to foster the popular delusion that persons in recent times often reach the age of 105 and upward, it is worth correcting.  Lodi is right to honor its very old inhabitant, but must not claim too much for him.  Mr. Griffin was born in Simsbury, once a part of Granby, Hartford County, Conn.  Connecticut keeps a record of births, very fatal to centenarians.  Chedorlaomer Griffin is the son of Nathaniel Griffin and Abigail, his wife, and was born on the 22d day of April, 1774, having completed his hundred and fourth year.  The record at Simsbury is open to any one who wishes to consult it.1
To be fair, there were facts in the "mis-reported" obituary that were true it appears, based on other historical accounts.  I think it's safe to say that Lomer may have forgotten at some point exactly when he was born because over the years it was in fact mis-reported repeatedly.  In fact one newspaper article, in alluding perhaps to Lomer's inability to recollect when he was born, used the term "thereabout" in reference to the 1759 birth date.2  Thus, a little digging (as I am prone to do) was in order to uncover more historical facts.
Having said that (and essentially divulging the answer to my original question!), rather than write a super-lengthy article today, I will continue this case study in next week's Tombstone Tuesday article.  Since I'm still sifting through various historical accounts (and still uncovering more), I will instead write a detailed and documented article next week.  It's a fascinating story, and hopefully today's article will whet your appetite for more!
Have a GREAT day . . . someday it will be HISTORY!

© Sharon Hall (Digging History), 2015.
Footnotes: