Seventy-one years ago the world was on edge as the Allies prepared to storm the beaches of Normandy.  Americans waited anxiously to hear word and many towns and cities across the country made plans to sound sirens when word came the invasion had begun.  California's war council, however, decided to forego the sirens because, according to Governor Earl Warren, it would "be bad to celebrate until we've won something."1
Woodall Rodgers, Mayor of Dallas, Texas received a letter from the National Noise Abatement Council criticizing plans to sound sirens across the nation because it would create "unnecessary and needless noise."  Rodgers ignored the criticism and emphasized the city of Dallas would herald the nation's push into western Europe.
Those sirens began to sound in Texas between 2:00 and 2:30 a.m. on the morning of June 6, 1944.  In Houston most retail stores were planning to close and more than four hundred churches opened their doors early that day for twenty-four hours of special prayer for peace and early victory.
As sirens sounded in Dallas, a doctor arrived at the home of Mr. and Mrs. Lester Renfrow to delivered their baby girl.  In honor of the faraway invasion, her mother proclaimed she would name her Invasia – Invasia Mae Renfrow.  News of her birth appeared in newspapers across the country, tucked in amongst war headlines.  One newspaper displayed a picture of Invasia and her mother Willie Mae, surrounding by soldiers at war around the world – she was "Invasion Girl."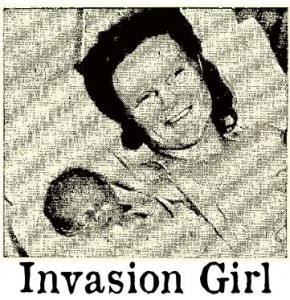 The Renfrows weren't the only family to patriotically name their newborn in honor of the day.  In Norfolk, Virginia, parents Randolph and Alice Edwards named their daughter "Dee Day".  Patrolman L.B. Hoedling made if public after driving a member of the King's Daughters staff to their home to deliver her.
An Interesting "Detour"
The King's Daughters started out as a small group of women in Norfolk, Virginia, all members of the Granby Street Methodist Church, who set out to make a difference in their community.  These women from privileged families had never known hardship, yet they determined to care for the less fortunate.  What they started in the late nineteenth century is now known as Children's Hospital of The King's Daughters.
The women in turn inspired others to join them, forming what they called "Circles" and each working independent of the other.  In 1896, Margaret Roper brought the Circles tegether to form the Norfolk City Union of The King's Daughters.  In order to care for the sick in the poorest areas, they established a Visiting Nurse Service the following year, headed by RN Edith Nason.
Edith worked six days a week, eleven hours a day, walking from house to house in Norfolk's poorest neighborhoods to care for the sick.  If a family couldn't afford to pay, there was no charge.  If a family could pay something, each visit cost five or ten cents.  During her first year she made almost eighteen hundred visits.
Not only did Edith and those who succeeded her care for the sick, the educated them on hygiene and good health habits.  In that era, childhood mortality rates were high simply because these families lived in neighborhoods without appropriate water and waste systems.  With Norfolk's close proximity to the water, epidemics were common with sailors and ships from around the world docking there.
Edith passed away in 1912 and the following year a baby clinic was established.  The clinic continued to grow, adding nursing staff and pediatricians.  Supported by donations, the clinic was assisted by other organizations such as the Kiwanis Club.  In February of 1936 fund-raising efforts fell short by $2,000.  Newspapers and radio stations got the word out and within a short time an additional $3,625 had been raised to keep the clinic open.
The King's Daughters always seemed to get by on a shoestring budget and by the mid-1950's the clinic and surrounding buildings were deteriorating.  Many in the organization had a goal of one day establishing a children's hospital, one were no one, regardless of their ability to pay, would be turned away.  On April 23, 1961 that goal was accomplished when the doors to the Children's Hospital of the King's Daughters opened.
Back to war-time baby names.  Invasia Mae and Dee Day weren't the only children born around that time with patriotically-themed names.  Another baby had been christened SteVen, the "V" capitalized for victory.  It appears to have been common at the time, as noted in a column by William J. Conway published in several newspapers in April 1950.
He was musing about that year's census and the challenges faced by the census takers.  "Enumerators the last time out came up with some unique combinations indeed.  Such as Carbon Petroleum Dubbs, Early Christmas Bennett and States Rights Finley." (I must research these names – I'm sure there's a story!)  Conway reminded readers of the names which made headlines six years earlier and wondered if any changes had been made in those war-time names.
One baby born that day doesn't appear to have made any headlines in 1944, but on June 6, 1964 it was observed, by obtaining a marriage license in Bozeman, Montana, that Earl D-Day Samuel Campbell had also been named in honor of the invasion.
The 1950 census records won't be released for several more years (2022).  I wonder if there will be lots of kids named Ike, Winston, Franklin, Douglas or perhaps Patton?  One thing's for sure . . . it's not likely we'll find many (if any) named Adolph.
Have a GREAT day . . . someday it will be HISTORY!

© Sharon Hall (Digging History), 2015.
Footnotes: