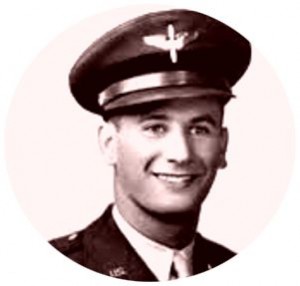 I don't recall how I stumbled upon this story, but one day I landed on the Wikipedia page for Milton Rubenfeld — and what a fascinating story I found!  This week will also feature at least one more World War II-related story (a "Far-Out Friday" article), marking the 74th anniversary of D-Day.  Milton Rubenfeld's story is both unique and heroic . . . read on.
Milton Rubenfeld was born on September 13, 1919 in Peekskill, New York to parents Louis and Gussie Rubenfeld.  Growing up, Milton achieved the highest honor of Eagle Scout and served as a lifeguard.  He attended college at New York University and later at the University of New Mexico, where it's noted in his obituary he hunted rattlesnakes.
In the years leading up to World War II, Milton taught aerobatics and when the war in Europe began in 1939 he wanted to serve.  Since the United States hadn't joined the war, he volunteered for service in England's Royal Air Force (RAF).  He was a member of the 420 Squadron, a small unit of four pilots and four Spitfires, participating in the Battle of Britain.
He served with the RAF until the United States entered the war following the Japanese attack on Pearl Harbor.  Under the threat of losing his American citizenship, Milton returned home and joined America's Air Transport Command (ATC) as a ferry pilot.  ATC missions included flying various types of aircraft from the manufacturer to training bases or to the various combat theaters, as well as delivering supplies and equipment overseas.  After World War II ended, Milton's military service was far from over, however.
Early in 1948 Milton had been contacted by a United States agency headed by Hyman Shechtman which recruited air force veterans for service in Israel's air force.  Israel declared its independence in May of 1948 and Milton, raised as an Orthodox Jew, decided to join.  Shechtman (later Shamir) called Milton "a small, swarthy former USAF pilot, so cocky he seemed to swagger even while sitting down".1
In the months leading up to Israel's declaration of independence Milton flew transport planes back and forth to Israel.  In May he began training in Czechoslovakia to fly an Avia S-199 and on the 20th finished the course and reported to Ekron Air Base in Israel.  Milton, along with four other pilots, were the official Israeli Air Force, the existence of which had been kept secret from the Arabs.
Their first mission was to respond to an Egyptian attack on a bus terminal in Tel Aviv on May 18 which killed forty-two people.  In fact, the pilots' training was cut short because Israel ordered them to return to Israel to defend the fledgling nation.  That first mission was scheduled for May 29 but on that day there were only four serviceable planes and five pilots.  Milton stayed behind, but had his chance the following day.
One of the other pilots, South African Eddie Cohen, was killed during the first mission and the other pilots had experienced technical difficulties with their planes.  Several years later, Milton would remark that the Avia S-199 "wasn't a very nice airplane."  Still, despite the loss of one pilot and the technical difficulties, the encounter with the "surprise" Israeli air force had convinced Egypt to retreat.
The second sortie rolled out at 5:30 a.m. on the 30th, their mission to attack areas around the eastern front in Tulkarm.  Milton's plane was hit but he managed to make it back to Israeli territory before bailing out in the Mediterranean Sea.  He parachuted into the water several miles offshore, suffering three broken ribs and other injuries.
Milton began swimming to shore but gave up after a couple of hours, only to realize upon standing he had been in water that came only to his knees.  Upon standing, however, he became a target. Farmers were shooting at him, thinking he was an Arab pilot.  The Egyptians hadn't known of the existence of the Israeli air force and neither had its citizens apparently.  It was widely reported (although Milton would later say he really didn't remember what he said) that because he didn't know any Hebrew or very little Yiddish, he started to shout "Shabbos, gefilte fish!  Shabbos, gefilte fish!" in order to convince the Jewish farmers we was one of them.
After that mission Milton returned to the United States to receive medical care.  He married his wife Judy in 1951 and they owned a Lincoln-Mercury dealership in Oneonta, New York.  Together they had three children: Paul, Abby and Luke.  Paul is better known as Paul Reubens, a.k.a. "Pee-Wee Herman."
According to his obituary, Milton built a stage for his son and a boat for his daughter in the basement of his house.  Never fond of shoveling snow, Milton moved his family to Florida in 1960.  He had a great sense of humor, loved to laugh and be funny.  Although he had many notable accomplishments to his name, Milton didn't like to talk about them.  He was honored in the 1980's in Israel for his heroism during the early stages of the Israeli Air Force.  His plane was preserved and can be seen outside Tel Aviv's airport accompanied by a plaque bearing his name.  "He never took 'no' for an answer and lived his life with great gusto and swagger."2
I especially want to know more about these daring young pilots who flew for Israel in its War of Independence.  The documentary film about their exploits, Above and Beyond, is available at Amazon and iTunes to rent or purchase.   I plan to watch and learn more about this amazing story (what better way to use one of my iTunes credits!).  In regards to the air transport units which served during World War II, there was also a female counterpart, the Women's Auxiliary Ferrying Service.  If you'd like to read more, see these articles, one on "feisty female" Cornelia Clark Fort and the other a book review, The All Girls Filling Station's Last Reunion.
Have a GREAT day . . . someday it will be HISTORY!

© Sharon Hall (Digging History), 2015.
Yonay, Ehud (1993). No Margin for Error: The Making of the Israeli Air Force.  New York: Pantheon. p. 4