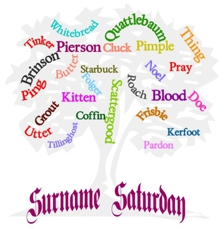 This surname has French origins and appeared in England following the Norman Conquest of 1066.  Perhaps a French nickname it derived from the French phrase "bon pas" which means "fast pace", a swift walker, runner or perhaps someone who was a messenger.  One source suggests that it may have been a localized name for one who dwelt in an alley or passageway.
Spelling variations are many, including Bumpus, Bonpas, Bumpasse, Bompase, Bompasse, Bumpuss, Bumpusse, Bump and many more.
America's First Bumpus?
Quite likely the first person to come to America bearing this surname was Edouad (Edward) Bompasse or Bumpasse who arrived in Massachusetts on November 10, 1621 on the Fortune, just about a year after the first Pilgrims arrived in November of 1620.
No one knows his exact birth date, although it is usually estimated to have been 1605 in the St. Bartholomew Parish of London.  Family researchers surmise that he may have been a member of the group of Protestants (and perhaps descended from French Huguenots) who fled to Leyden, Holland to avoid religious persecution.  If the 1605 date is correct, then Edward would have been around sixteen years old when he arrived and possibly assigned (or indentured) to live with Isaac Allerton upon his arrival.
Around the age of eighteen (1623) he received an allotment of land and four years later a share of cattle.  In 1628 he married a woman named Hannah with whom he had at least twelve or thirteen children).  That same year he purchased twenty acres on Duxbury and built a house.  In 1634 or 1635 he sold the land and house to John Washburn and allowed to "take up land in another Place".
In 1639 Edward took an oath of fidelity to the town of Duxbury, although the following year the area where he resided became part of Marshfield.  According to Family Search, there is no evidence Edward ever became a freeman, but he did serve his community as a juror in 1654 and 1655.
Something happened, however, in 1656 to change Edward's fortunes as he was considered "one of the town's poor".  He was loaned a cow and seven years later in 1663 eight of his fellow townsmen gave him twelve-and-a-half bushels of corn.
When exactly Edward Bumpus died is unclear, although some researchers believed he died in 1693.  The author of the biographical sketch at Family Search believes he died sometime between 1679 and 1683/4, but since he was rather poor there was no will to probate.
Everyone have a GREAT day . . . someday it will be HISTORY!
© Sharon Hall (History Depot), 2015.