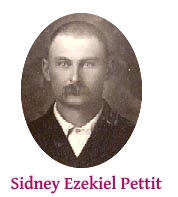 In case you missed last week's Tombstone Tuesday article, you might want to read it first since I promised to clear up the mystery of what really happened to the son of Ezekiel and Ella Pettit.  The story posted by a family friend at Find-A-Grave left me with more questions than answers, and this compelled me to do a little digging to discover what really happened to Sidney Ezekiel Pettit.
The following information for Sidney was posted at Find-A-Grave:
Birth:    Sep. 2, 1886
Boulder
Boulder County
Colorado, USA
Death:   Jan. 9, 1906
Carbondale
Garfield County
Colorado, USA
Sidney E. Pettit was the youngest son of Ezekiel & Ella Pettit.  Born Sept. 2nd 1886, he was killed on Jan. 9th 1906 near Carbunkle Colorado.  His body was never recovered and lies today in that now abandoned silver mine.  Since he had no grave his name was added to his mother's grave stone upon her death in Nov. 1915.
NOTE: This article is being re-purposed and will be included in a future edition of Digging History Magazine. Please check out our new site:  www.digginghistorymag.com.  Samples are available by clicking magazine image.  Regular monthly issues currently available for only $1.99. – Updated 1/20/18.