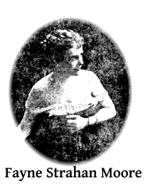 No one seems to know for sure where the term "badger game" originated.  Perhaps it was so-named because it had its origins in Wisconsin, the Badger State, or perhaps it was named after a rather cruel sport called "badger baiting".  Badger baiting appears to have originated in England during the nineteenth century.   Without going into the sordid details, this blood sport pitted a badger, normally a docile creature, against a dog (some dogs were bred as "badger dogs").
Stories began appearing in American newspapers in the early to mid-nineteenth century.  Even into the early twentieth century the so-called "badger game" was still popular and most profitable, hardy despite its age, according to Duluth News-Tribune (01 Oct 1922).  The con game had ousted card sharping as the number one "indoor sport" on trans-Atlantic ocean liners.  The game was played best, however, when a couple worked together.
They picked a man, preferably a rich business man with a family, and proceeded to dupe him or "vamp" as one headline read.  The wife of the con couple would complain about her husband's mistreatment and how she was afraid he would suspect something.  According to one United Press correspondent, somehow the victim usually fell for it, believing himself some sort of heroic Lothario.  The victim then found himself in a compromising position with the con wife, and of course in walked the "jealous" husband.
The scene might have played out like this: scorned husband threatens to throttle the victim while the wife pleas for his forgiveness, to which he replies, "No! Not for $10,000!" – maybe $20,000?"  Amazingly, it seemed to work every time and the police claimed there was nothing that could be done to prevent it.
The game played on the conservative social mores of the nineteenth and early twentieth centuries – quite simply (and sadly) the repercussions of adultery were greater than they are today.  However, there were a variety of cons the badger couples, or if working alone, "badger girls" used to entice and entrap their victims.
Nothing was off-the table apparently as a potential con:  inappropriate sexual advances, child pornography, bizarre fetishes, sexual or otherwise, sexual harassment in the workplace, or professional misconduct (those are but a few).  One that gained national attention via the August 25, 1930 edition of Time magazine involved a "sick" woman visiting a doctor, who after describing symptoms that would require her to disrobe, would claim misconduct.  Sometimes an "outraged husband" would burst into the room and threaten the doctor with criminal charges or a lawsuit.
When did the term "badger game" fade into history?  The term itself may not be used, but we still have cons in our midst, just a little more sophisticated perhaps.  During the Cold War, American soldiers serving abroad were warned to avoid falling into a spy version of the old badger game – romance with any Soviet or Communist should be avoided.  The term "badger game" today, however, is most often seen in reference to team sports played by the University of Wisconsin Badgers.
Badger Girls
Fayne Moore
The American Lawyer called her "a beautiful young woman, with the most soulful eyes ever placed in a woman's head to make men forget their duty."  Fannie "Fayne" Strahan Moore and her husband William A.E. Moore, recently appointed a United States consul to Durban, South Africa by President William McKinley, were accused of "badgering" Martin Mahon, proprietor of the New Amsterdam Hotel.  The couple was charged with attempting to extort five thousand dollars from Mahon.
William was convicted of "badgering" and while awaiting his sentence (of nineteen years in Sing Sing), Fayne's trial was progressing on December 23, 1898 in New York City.  Assistant District Attorney McIntyre accused her of various improprieties with men, yet she refused to give their names – some of them foreigners.  At the end of her cross-examination a motion to acquit was denied.
Her attorney admitted in his summation that he normally didn't take part in criminal cases (he was from Atlanta).  But in her case "my sympathy was so profoundly and deeply aroused that I volunteered to come here, at the request of her widowed mother [who lived in Atlanta], to help defend this girl.  Every fibre of my nature was fired with indignation at the treatment received by this young defendant."  Fayne was the daughter of the ex-Chief Justice of the Oregon Supreme Court, Reuben Strahan, who had died in 1895.
During her husband's trial, it was noted by The American Lawyer that Fayne, sitting directly behind her husband, had worn "the most fetching dresses and never [lost] her intense interest in the men who sat in the box."  ADA McIntyre caught on and demanded that she take
a seat in another part of the room, out of the jury's line of sight.  A woman with whom Fayne had boarded warned the court, "beware of her eyes . . . she can do anything with them, and she will too."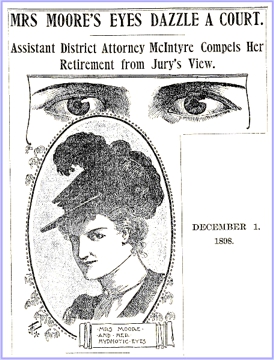 Before Fayne's trial started McIntyre had demanded she not be present in the courtroom.  However, when she was called to testify in her own defense, "those wonderful eyes worked overtime."  It must have worked for the case resulted in a hung jury (7 to 5 to convict) and she was never tried again.
At first, according to the San Francisco Call (09 May 1902), Fayne was especially devoted to her husband following his incarceration at Sing Sing.  After returning from London where she appeared at the Gayety Theater, she filed for divorce and asked to have her maiden name restored.  On May 8, 1902 the divorce was granted and as the Call reported, she intended to remarry an Englishman of good family – which is exactly what happened.
She married Henry D. Lewis whose family owned some of the biggest diamond mines in the world, the Kimberley and the De Beers in South Africa.
La Donna Fontaine
Just nineteen years old, her real name was Mrs. Rose Kukoff of Youngstown, Ohio.  She was caught in Detroit and accused of running a white slave ring.  Her "slave" was William Fairmount, aged twenty-one of Pittsburgh.  Both were held for conspiracy to violate the Mann Act of 1910 which prohibited interstate or foreign transportation of a person with intent to engage in sexual activity – basically prostitution and human trafficking.
Mrs. Kukoff had left her husband Frank, took their marriage certificate and had met up with Fairmount in Pittsburgh.  She induced (or seduced) him to go away with her, and as they traveled about the country she referred to him as her husband.  Fairmount wasn't allowed to register at hotels, offering the excuse his arm was injured.  She would lock him in the hotel room and was involved in at least one "badger" scheme in Buffalo (Fairmount claimed no knowledge).  The couple eventually confessed which led to the arrest of several other couples running the same con game.
Pretty Girl With the Alluring Dimples
Oh, and what happened to those "badger girls" I ran across while reesarching yesterday's Time Capsule Thursday article?  In Los Angeles, Marion Scholz, the dimpled "badger girl" was on trial for "badgering" William Polsen, a contractor.  Her dimples made him swoon, as he testified, "I looked into her opalescent eyes and my brain swam.  When she smiled she showed two rows of pearly teeth.  I watched her dimples come and go – they were wonderful dimples, judge."  Mr. Scholz was in on it, of course, as was Marion's mother Mrs. Harriet Elmes.
The pretense had been Polsen would be working with Marion on plans to build a bungalow.  He testified that he had been all business, "but Mrs. Scholz kept her beauty battery working and finally I became more interested in her dimples than in the proposed bungalow."  Before he knew it, he was in her bedroom.  Counsel for the defense demanded to know whether he had been in a quest for business or dimples, whereupon Polsen replied, "Well, I was for business first and dimples afterwards, I presume."
While Marion and Polsen were talking in the bedroom her husband burst into the room and drew a revolver, forcing Polsen to disrobe.  Harriet took a picture and then Mr. Scholz told his wife to get in the picture.  As Polsen blushed and stammered in court, "well, it seemed that she pulled a string and her clothes seemed to fall off all at once."  Of course, Harriet snapped a couple more pics.
When Marion took the stand in her own defense she said, "I can't help it if men lose their heads over me. . . it isn't my fault. . . . Men are always teasing me or trying to get me to smile so they can see them; what were dimples and pretty teeth and the ability to smile fetchingly given me for if I am not to be permitted to use them?"  A few days later, however, she did indeed plead guilty to attempted extortion – her mother had just been found guilty of the same.
Each sentenced to five years in San Quentin, they began paying their debt to society soon afterwards.  However on May 29, 1915 they were free women after their sentences were suspended.  Cited was Harriet's age and Marion's "feeble health" – or, was it those dimples?
Have a GREAT day . . . someday it will be HISTORY!

© Sharon Hall (Digging History), 2015.