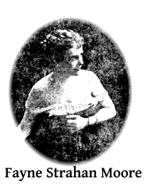 No one seems to know for sure where the term "badger game" originated.  Perhaps it was so-named because it had its origins in Wisconsin, the Badger State, or perhaps it was named after a rather cruel sport called "badger baiting".  Badger baiting appears to have originated in England during the nineteenth century.   Without going into the sordid details, this blood sport pitted a badger, normally a docile creature, against a dog (some dogs were bred as "badger dogs").
Stories began appearing in American newspapers in the early to mid-nineteenth century.  Even into the early twentieth century the so-called "badger game" was still popular and most profitable, hardy despite its age, according to Duluth News-Tribune (01 Oct 1922).  The con game had ousted card sharping as the number one "indoor sport" on trans-Atlantic ocean liners.  The game was played best, however, when a couple worked together.
This article is no longer available at this site.  However, it will be enhanced and published later in a future issue of Digging History Magazine, our new monthly digital publication available by individual purchase or subscription.  To see what the magazine is all about you can preview issues at our YouTube Channel.  Subscriptions are affordable, safe and easy to purchase and the best deal for getting your "history fix" every month.