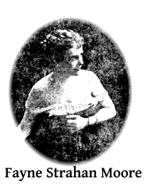 No one seems to know for sure where the term "badger game" originated.  Perhaps it was so-named because it had its origins in Wisconsin, the Badger State, or perhaps it was named after a rather cruel sport called "badger baiting".  Badger baiting appears to have originated in England during the nineteenth century.   Without going into the sordid details, this blood sport pitted a badger, normally a docile creature, against a dog (some dogs were bred as "badger dogs").
Stories began appearing in American newspapers in the early to mid-nineteenth century.  Even into the early twentieth century the so-called "badger game" was still popular and most profitable, hardy despite its age, according to Duluth News-Tribune (01 Oct 1922).  The con game had ousted card sharping as the number one "indoor sport" on trans-Atlantic ocean liners.  The game was played best, however, when a couple worked together.
NOTE: Digging History is now a monthly digital (PDF) magazine.  This article will be included in a future edition of Digging History Magazine. Check out the latest issue here:  www.digginghistorymag.com or try a subscription here.