What was happening one hundred years ago – what was making headlines?  War was raging in Europe and it would be two years to the day before Woodrow Wilson would stand before a joint session of Congress and ask for a declaration of war against Germany.
This day in 1915 the Germans were stopped at Argonne, France was pounding German aviation camps, the Russian Cavalry defeated the German Cavalry in northern Poland, three more boats were sunk by German submarines in the North Sea and President Wilson was trying to keep the United States neutral.  Weighty issues indeed.
What was on the minds of readers of the San Bernardino News?  There were more than a few "weighty" issues to discuss that day:
Fifteen Ounces Is Baby's Weight – The population of Lynn, Massachusetts had increased in weight by fifteen ounces after the birth of a baby girl born to Mr. and Mrs. Frank B. Mower.  Doctors declared that the tiniest baby ever born in Lynn had "more than an even chance to live." (Page 1)
Turning the page, contrast that with these two "weight-related" stories on page two:
Infant Weighs 22 Pounds at Birth – A 22-pound baby girl was born to Mrs. Mary Slavonder, or Sylvander (spelled both says in one-paragraph story) in East St. Louis, Illinois.  The baby was 26-1/2 inches long, perfectly formed and the largest of all the children she had birthed.  Her other four children had all weighed over fifteen pounds at birth.  The story noted that the Missus herself weighed 240 pounds.
Woman Fills Hack As Chief Mourner – Mrs. Claude Barker of Oklahoma City was the lone passenger in a carriage which conveyed her to her husband's funeral in Alton, Michigan.  She weighed 635 pounds and "took up so much space in the carriage that no one else could get in it."
From fifteen ounces to 635 pounds – "weighty" issues indeed.
Then there were more stories that newspaper editors used to fill column space — some nonsensical, some sensational, some gossip-y or downright juicy:
Overripe Tomato Husband's Weapon – Julia Schaefer of Milwaukee, Wisconsin was alleging desertion, cruelty and inhuman treatment in the divorce complaint against her husband George.  After testifying in court that on one occasion George had pelted her with overripe tomatoes while she slept, Judge Halley granted her a divorce.
Warm Wife's Feet Is Judge's Order – George Costa of Aurora, Illinois awoke one morning to discover his wife warming her feet on his back.  George drove his wife out of the house onto the street where she wandered about for half an hour in her nightie before a neighbor took her in.  The judge fined George $25 and made him promise to warm his wife's feet every night.  Hopefully they didn't eventually end up in divorce court over cold feet.
Caught Trout With His Nose –Harry Morse, a well-known lake captain of central New York, was home following an operation in Buffalo.  The captain had become "the only living man who has caught a fish with his nose."  While leaning over the stern of a rowboat on Lake Keuka and looking into the water, a four-pound trout jumped out of the water and latched onto Morse's nose.  The captain jerked his head back while the trout hung on for a few seconds and then dropped (the trout, that is) to the bottom of the boat – "caught".  Eyewitnesses came to his aid after the fish loosened its hold.
And now for the macabre:
Wounded Heart Is Exhibit In Court – Exhibit A in a Hammond, Indiana murder trial was a human heart with a jack knife wound "clear through it".  Jack Sedan was being tried for first degree murder in the death of Jack Farkash, a Romanian.  The incident which occurred in March was "war-related" – the two men fought in a coffee house over the merits of the war.  Sedan was accused of "thrusting a dagger clear through Farkash's body."
The happiest story:
CENTER COUPLE LIVE TOGETHER 76 YEARS; HAPPY
Always Lived Simple Life And Leave Ice Cream And Trains Alone
Mr. and Mrs. Thomas Slifer of Lanark, Illinois were celebrating their seventy-sixth wedding anniversary, at that time thought to be the only couple in the country to have lived together that long.  They were of the Dunkard faith and had always lived a simple life, shunning alcohol and tobacco.  They hadn't ridden a train in years and for the last fifty years were always in bed by nine o'clock unless attending religious meetings.  Thomas was ninety-seven years old and Louisa was eleven months younger.
They both died later that year just a few weeks apart.  Theirs was a unique love story, according to family historians, so here's a little "bonus" history.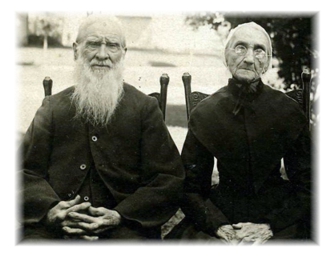 Thomas was apprenticed until the age of twenty-one to his cousin John Slifer, a harness and shoe maker.  John had some relatives whose father and mother had recently died leaving five children orphaned.  Thomas' family took in one of the children, Marie Louisa Waters, to raise as their own daughter.  Thomas and Louisa fell in love, and as they say, "lived happily ever after" until death did they part.
Flipping back to page one, the News employed a unique headline-grabbing technique, one that I'd never seen before, displayed above the masthead:

It was quite a sensational headline . . . for a short, one-paragraph story.  In the next column over was this headline:
PRETTY GIRL LURES WITH DIMPLES HE SAYS
Badger Game Secrets Are Told in Court By One Who "Fell" For It
Okay, what was the "badger game" and why did they refer to the accused as a "badger girl"?  Tune into tomorrow for a story about this "game" and some of the most notorious "badger girls" – and more about the "pretty girl who lured with dimples".
Today is the inaugural article for Time Capsule Thursday, a sort of "Throwback Thursday" with a twist.  These articles will feature headlines and stories from days gone by — I hope you enjoyed the first one.
Everyone have a great day — someday it will be history!
© Sharon Hall (History Depot), 2015.