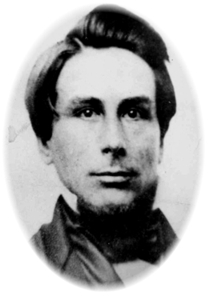 If you're a fan of HBO's Deadwood you recognize the name, but do you know who he really was, and by that I refer to "separating fact from fiction"?  While the focus of this article is Preacher Smith's ministry on the streets of Deadwood, South Dakota, brief though it was, more of Henry Weston Smith's story is needed first.
According to Connecticut birth records, Henry Weston Smith was born in Tolland County to parents Joshua and Persis (Galpin) Smith on January 23, 1827.  Most sources report that Henry became a Methodist preacher at the age of twenty-three, having married for the first time in 1847 at around the age of twenty.  His first wife and child died and he married his second wife, Lydia Ann Joselyn (or Joslyn) (neé Poole) on February 23, 1858 in Connecticut.
He is said to have moved to Massachusetts and joined the 52nd Massachusetts Infantry in 1861, became a doctor and moved to Louisville, Kentucky following the war, and he and Lydia Ann had four children.  A historical marker notes much the same, adding that after enlisting in the Union Army and caring for the wounded, he "may have turned his mind to healing for he studied the practice of medicine and was licensed in 1867."
Here's what records indicate.  Henry Weston Smith married L. Annie Joselyn on February 23, 1858, according to Connecticut Marriages 1630-1997.  Henry and Lydia's first child, Gerald Ackland Smith, was born in 1860.  This fact is verified with Gerald's 1883 death record and his grave stone which clearly states he was the son of Reverend Henry Weston Smith and Lydia Ann Joslyn.
Gerald first appears on the 1860 census in Springfield, Massachusetts as the infant son (one month-old) of Henry W. Smith (machinist?) and Lydia A.  In 1870 Henry W, Anna L., Gerald A., Edna I., and Elmer S. are enumerated in Springfield – Henry still a machinist, not a minister, although it's possible Henry was a lay minister with a "day job".
Nevertheless, I am inclined to believe these records belong to Henry W. Smith who went to South Dakota in 1876.  To back that up, the January 10, 1915 Deadwood Pioneer-Times did a short article on the daughters of Reverend H.W. Smith – their names were Edna I. Tyler and Aglae Meriwether.  At the time of the article, Edna was a widowed school teacher living in Milford, New Hampshire, and Aglae resided in Shelbourne Falls, Massachusetts.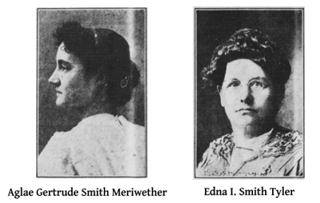 Edna and Aglae were belatedly featured in this article following their participation in providing information for a statue which was erected to honor their father in August of 1914.  Furthermore, Massachusetts marriage records indicate that Aglae Getrude Smith Dudley married James Arthur Meriwether in 1909.  Her parents were listed as Henry Weston Smith and Lydia Annie Joslyn.
Since the 1870 census enumerates the family in Massachusetts, and it appears that Lydia may have been pregnant with Aglae at the time and the Smith family's migration to Louisville occurred probably sometime after Aglae's birth.  But what compelled him to apparently leave his family behind in Kentucky and travel to South Dakota as an evangelist-missionary?  Perhaps headlines like this one inspired his journey there:

According to Deadwood Magazine, he joined a wagon train, walking beside it from Cheyenne, Wyoming to the Black Hills, arriving sometime in the spring of 1876.  According to Haunted Deadwood: A True Wild West Ghost Town by Mark Shadley and Josh Wennes, Preacher Smith (the moniker he would come to be known by) arrived in Custer City and worked various jobs, including mining, before joining Captain C.V. Gardner's freight train to Deadwood in May.
There he found work constructing the Boulder Ditch, but according to Shadley and Wennes the project was ultimately a failure and many never received compensation for their labors.  As the historical marker erected in his honor further noted, "in 1876 he joined the great rush to these Black Hills – not to mine gold, but to claim lives for God."  He did manual labor six days a week to send money to his family in Kentucky and preached the Gospel twice on Sunday.
Preacher Smith had been called to evangelize one "hell-of-a-place".  He had no church building, but according to The Springfield Leader (Missouri), his first sermon was preached in one of the many notorious saloons.  He used a faro bank layout for a pulpit and after his sermon "received a hat full of poker chips, currency, gold dust and nuggets."
He also stood on street corners to deliver his sermons according to Deadwood pioneer John S. McClintock:
As I walked down Main Street I noticed a large gathering of men on the square at the end of Gold Street and heard someone speaking in a loud voice.  Thinking only of auctioneers and street fakirs, I walked close to the speaker before I realized that I was in the presence of a minister of the Gospel, who was speaking in an easy, unaffected manner as though he might be at home addressing members of his congregation.  A score or two had hats off, listening intently to his discourse, while the great mass moved about restlessly, apparently paying but little attention to the speaker's remarks.  However, no words were spoken to interrupt or embarrass him.  Although I did not get his text, if he had given out any, I listened for a while to his sermon and was very favorably impressed by his manner and speech and unmistakable sincerity.
McClintock's observation occurred a short time before Preacher Smith's untimely death on August 20, 1876.  After delivering his street corner sermon in Deadwood that Sunday morning he was on his way, traveling on foot, to Crook City to deliver his second sermon of the day.  This had been his custom and he always traveled alone.
Although no one knows for sure who shot him, Preacher Smith was ambushed and killed about five miles from Deadwood.  According to Deadwood Magazine, friends had warned him against walking alone to Crook City and implored him to carry a gun for protection.  "The Bible is my protection.  It has never failed me yet," he replied.  His body was found along the trail, "hands clutching his Bible and blood-stained notes for his sermon in his pocket."
In the short time since arriving in the Black Hills he had made an impression on the town's residents, lawless, reckless and wild though they were, including the likes of Wild Bill Hickok, Calamity Jane, "Soapy Smith", "Rowdy Kate", "Pickhandle Nan" and more.  Before leaving for Crook City he had left a note on his cabin: "Gone to Crook City to preach and if God is willing will be back tomorrow."
As notorious and colorful characters they were, Calamity Jane and Pickhandle Nan were moved to tears upon hearing the news of his death, "tears streaming down their faces".  The Springfield Leader quoted Calamity Jane as saying, "He comes here to tell us how to live and now the Indians have got him."  He must have known it would be a difficult place to sow the seeds of the Gospel, but he always said "I'll do my best" (Springfield Leader, 16 Aug 1926).
Wild Bill Hickok had been killed on August 2 and the legend goes that Preacher Smith conducted his funeral.  John Edward Ames, author of The Real Deadwood: True Life Histories of Wild Bill Hickok, Calamity Jane, Outlaw Towns, and Other Characters of the Lawless West, disagreed – in reality there was no member of the clergy present at Hickok's funeral since he had little regard for men of the cloth.
Mail carrier Charles Nolin had also been mysteriously gunned down the evening before and no one was able to prove whether they were killed by the same person or whether it was Indians or perhaps a member of Deadwood's criminal element who harbored a grudge against the Reverend and his efforts to save their souls – that would have been bad for business.  Another man, Charles Mason, was killed near Crook City on the same day as Preacher Smith.
John Ames wrote that the locals found out about more about the humble minister following his death.  It was obvious he was much beloved by the townspeople of Deadwood.  Sheriff Seth Bullock wrote a letter to Reverend J.S. Chadwick of Louisville on August 21:
It becomes my painful duty to inform you that Rev. H. Weston Smith was killed by the Indians yesterday (Sunday) a short distance from this place. He had an appointment to preach here in the afternoon, and was on his way from Crook City when a band of Indians overtook him and shot him. His body was not mutilated in any way, and was found in the road a short time after the hellish deed had been done. His death was instantaneous as he was shot through the heart. His funeral occurred today from his home in this town. Everything was done by kind hands, that was possible under the circumstances, and a Christian burial given him. I was not personally acquainted with Mr. Smith, but knew him by reputation, as an earnest worker in his Master's Vineyard. He has preached here on several occasions, and was the only minister in the Hills. He died in the harness and his memory will be always with those who knew him. A letter from you which I found in his home causes me to convey this sad intelligence to you.
He was probably buried in another Deadwood cemetery originally, but later moved to Mount Moriah Cemetery in 1883.  A statue of Preacher Smith was erected there in 1891 – constructed of sandstone, it had eroded by the early 1930's or was possibly destroyed by vandals, according to one source.  A monument for the "Pioneer Preacher" was erected in August of 1914.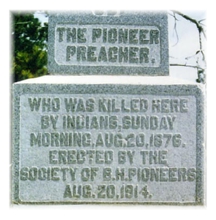 The historical marker refers to Preacher Smith as "Deadwood's Sky Pilot".  John McClintock's account of Preacher Smith concluded:
I thought but little about the occurrence until after his murder when I learned something of this man who had been toiling six days a week and traveling twenty miles on foot and preaching two sermons on the Sabbath.  It was then I realized, as I believe many others did, that the people of Deadwood had lost a man who spoke to the multitude of people in the valley here, as a true disciple and an earnest follower in the footsteps of the Master who preached on the Mount nearly two thousand years before.
I hope you enjoyed this article, introducing "Wild West Faith", a new Sunday theme — I certainly enjoyed researching and writing it!
Everyone have a great day — someday it will be history!
© Sharon Hall (History Depot), 2015.