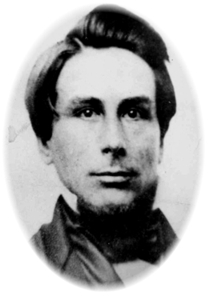 If you're a fan of HBO's Deadwood you recognize the name, but do you know who he really was, and by that I refer to "separating fact from fiction"?  While the focus of this article is Preacher Smith's ministry on the streets of Deadwood, South Dakota, brief though it was, more of Henry Weston Smith's story is needed first.
According to Connecticut birth records, Henry Weston Smith was born in Tolland County to parents Joshua and Persis (Galpin) Smith on January 23, 1827.  Most sources report that Henry became a Methodist preacher at the age of twenty-three, having married for the first time in 1847 at around the age of twenty.  His first wife and child died and he married his second wife, Lydia Ann Joselyn (or Joslyn) (neé Poole) on February 23, 1858 in Connecticut.
He is said to have moved to Massachusetts and joined the 52nd Massachusetts Infantry in 1861, became a doctor and moved to Louisville, Kentucky following the war, and he and Lydia Ann had four children.  A historical marker notes much the same, adding that after enlisting in the Union Army and caring for the wounded, he "may have turned his mind to healing for he studied the practice of medicine and was licensed in 1867."
NOTE:  This article is being enhanced and re-purposed and will appear in a future issue of Digging History Magazine.  In the meantime, check out the digital version of Digging History — Digging History Magazine.  Subscriptions, individual issues, special editions, samples and more are available in the Magazine Store.