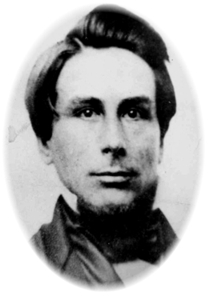 If you're a fan of HBO's Deadwood you recognize the name, but do you know who he really was, and by that I refer to "separating fact from fiction"?  While the focus of this article is Preacher Smith's ministry on the streets of Deadwood, South Dakota, brief though it was, more of Henry Weston Smith's story is needed first.
According to Connecticut birth records, Henry Weston Smith was born in Tolland County to parents Joshua and Persis (Galpin) Smith on January 23, 1827.  Most sources report that Henry became a Methodist preacher at the age of twenty-three, having married for the first time in 1847 at around the age of twenty.  His first wife and child died and he married his second wife, Lydia Ann Joselyn (or Joslyn) (neé Poole) on February 23, 1858 in Connecticut.
This article is no longer available at this site.  However, it will be enhanced and published later in a future issue of Digging History Magazine, our new monthly digital publication available by individual purchase or subscription.  To see what the magazine is all about you can preview issues at our YouTube Channel.  Subscriptions are affordable, safe and easy to purchase and the best deal for getting your "history fix" every month.