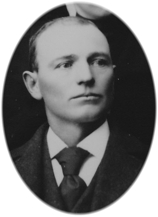 Charles H. Cheese was born on February 22, 1856 in Illinois to parents George and Elizabeth Cheese.  George, born in England around 1823, arrived in America on April 27, 1830 with his parents Edmund and Ann Cheese.  The Cheese family were farmers in Cook County, Illinois and in 1850 George and Elizabeth were living with his parents with a two-year old child named Ann.
Edmund died in 1855 and George and Elizabeth's growing family was living in Chicago in 1860 with his mother Ann.  After George passed away in 1866 and was buried in Cook County, his family moved to Will County.  However, sometime between the 1870 and 1880 census, some members of the Cheese family decided to head west.
NOTE: This article is being re-purposed and will be included in a future edition of Digging History Magazine. Please check out our new site:  www.digginghistorymag.com.  Samples are available by clicking magazine image.  Regular monthly issues currently available for only $1.99. – Updated 1/20/18.